 A psychopathic rapist who subjected a young student to a terrifying ordeal in Aberdeen has been jailed for a minimum of nine years.
William Fraser claimed the neglect and abuse he had witnessed as a child drove him to abduct and sexually assault a stranger as she walked home from work one morning.
During the attack, the 22-year-old told his victim she was going to die before making her clean herself with a mop in an attempt to get rid of any evidence linking him to the "horrific offence".
And after he raped her – just one day after being released from prison on bail – he went home to watch violent pornography that depicted women being raped.
Yesterday, Fraser, who showed no remorse for his actions, was told he posed a "high risk of serious harm" to the public due to his "psychopathic" traits.
Lady Scott ordered him to spend a minimum of nine years behind bars when he appeared for sentence at the High Court in Aberdeen. When he is released, he will have to spend a further four years on licence so that he is monitored at all times.
Sentencing him, the judge said: "Your victim was left utterly distraught and severely injured.
"She remains traumatised and has difficulty in coping. It is to her immense credit that she has resumed her full-time studies and has tried to rebuild her life. In her evidence, your victim said she was not worried about walking home alone because she felt Aberdeen was the safest place in the world.
"Among the many things you robbed your victim of that night was that trust and her generosity of spirit. This is the kind of attack which restricts the liberty of all women by placing every woman in fear of her safety in the public streets."
At his trial at the High Court in Edinburgh, jurors heard that Fraser, who has a history of violence, had attacked his victim from behind in Bedford Avenue as she was walking home on October 27, 2012.
He knocked her to the ground, dragged her to the rear of some shops and struck her repeatedly on the face before taking money, a phone and cards from her. He then hit her with a metal bicycle chain and she passed out.
When she woke up, she realised he was pulling her with a chain around her neck and with her lower clothing removed. Fraser then hit her and sexually assaulted her.
Fraser called her a "Polish bitch", threatened to kill her and then tried to rape her. He then pulled her to a secluded area under a tree some distance away and again seriously sexually assaulted her. Then Fraser raped her before forcing her to remove her clothes. He then raped her again.
During the "appalling attack", Fraser demanded that his victim say she enjoyed it and hit her if she did not do so. He also tried to record her on a mobile phone.
Lady Scott told Fraser he had been sentenced based on his young age and to reflect the fact he had been neglected and exposed to violence from an early age. She told him he needed help to overcome his violence, drug and alcohol issues.
Fraser was also placed on the sex offenders register for an indefinite period.
Comment, Page 32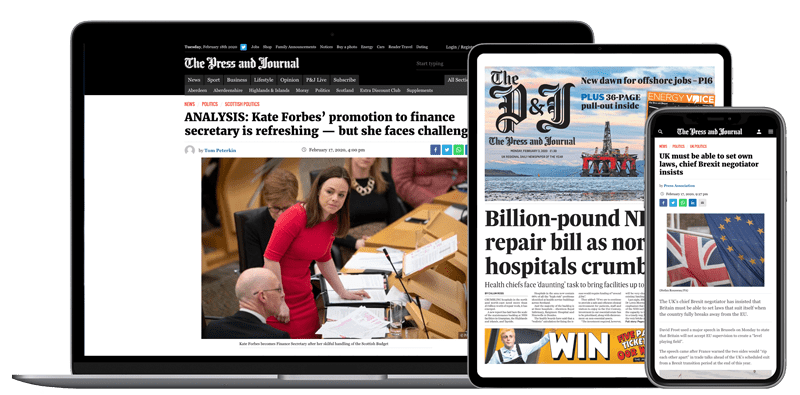 Help support quality local journalism … become a digital subscriber to The Press and Journal
For as little as £5.99 a month you can access all of our content, including Premium articles.
Subscribe