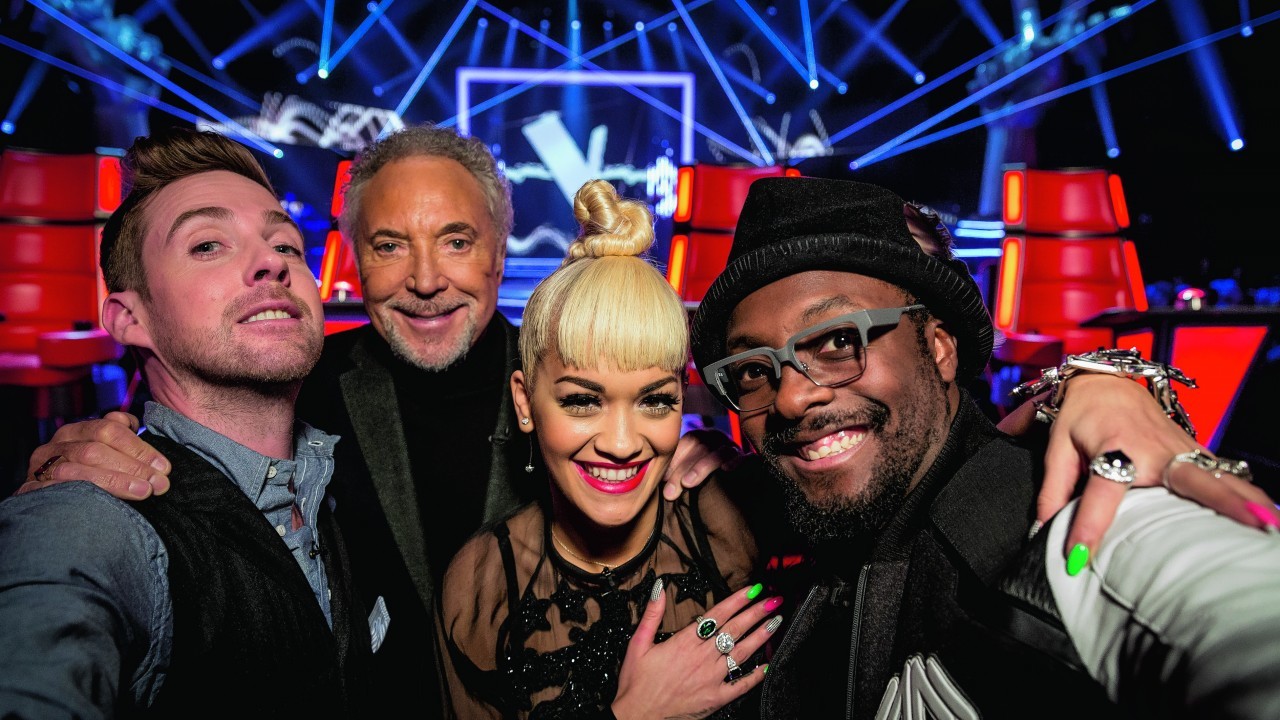 There was a moment in the first episode of the new series of The Voice, when Rita Ora, the UK's answer to Rihanna, was so struck by a Scottish firefighter, she slipped off her chair and collapsed on the floor in pure delight.
The newest coach on the block has wasted no time in making an impact.
"Rita's brought a sassy naughtiness with her," says the show's host Emma Willis.
"She's jumped in head first, and she's loved it," adds her co-host and former JLS member Marvin Humes.
The lady herself, who replaces Kylie as the only female coach, was looking super-sassy at the show's launch, her long blonde hair slicked back at the sides and rocking a pink tux jacket over a black leather cami.
At 24, she's the youngest in the line-up and takes her place in the now famous high-backed red chairs, between Sir Tom Jones, a good 50 years her senior, and her friend and collaborator will.i.am, 39, who's a big part of the reason she's here today.
"Will's so sweet, he's been my soldier since I first met him, he was the first famous guy I ever worked with back in 2008. He had a lot to do with convincing me to do it, and now I'm really grateful because I love the show," she reveals.
She wasn't, as all the headlines have it, ever offered a role as a judge on The X Factor – and is keen to "put all this turning down stuff to rest", once and for all.
"Being a guest judge on X Factor was awesome, but it's about The Voice now and I committed to this show because not only did it work for me work-wise, but I love Will. He's my good friend and it felt necessary to join something I was really comfortable with.
"I never actually got offered a job on X Factor, so I never turned Simon Cowell down, it's not like that at all – this just worked really well for me."
It's clear she's been a breath of fresh air for the other coaches – who, as Humes puts it, all have a "genuine chemistry".
Sir Tom sums up her potentially viewer-boosting appeal: "She's young, she's getting hit records and she's a fashion icon – she's right there at the moment, which is important, because that chair is a big chair for one female among three men. She fits the bill that young performers can relate to – she's living proof of it."
As 36-year-old Kaiser Chief Ricky Wilson puts it: "Everyone's heard of Rita Ora, but no one's really met her properly yet. I think this is going to make her a lot of friends, because she's really genuine."
While she may already have had four number one hits under her belt, and a part as Christian Grey's sister in this year's Fifty Shades Of Grey movie, the Kosovo-born star (Ora and her family moved to the UK when she was a baby) admits she was nervous about The Voice at first. "I didn't know what to expect, but I'm really excited because this is the moment to really show people what I'm like – fun, outspoken, and I try to make people feel comfortable."
That involves, she admits, flirting a little.
"It's always harmless. I like to make people feel comfortable, regardless of the situation. No one really did that for me and I wish they did, so it's about cracking the ice so they can do what they came here to do, which was to blow us away."
Some of this year's contestants do just that, while others aren't so lucky – in the first episode of blind auditions, there's a 24-year-old Irish opera singer, the firefighter from Alva, Kym Marsh's 16-year-old daughter Emilie and 48-year-old Paul Cullinan, who played Bungle in Rainbow.
"They're all unique, no copycats – a lot of people on this show have their own sound," says Sir Tom.
The format is the same as last year: first the Blind Auditions, where the coaches can only hear the singer and have to decide whether to hit their button and spin their chair around; then the Battle Rounds, where the coaches pair their acts up to sing together; and the Knockouts, where teams are whittled down to three for the Live Finals, when the finalists face the public vote.
Since the show started in 2012, there have been three winners, but none of them have made much of an impact on the music scene – yet. Last year's winner, Jermain Jackman, is set to release his debut album in March.
"The show needs to produce a star," says will.i.am. "Not for credibility, the show is already credible, but if it was able to produce a star, it would legitimise the whole talent search contest."
While he thinks the show has "the best concept out of all the frickin' shows", he blames poor timing for the lack of interest in the former winners' albums.
"When the show goes off, there aren't songs ready for people to sing, and in the time it takes you to record those songs, people's attention span is gone.
"The window to hit should be, 'Oh my gosh, the winner is… and here's the hit."'
But even with an album deal, warns Sir Tom, there's no "guarantee of a hit record", and the winners still have a lot of hard work ahead of them.
"When you get a record contract, that's just the first step. We all hope for hit records – I still do and I've been in it for a long time.
"But we don't know what the public are going to like, and I tell the contestants, 'If you get the record contract, don't think you're going to get a hit record right away. It's about getting the right song, and established stars have trouble with that, it's not just because you're new'."
But Wilson believes people "keep coming because they want to be on this show – they know it's not a superstar factory", he notes.
Whether The Voice 2015 will produce a superstar remains to be seen, but one thing's certain: it's going to be one hell of an entertaining ride.