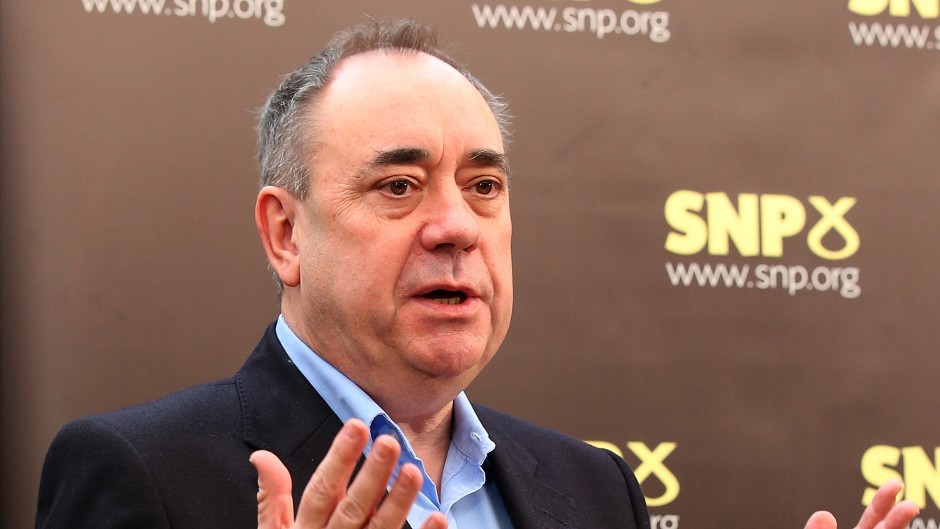 The former leader's exasperation boiled over when we suggested his confidence about winning the referendum, as polling day dawned, was based on flimsy evidence.
Mr Salmond believed he would win with 52% of the vote, although he now concedes that this was based on a slightly lower turnout than actually took place.
But there has been much speculation over the role Canadian researchers played in the Yes campaign election machine.
They were brought over to beef-up the backroom team of analysts and forecasters, but some observers claimed they influenced the SNP hierarchy into thinking they were heading for a clear win.
A similar report surfaced the day before our second interview with him, suggesting the Canadians based their calculations on no more than watching Facebook and Twitter activity in the weeks before the vote.
Mr Salmond leapt in angrily before we were even half way through the question – he screwed up his face in exasperation and spat out an expletive.
After taking a breath to try to calm his anger, he continued: "It was just rubbish. It's just nonsense.
"The only factual point in it was we did have Canadian pollsters, but I never spoke to the Canadian pollsters.
"The backroom team were speaking to them. But the information we were receiving was from our own canvassing.
"The belief that I could win was coming from the response we were getting from the country, not from a bunch of Canadian pollsters.
"I saw it online as well, and it's just total and utter tosh."
We pressed on: "But were they monitoring Facebook and Twitter?"
Mr Salmond replied: "They might have done, but it certainly didn't influence my view on things.
"It certainly wasn't based on Canadian pollsters I had never met.
"We did use them for a particular reason. But my thoughts were based on what I was seeing and feeling as opposed to pollsters who I actually never met or spoke to."
As it transpired, of course, Mr Salmond lost by 55%-45% on a larger turnout.
"I thought we could win," said the master tactician.
"I thought we were winning and the reason I thought we were winning was the enthusiasm, the optimism and the motivation that was evident in the last week of the campaign.
"But that 10% weren't necessarily going to turn up at the meetings, or turn up on the streets. The fear mongering was part of the campaign, but it was more the idea of trying to secure what people wanted without risk."
He believes it was not fear which lost it for Yes, but that No voters were tempted by a softer, easier option with The Vow of more powers from the Westminster leaders.
"It was the idea that here's a softer option, here's a way of securing what you want without saying yes, And that, for a number of people, was quite attractive.
"People, as is well known, agonised. I heard stories about people in the polling stations going up and down, holding the card with their pencil, wondering how to vote."
Mr Salmond claimed the "biggest tosh" he heard during the campaign was that the vote was causing resentment and division between friends and families.
"There's a difference between disagreement and division," he said.
"People have disagreements about which football team they support, which colour of scarf they like, which outfit they should wear, which political course they should pursue, which party they should support or not vote for in a referendum. Of course the debate was intense.
"I always thought we had a shot at winning and I thought that from early on."
Mr Salmond revealed that he believed David Cameron only signed up to the Edinburgh Agreement, which gave the referendum the go-ahead, because his aides predicted Yes would be lucky to achieve 30% of the vote.
"I absolutely know this, for reasons I won't specify," said Mr Salmond.