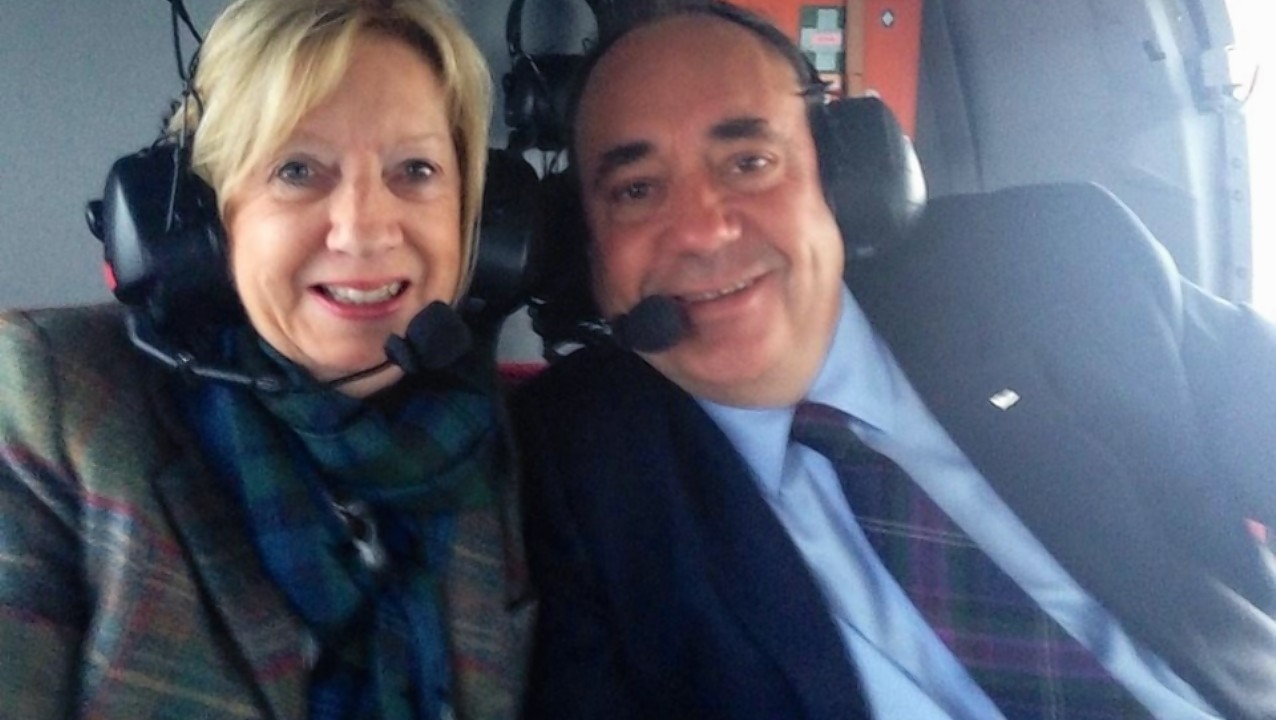 If Mr Salmond had it his way, the lasting photograph of the referendum would be of him and wife Moira flying back to the north-east by helicopter.
The newly-resigned first minister posted the picture on Twitter as they travelled home to Strichen, with a message thanking everyone for their kind messages of support.
While David Cameron usually has Sam by his side, and Tony Blair was barely seen without Cherie, Mrs Salmond has never shared the same desire for publicity.
She once said that she "married Alex not politics" and that she was happy to be in the background.
Mr Salmond is clearly devoted to his wife, ensuring he keeps her updated with his movements throughout our two days together and what time he will be home.
His usual no-nonsense, straight-talking demeanour instantly melts when he speaks about her – his voice and his eyes both soften.
He said it was only fair that he sign-off with Moira by his side, to thank her for the unwavering, insightful support she has always given him
"She also insisted on being in the picture," he jokes.
"But seriously – being a political spouse is probably the worst job in the world.
"I think being first minister is the best job in the world, but being the spouse you get none of the glory and all of the intrusion.
"Moira's done it all with grace and forbearance, which I'm very grateful for.
"She said to me on the morning I resigned – 'you do what your instinct tells you, your instinct is always right'.
"None of this I would have ever done unless Moira was supportive of it."
Mr Salmond's official resignation might have been complete, but he realised during the journey home that there was another signing-off to take care of.
"There's a hilarious spoof site on Twitter called Angry Salmond, which goes under the hashtag 'Sexy Socialism'," he laughs, encouraging everyone and anyone to look it up.
"People assume it's me, but it's not – I have no idea who it is.
"I tweeted Angry Salmond a message saying 'I'm off, you take over'. Angry Salmond – whoever he or she may be – said 'this is surreal, my spoof has tweeted my site'."
As the couple continued their journey north over Scotland – flown by Canadian air force pilot, Johnny Hydro – "a man that can land a helicopter anywhere" – Mr Salmond took advantage of a precious few moments away from the media glare to reflect on the past 24 hours.
"As we went over Dundee something came to me, the Burns re-written song about Bonnie Dundee," he says, with a mischievous twinkle in his eye that suggests he's up to something.
"There' a line in it, 'So tremble, false Whigs, in the midst o' your glee, For ye've naw seen the last o' my bonnets and me'.
"I thought it was apt."
Back on solid ground, the Salmonds headed for the Marcliffe Hotel, a regular haunt owned by good friend Stewart Spence, for a well-deserved bite to eat
There they received a message from their gardener, warning them that a media scrum had congregated outside their Strichen home and that the village was "teeming with folk".
Desperate for a chance to breathe, the couple made a detour to Meldrum House for the night.
"On the Saturday I came back to Strichen, I sat on the wall outside the house and did an impromptu press conference. I said, 'on you go in Moira and I'll do a picture'," he cackles.
It was the laugh of a man who knew that the games had only just begun.