 Farmers could be left waiting for vital support payments in 2015 if the Scottish Government does not hurry up and make a decision on the format of the new basic payments scheme, a leading consultant has warned.
Richard King, of Andersons, says the government should crack on and outline its plans for the new scheme to allow farmers enough time to grasp what is required of them.
"I think the Scottish Government is in danger of spending too long listening to people and not getting on and making decisions," said Mr King at a seminar in Perth this week.
"Whatever decisions it makes, it's going to upset a constituent of the farming industry. But at some point you have to bite the bullet, man up and get on with implementation."
He said the longer the government leaves it, the more danger there is of something going wrong.
Last night, a Scottish Government spokeswoman said the government's Cap timetable was both realistic and achievable.
"The Scottish Government has a strong track record in making farm payments on time or ahead of deadline – with typically 90% of farmers receiving their single farm payment by the end of December – and we are aiming to achieve similar results under the new Cap," she said.
Last week the Scottish Government extended the deadline for responses to its consultation on how the new basic payments system will work.
Farmers and crofters have until March 28 to respond, with the farm minister, Richard Lochhead, set to announce the final plans in June before heading to Brussels for the seal of approval from the European Commission.
Mr King said it was vital farmers started gearing their businesses up for the start of the new scheme.
"2015 becomes a very important date – not only are you making a claim for the new base of payment, but more importantly you are establishing the rate of entitlements for the next five to six years," said Mr King.
He said the greening requirements of the new regime – this includes rules to have at least two crops where the arable area is 10-30 hectares and three crops if the area is bigger – were closer than the farming industry thought.
"The crops that are planted this autumn must be compliant with greening," he said. "People planning their crop rotations this year have to get it right, therefore the industry needs to know how it is going to work."
He said the euro value for Scots entitlements in 2014 was likely to be down by 15-20%, with the reduction in payments likely to be around 8-10%.
Delay warning, Page 5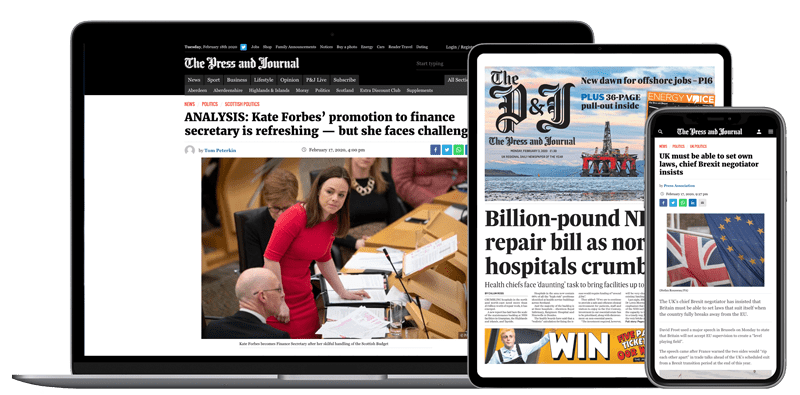 Help support quality local journalism … become a digital subscriber to The Press and Journal
For as little as £5.99 a month you can access all of our content, including Premium articles.
Subscribe