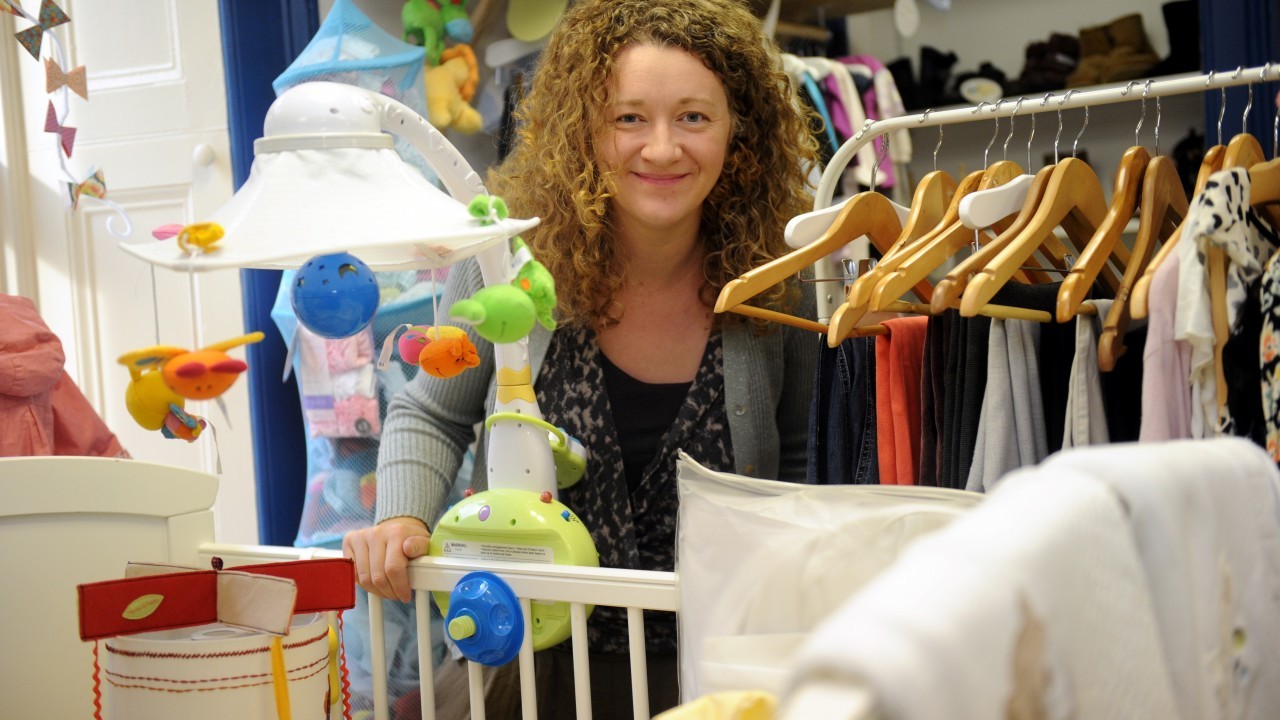 They say experience is the mother of all wisdom, and in the case of one Ross-shire woman, this certainly rings true. Katy Kitchingham, 38, a mother of two from Tain, has mixed together a dose of experience, a dash of insight and one prizewinning idea to create an invaluable service for parents all over the Highlands.
Everything Baby, is a social enterprise which sells pre-loved maternity, baby and toddler goods and offers parenting workshops on Inverness' Church Street, opened last summer following two years of development. The idea for the company was born in 2012 when Katy was expecting her second child and working as a breast feeding peer support volunteer with the NHS. She felt that Highland parents lacked access to affordable baby goods and equipment, despite the massive volumes of unwanted yet fully functional products sent to landfill sites across the UK every year.
After visiting a project offering second-hand goods to parents in Glasgow, she felt a similar service would succeed in the Highlands, and that she was the right person to make it happen. By pure serendipity, Katy came across an advert for the UHI Business Idea Competition organised by Create, the Centre for Innovation and Enterprise at Inverness College UHI, in association with Business Gateway, shortly after returning from Glasgow. The competition aims to encourage more people to think about starting their own business and is open to anyone living in the Highlands, Perthshire or Moray aged 16 or over.
Each year, the prize fund is divided between a number of winners, providing a springboard and support with start-up costs for either a commercial or social enterprise business idea. Having decided to enter her idea, she found filling in the application gave her the opportunity to hone her concept and put everything down on paper. She then faced the panel of judges and presented her idea at the competition final at Inverness College UHI in November 2012.
The judges clearly saw the potential and as a result she received the award for the Best Social Enterprise and secured £1000 in funding. The competition win helped Katy kick-start Everything Baby into action by covering initial costs such as office materials and travel and childcare when attending initial meetings.
Katy said: "The funding from the Create team in 2012 started me off on this exciting journey, and just two years later Everything Baby is up and running from its lovely premises. Our retail shop is a gorgeous boutique selling donated baby, toddler and maternity goods, and we host activities and workshops from our Parenting Room. Create really made a huge difference to our early development."
Shortly afterwards, she secured further funding of £10,000 from Firstport which provides finance and support to social entrepreneurs. In the space of six months Katy had given birth, secured two funding awards and constituted Everything Baby as a registered charity and company limited by guarantee. And in the 12 months following, Everything Baby opened a pop up shop in Inverness City Centre, obtained the lease for premises in Church Street, launched an online shop and secured Scottish Government and 'Awards for All' lottery funding for initial overheads and staff costs.
"It's hard to believe that the whole project started with a simple idea just two years ago," said Kary. "It just goes to show that nothing can stand in the way of a good idea if you just go for it. Since we opened, the shop has been extremely busy and our ambition now is to become fully sustainable in line with our Business Plan in the next few years. The fact that we have over 20 volunteers, with another 20 in the pipeline looking to get involved, also demonstrates the popularity of the idea, and the massive demand for second hand goods and parenting support in the area.
"I'm very excited to see what the future holds."