 Dr Adaeze Ifezulike is not against abortions. Nor is she for them. Her issues lie in the cultural and religious beliefs and lack of education that lead women to have to consider that step in the first place.
Having been a doctor for 16 years and worked in both the UK and abroad, including time in Africa, Adaeze is no stranger to sexual health issues.
But it was an experience in her own life that brought these issues closer to home.
"Six years ago I was busy with work and I had two little children then and I suddenly found myself pregnant, I wasn't expecting it," she explained.
"And it came at a really difficult period of my life. I was doing busy shifts at the hospital and then running around with the kids so it was the last thing that I needed. And I was really upset with myself, I was furious, especially as I am a doctor.
"I hadn't been paying much attention to contraception because of all the pressures around me. So, suddenly pregnant, I was wondering what to do about it and that is where the cultural and religious beliefs come into it so I had a dilemma, what was I going to do?"
After considering her options, Adaeze eventually decided to keep her child. But her experience made her realise that many women face a similar dilemma.
ATITUDE TOWARDS CONTRACEPTION
In 2012, 203,419 abortions were carried out in the UK, with 12,447 of those in Scotland. Of those abortions, 10% involved black women.
Adaeze explained that while there had been a massive increase in the number of abortions since it was legalised in the late sixties, it had stabilised and dropped slightly over the past several years.
The number of women having recurrent abortions – those who have more than one – has remained high however, and none more so than in the ethnic minority groups.
"We wanted to know exactly who is doing this," she said.
"It was found that for black women, the rates of recurrent abortions was almost 50%. So 50% of black women who had an abortion came back for another one. And that was maintained in 2011 and 2012, exactly the same, no change at all.
"The other ethnicity groups, white, Asian and so on, the rates for them were at a lower level but had actually gone up. They are still nowhere near the rates for the black women though."
Adaeze, who works at Summerfield House, Eday Road, Aberdeen, as the GP clinical lead for sexual health and blood borne viruses for NHS Grampian, believes there are a number of factors leading to this difference in abortion rates.
First, people's attitude towards contraception, which Adaeze said is usually linked to the information they have had about it.
"In many ethnic minority groups contraception and sex is not discussed, no one talks about it," she said.
"So if you have someone from an ethnic minority group who is engaging in sexual activity you might find she doesn't have the right information, doesn't know who to ask, and feels her actions are being frowned upon. And that exposes her to unplanned pregnancy and infections.
Another factor is cultural. Adaeze explained that, within many ethnic communities, sex outside marriage is frowned upon.
"It's never discussed with children," she said. "So a girl grows up not knowing anything other than that she is not allowed to have sex outside of marriage. But if she does have sex outside of marriage, what is she supposed to do? She has no information. If she is doing it, she is hiding it. She won't go to a GP for contraception because she believes the doctor will tell her parents.
"The other factor is religious beliefs. Some of the major religious groups haven't put their full weight behind contraception and so their members won't be told about contraception so they won't use it. They won't know who to turn to because they don't want to be ostracised."
I'VE BEEN THERE
It was these frightening statistics, combined with her own experience, that led Adaeze to decide to write a book, Understanding Contraception, which aims to educate black women about contraception.
She believes that while there is plenty of information out there about sexual health issues, there was a gap for something targeting the issues related to ethnic minority groups.
"I've been there myself, I know what it feels like to suddenly find yourself pregnant and think 'gosh this is not what I want'," she said.
"I've never seen any woman who comes into my clinic and says 'I want an abortion' lightly. It's never an easy decision. They are very sad about it, they are unhappy but they feel it is what they have to do.
"So the book came from discussions I had with some of my colleagues and I felt that there was a need for something specific for black women. There is information out there about contraception but unless you address these issues from the cultural and religious aspects of these women, they are not going to reach them. You've got to look at it from where they are coming from.
"I felt strongly that the book needed to come from someone who had 'been there', and who was also a black woman.
She said: "The book says 'I've been there', I understand your religious and cultural views, so it's been written specifically to address these issues. I want women to read it and think that sounds like me. This is speaking to me."
WE DO HAVE A CHALLENGE
"It's not enough to say all women use contraception," Adaeze added.
"If you gather all the data and see that the rates are higher in a specific group of women, you've got to stop and think, why is it higher? What can we do differently to be able to get to them? It's like a wake-up call. That's my whole aim for women to start talking about contraception and address their concerns and see how they can solve their problems."
The book is made up of information about different contraception as well as anonymous anecdotes from patients. Adaeze said she was surprised at the lack of knowledge many of them had about their sexual health.
"Most of the black people here are migrants so you must remember they have been influenced by where they are coming from as well," she said.
"Contraception in many of the black communities back home needs to be paid for, it's not free. So they are used to paying for these things. So when they don't have money, they don't buy it. Now, fast forward, the person has come to the UK and here contraception is free but they haven't realised it is free."
While there has been a lot of support for Adaeze's attempts to educate the black community, it has also attracted some criticism as well.
Adaeze said she had been accused of promoting promiscuity – something she strongly disagrees with.
"Knowing about contraception doesn't make you promiscuous," she said.
"Promiscuity is about your beliefs, your moral standards, it's not about being equipped.
"I was a young girl and as a doctor I always knew about contraception but it didn't make me wayward. We can't bury our heads in the sand and assume that people are not having sex. Religious people say no sex outside marriage and that is fine, that is their belief. But we have to acknowledge that some people are not going to do that so if you are having sex then you have to be equipped.
"I know this message might not be for everybody but we do have a challenge and we need to tackle it."
Adaeze is also keen to make it clear that her message is not connected to the controversial debate of pro choice or pro life but rather comes way before a woman even gets to that stage.
She explained she is coming from a "preventable aspect" and simply hopes to turn around the alarming rates that she first discovered when she began looking into the subject.
"When I know I've made a difference, it feels great, that's what gives me joy," she said.
"And looking at it on a bigger scale, when the abortion figures are done next over the next couple of years, if there was an obvious drop in the black minority, that would make it all worthwhile."
For more information on sexual health and contraception, visit sexualwellbeing network.org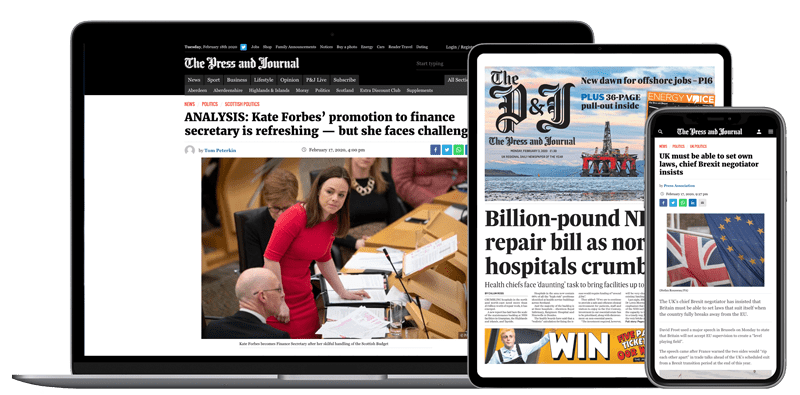 Help support quality local journalism … become a digital subscriber to The Press and Journal
For as little as £5.99 a month you can access all of our content, including Premium articles.
Subscribe