 A recommended destination at any time, the three-day St Patrick's Festival exceeds the expectations of those lucky enough to be there.
Ireland's capital extends an invitation to the rest of the world to join it around St Patrick's Day, March 17, in an explosion of green, as well as a parade on the day itself.
Leaving Aberdeen on a weekend that the Granite City was going to have a celebration of its own – courtesy of the football club – was compensated for when I reached the Emerald Isle.
FLAGS AND BUNTING
Minutes after touching down in Dublin Airport, and en route to my city centre hotel, it was apparent that the city was in preparatory mode.
Flags and bunting hung from every available hitching point, with pubs, restaurants and shops seemingly trying to outdo each other with their displays.
Settling into the four-star Maldon Hotel, less than a minute's walk from the River Liffey, and near the city centre, it was clearly an ideal base for exploring Dublin.
With the Irish rugby team winning in style that day, the mood was set for a performance of traditional music at the National Concert Hall. Nearby, the Fitzwilliam Hotel, in St Stephen's Green, was our pre-theatre venue for a five-star dinner in a five-star setting.
On to the show, Ceili House Live in Concert was being broadcast live on radio and online to a worldwide audience. Featuring Frankie Gavin, the fastest fiddler in the world, the performance was part of a series of events under the St Patrick's Festival banner.
The exterior of the hall was bathed in green as, in common with numerous sites, appropriately-coloured floodlights are deployed at night over the three days.
From entertainment to information, a walking tour of Dublin the next day was a great way to see parts of the city slightly off the beaten track.
Among the subjects covered were Oscar Wilde, Dermot Morgan aka Father Ted, Trinity College, Molly Malone, singer Phil Lynott and writer James Joyce. The enthusiasm of our guide, Josephine O'Keefe, who has an encyclopedic knowledge of Dublin, was infectious.
Having toured on two feet, it was time to take to the water and a 75-minute Dublin Bay Cruise, which set off on the Liffey, minutes from our hotel. Sailing out through docklands and shipyards, the cruise took us to Howth, a small community to the north-east of the city.
STEAK PIE WITH GUINNESS
Lunch was at Wrights Findlater restaurant, where the steak pie cooked with Guinness was a tasty melt-in-the-mouth culinary masterpiece.
In preparation for the next day's festivities, we enjoyed an Irish house party in the more intimate setting of the Landsdowne Hotel.
Preceded by a traditional Irish dinner, the mix of music, craic and dance, delivered in the hotel's small theatre, was a good precursor to the main event next day.
Paddy's Day, using Dublin vernacular, when half a million people line the streets and the parade, led by St Patrick himself, was magical. Whether you have Irish heritage or not – there are thought to be 80million people worldwide who do – this is a spectacle to behold.
More than 3,000 people take part in the parade, which this year had former world champion cyclist Stephen Roche as its honorary marshall.
Apart from Paddy and Stephen, the Lord Mayor, Dublin Fire Brigade Pipe Band, an Irish wolfhound and three cars, coloured green, white and gold, and driving side-by-side to depict the national tricolour flag, are at the parade's start.
It takes approximately two hours to pass from its departure point to the final destination, with a blaze of colour, noise and music in-between.
No video footage or photographs, or written accounts for that matter, can adequately describe the spectacle: it has to be seen to be believed.
International visitors and locals mix freely, both on the parade and watching, in the carnival which this year had the theme of Let's Make History.
Two overseas bands were near the front, the Orchestra of the Estonian Defence Forces and the Pride of Owasso band from Oklahoma.
STREET THEATRE
Other overseas groups included Massachusetts-based Boxborough Marching Band, Cloverhill High School from Richmond, Virginia, and a band from Hofstetten in Germany.
From Dublin's doorstep were Cloandalkin Youth Marching Band, Inishowen Carnival Group of Donegal, and Macnas, a Galway street theatre troupe.
Near the tail-end of the parade, but no less spectacular, was an array of cyclists riding pedal bikes of various shapes and sizes, courtesy of the Durrow High Nelly Club.
At the very end, two young Dubliners carried a banner, which read Slan agus beannacht, meaning Goodbye and Blessings Be With You.
Later, an evening reception for invited guests took place at The Clarence Hotel, owned by Bono and The Edge, of rock band U2.
Hotel manager Michael O'Connor, and Michael Reddy of the Tealing Whisky Company, hosted the event, which was followed by a meal in the hotel's Cleaver East Restaurant.
Fine dining had its box ticked off, and it was farewell fair city of Dublin.
This year's festival was staged as part of the run-up to the country's Easter Rising centenary commemorations in 2016.
If Paddy's Day 2014 represented a routine staging of the annual parade, goodness only knows how they will celebrate their 100th birthday – watch this space.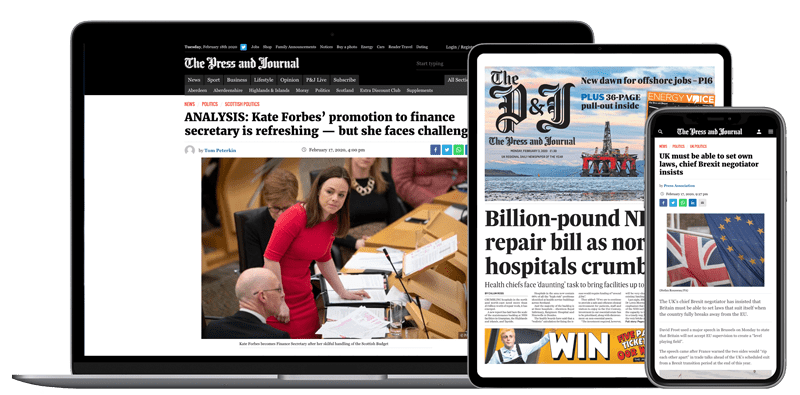 Help support quality local journalism … become a digital subscriber to The Press and Journal
For as little as £5.99 a month you can access all of our content, including Premium articles.
Subscribe