 Defence Secretary Philip Hammond will try to defuse a fresh row over currency today by declaring Scotland has been responsible for putting the "great" into Great Britain.
The Tory minister will become the latest to intervene in the battle over the future of the UK, emphasising the contribution of Scots in its shared history.
However, Mr Hammond's speech in Glasgow will be delivered amid further confusion over the course of negotiations which would follow a Yes vote in September's historic referendum.
The defence secretary reportedly said at the weekend: "There will be nothing non-negotiable. Everything will be on the table."
The SNP seized on the remarks yesterday, insisting they echoed those attributed to an unnamed coalition minister last month, claiming a deal could be reached to allow Scotland to keep the pound.
The comments dealt a blow to the pro-UK camp by directly contradicting Westminster policy which rules out a currency sharing agreement.
In Mr Hammond's speech today, he will move to clarify the comments, saying: "A currency union without fiscal and political union simply doesn't work – the only way to keep the UK pound is to keep the UK together."
However, he will also make it clear that the future of the Trident nuclear weapons on the Clyde would be up for negotiation.
He will say: "Alex Salmond knows, as I know, that the future of our naval base at Faslane would be just one of many defence issues that would be the subject of long and protracted negotiations if there were to be a Yes vote in the referendum.
"If they insist that it has to go, there would have to be complex talks about the costs and time scales involved."
The comments contrast with those made by the Scotland Office Minister David Mundell last week, who was "absolutely clear" a deal on Trident could never be reached.
In a positive plea for retaining the union, Mr Hammond will add today: "It is Scotland which makes the UK united, and adds the Great to Great Britain."
Deputy First Minister Nicola Sturgeon claimed yesterday that the minister had confirmed an agreement on a currency union was possible.
"By saying that as far as the UK Government is concerned 'there will be nothing non-negotiable' and that 'everything will be on the table' after a Yes vote, he has now conceded that by definition there will be negotiations on currency," she added.
Comment, Page 28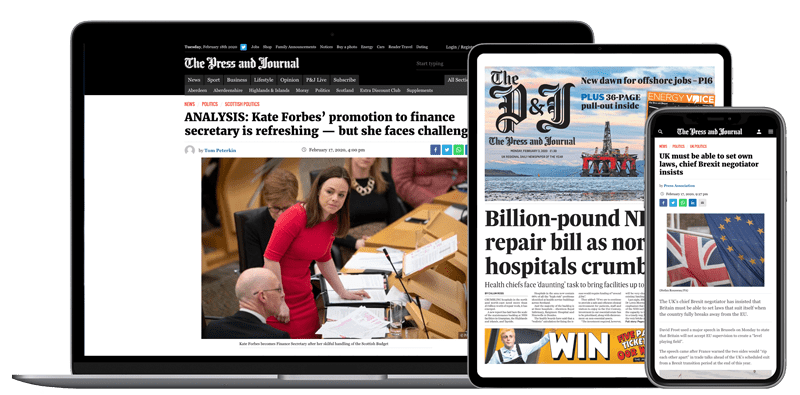 Help support quality local journalism … become a digital subscriber to The Press and Journal
For as little as £5.99 a month you can access all of our content, including Premium articles.
Subscribe