 The Alpine ski season is almost at a close. In many respects it has been a wonderful one, courtesy of a bountiful snow bonanza.
However, despite optimum weather conditions and just the right degree of cool on the barometer, things have been hotting up in another respect.
Unqualified ski hosts are no longer allowed to guide guests around the French Alps. The decision, which has been in force since February last year, is to be reviewed at a court of appeal in Chambery, next month.
Meanwhile, the knock-on effect for UK-based holiday makers who have become accustomed to the concept of a neatly packaged snow-sports holiday in France, is considerable. And it looks as if other European countries may follow the French lead and prohibit ski hosting.
So, how best to adapt to these changes? I set off for a week's ski-ing in Les Deux Alpes with holiday company Mark Warner.
Having travelled with them six years previously to the exact same hotel, I was familiar with the old system. Indeed, on that occasion, I had barely found the need to look at a piste map. A team of enthusiastic ski hosts was at guests' disposal and they took responsibility for planning routes and guiding us round the mountains.
HOTEL BERANGERE
Now, though, it was time to cultivate some independence. Luckily, the Hotel Berangere is close to the slopes, so it was possible to step out the door, strap on skis and undertake some warm-up runs on the nursery slopes before ski-ing across to the cable car and travelling to the top of the glacier at 3,600m.
Actually, press privileges prevailed and I did not have to ski alone that first day or bother too much about improving my map-reading skills.
Helena Hospital works in the resort communication office and she was happy to tell me about the area: "Les Deux Alpes is a good place for families and for people at all levels of ski-ing ability. Even beginners can get to the very top of the glacier and there are easy routes right down to the resort."
Now navigating ski slopes can be tricky. Everything is white for a start. But I began to see the different steps and stages from resort to summit and was helped along by clear signage.
Although Helena and I communicated in English, we did things the French way and stopped for a civilised lunch break. Spring sunshine and a dish of the day involving meat, wine and cream helped create that sense of being in another country, enjoying it at its best.
We spoke about the ski-hosting ban and Helena was diplomatic. She suggested that, while there might be a case for allowing unqualified guides to offer orientation on the first day of a holiday, there is no substitute for the expertise of a professional instructor who has spent five or 10 years honing their skills.
I decided to take her advice and joined an afternoon ski class. Conventional wisdom has it that you should go to ski school in the morning when the snow is at its best. But I found that an afternoon class has advantages. The groups are smaller and the slopes quieter.
Another unwritten rule puts forward the case for having a lesson in your mother tongue. I ended up in an intermediate class with just one other pupil, a multi-lingual Belgian woman called Monique. Both she and our Ecole du Ski Francais (ESF) instructor Philippe had full command of English, but we decided to speak French and this proved to be an interesting experience. Anyone who has been through the Scottish education system has more French language at their disposal than they might think. And making the effort to use it pays dividends.
PHYSICAL ENDEAVOUR
For example, when you do not understand every word said to you, the focus is on the general concept and on visuals. So, there is less chance of getting tangled up by over intellectualisation; a process which is rarely helpful when it comes to physical endeavour.
Philippe had some tricks up his sleeve and these included the ability to illustrate his point through mime. He showed us how to ski backwards on a gentle slope. This taught us to be aware of the correct body position for ski-ing. I learned how to lean forward in the ski boots, how to put pressure on the outside ski and how to plant the opposite pole during a turn, using a mere flick of the wrist.
It was reassuring to have an expert skier to follow round the mountain. Philippe knew where to find the best snow and he made sure we skied safely within our ability while making allowances for those who did not.
He was able to point out Mont Blanc and to identify the surrounding peaks. The conversation moved from ski technique to tourism and politics. Again I had the feeling of actually being in another country. This took me away from what can be the downside of a package holiday: that insulated experienced of being a Brit abroad among other Brits.
Yet it was always pleasant to return to the comfort and conviviality of the Berangere. A sumptuous afternoon tea awaited and there was just time for a swim or sauna and a luxuriant rest in my en-suite room, with its breathtaking view of the slopes, before joining fellow holiday makers for a three-course dinner.
On the last night, the house wine flowed and conversation revolved around how we'd passed those sunny days on the last snows of spring. Many guests had chosen to form their own ski groups with a volunteer taking on the role of leader. (They had been given daily updates and advice by the hotel's winter hosts). Others had signed up for lessons with the designated ski school, Evolution Two, who ran exclusive groups for Mark Warner guests.
ACTION-PACKED WEEK
That evening, looking beyond my table of single travellers to the other diners, I could see families whose children had an action-packed week facilitated by professional nannies based in the hotel. There were couples enjoying a romantic après ski meal, and a large party of friends who had skied together all week.
A seven-night ski holiday in Les Deux Alpes with Mark Warner costs from £688 on a half-board basis as well as afternoon tea and wine at dinner. This includes flights and transfers. Early booking offers apply until May 21, 2014. www.markwarner.co.uk
0844 273 6796
Week lift pass at Les Deux Alpes costs from 210 Euros per adult.
Six days' group ski lessons with ESF costs around 149 Euros. http://www.esf2alpes.com/
Ski-hire packages including boots, poles and helmets available from Ski Republic from 10 Euros per day http://www.ski-republic.com/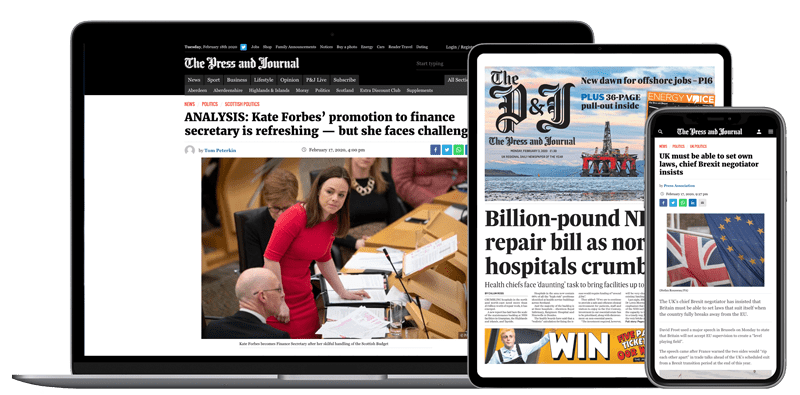 Help support quality local journalism … become a digital subscriber to The Press and Journal
For as little as £5.99 a month you can access all of our content, including Premium articles.
Subscribe