 Oscar Pistorius refused to look at a photo of his dead girlfriend's bloody head wounds while giving evidence at his murder trial in Pretoria yesterday.
Prosecutor Gerrie Nel told him: "It's time that you look at it" – setting the stage for a rigorous first day of cross-examination of the double-amputee Olympian charged with premeditated murder for shooting Reeva Steenkamp through a toilet door at his home.
Mr Nel said Ms Steenkamp's head "exploded" when it was struck by one of four hollow-point bullets that Pistorius fired through the door on February 14, 2013, with his 9mm pistol.
The police photo showed a side view of the dead model's head, with a blood and human tissue on the back and upper parts.
"I will not look at a picture where I'm tormented by what I saw and felt that night," Pistorius said. "As I picked Reeva up, my fingers touched her head. I remember. I don't have to look at a picture. I was there."
Pistorius, 27, says he shot Ms Steenkamp in the pre-dawn hours on Valentine's Day – in the head, arm and hip – by mistake, thinking she was a dangerous intruder behind the door in his bathroom about to come out and attack him.
Prosecutors charge that he killed the 29-year-old intentionally, and Mr Nel aggressively questioned Pistorius for the first time.
"You killed her," Mr Nel said. "You shot and killed her." He asked Pistorius to say it. Pistorius would not, saying merely: "I did."
Pistorius faces a possible prison term of 25 years to life if convicted of premeditated murder.
Mr Nel also showed a video of the athlete firing a gun at a watermelon at a shooting range.
In the video, the melon explodes when the bullet hits it. Pistorius calls the powerful .50-calibre pistol he was using a "zombie stopper".
Defence lawyer Barry Roux objected to the video being shown, saying it was inadmissible character evidence.
Mr Nel then started to poke holes in Pistorius's version of the events of the fatal night.
The runner said his claim in a court document a year ago that he went out on to a balcony at his home before the shooting was incorrect – he had gone only to the edge of the balcony but not outside.
The discrepancy could be significant because Pistorius says he heard a noise in the bathroom that alerted him to a possible intruder, and this would have been harder if he was out on the balcony.
The trial continues.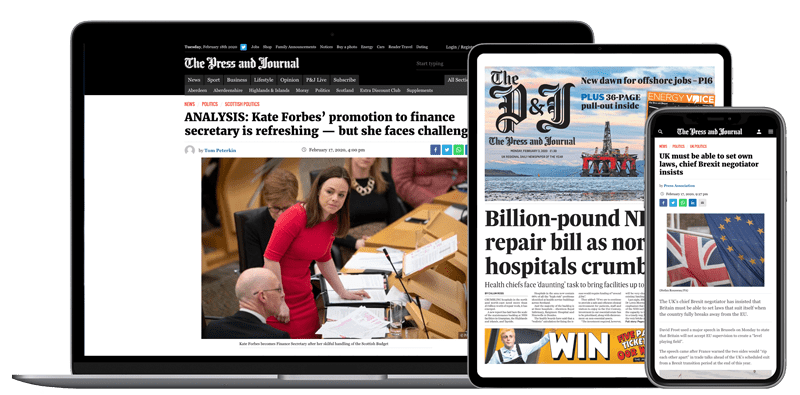 Help support quality local journalism … become a digital subscriber to The Press and Journal
For as little as £5.99 a month you can access all of our content, including Premium articles.
Subscribe