We look at the week's top cinema releases
A MOST VIOLENT YEAR (15)
4 stars
According to statistics, 1981 was the most violent year in New York City history in relation to the population.
Over the 12 months, more than 1.2million crimes were recorded, including 60,000 aggravated assaults, 5,400 rapes and 2,220 murders.
A crack epidemic had the city in a choke-hold and Mayor Ed Koch seemed powerless to curb gang warfare and spiralling lawlessness on the subway system.
Writer-director J.C. Chandor, who was Oscar nominated for the 2012 thriller Margin Call, uses this turbulent period as a backdrop to his masterful and searing portrait of crime and brutal punishment.
Centred on a married couple who are struggling to keep their heating oil distribution business afloat, A Most Violent Year powerfully conveys the personal and professional sacrifices of a devoted husband and wife, who become one of the shocking statistics.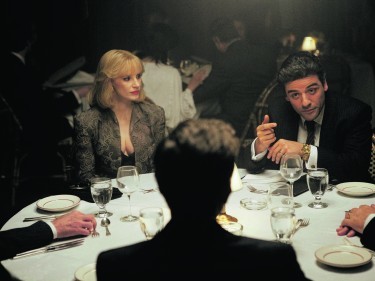 The film's pacing is deceptively steady and slow, lulling us into a false sense of security as Chandor ups the stakes for his beautifully sketched characters, forcing them to take greater risks to protect their nearest and dearest.
Abel Morales (Oscar Isaac) owns a fleet of oil transport trucks that carry valuable fuel to customers across the city.
He's a small player, but hopes to expand by clinching a deal for property on the Brooklyn waterfront that will allow him to take delivery of oil from the river.
Having put down $700,000 as a deposit, Abel has just 30 days to close the transaction or the vendor keeps the downpayment and can sell the land to a competitor.
Soon after, Abel learns that one of his trucks has been hijacked and the driver Julian (Elyes Gabel) has been badly beaten.
Union rep Bill O'Leary (Peter Gerety) asks Abel to allow the drivers to carry unlicenced guns as a deterrent, but the boss objects strongly, knowing that it will take just one stray bullet to arouse the suspicions of the crusading assistant district attorney (David Oyelowo).
Threats to Abel's livelihood become personal, targeting his children and wife, Anna (Jessica Chastain), whose gangster father used to own the company.
"Let me deal with this," pleads Abel.
"You better," she retorts, "because you won't like what's going to happen once I start getting involved."
A Most Violent Year hits a sweet spot on every level, from Chandor's measured direction and lean script, to the powerhouse performances.
Isaac is mesmerising as an honourable family man
who refuses to sink to the
depths of some of his rivals, sticking to the path of righteousness for as long as he dare.
Chastain essays another ballsy woman of substance, cutting through her husband's rose-tinted idealism with harsh home truths.
When oblivion beckons for Abel and Anna, we discover the true strength of their moral compasses in the face of the corruption and senseless bloodshed.
EX MACHINA (15)
4 stars
For his bravura directorial debut, London-born author and screenwriter Alex Garland (The Beach, 28 Days Later) explores mankind's unquenchable desire to give birth to sophisticated automata that learn from their mistakes.
Ex Machina is a deeply disturbing thriller that explores the murky moral ramifications of creating a robot that could pass for human.
Nathan (Domhnall Gleeson) is a talented computer programmer at a hi-tech firm run by the enigmatic Caleb (Oscar Isaac). Out of the blue, Nathan wins a weekend at the CEO's remote island retreat and journeys to the lush paradise in a private helicopter.
He learns that he has been handpicked by Caleb to take part in a groundbreaking experiment: to interrogate a functioning artificial intelligence prototype called Ava (Alicia Vikander).
The programmer is dumbstruck by Ava's beauty and her ability to respond intelligently to his questions.
Very quickly, Nathan grows emotionally attached to Ava and he is distressed when she warns him not to trust Caleb. The programmer's emotions are further complicated when he learns that Ava is the latest iteration of the CEO's secret work and will, by necessity, be scrapped to make way for a newer model.
Ex Machina exerts a vice-like grip on our attention, anchored by riveting performances from the central trio.
Gleeson exudes sufficient sweetness and naivete to convince us he would be an unsuspecting pawn in Caleb's diabolical and ultimately deadly game.
In stark contrast, Isaac bristles with machismo and menace as he voyeuristically documents Nathan's burgeoning attraction to Ava.