 RSPB officials searching for a missing rare bird near Strathdon in Aberdeenshire suspect it has been killed.
A major operation involving police officers was launched earlier this week after concerns were raised for the welfare of the satellite-tagged white-tailed eagle.
The bird was the first to be raised in the east of Scotland for almost 200 years but its last tracked movements were recorded on April 10 at the North Glenbuchat Estate in Aberdeenshire.
RSPB Scotland's head of investigations, Ian Thomson, said: "Immediately it is suspicious because if a bird were to die naturally we would still be getting information from the satellite tag.
"The transmissions abruptly stopped at a site where we have had several other eagles disappear.
"Unfortunately, some of our grouse moors have an appallingly Victorian attitude towards birds of prey.
"This bird is highly protected and was the first chick to fledge from the east of Scotland in almost 200 years. This shows a complete disregard for the law in some places."
The bird fledged in Fife last spring and is thought to be less than a year old. It does not have a name but is recognised as "White One" due to the white tag on its wing and the number that appears on it.
The sea eagle's progress had been a significant boost to a re-introduction project to return the species to the area following its extinction a century ago.
"It is important that the public realise the persecution of these birds is not about a one off incident, rare species are being killed on our grouse moors week after week.
"This is a well organised police operation and we are grateful that such crimes are taken so seriously."
A police spokeswoman said: "Inquiries are ongoing and a wide area is being searched.
"Officers are appealing for anyone who was in the area of the North Glenbuchat Estate on April 10 to get in touch if they witnessed anything."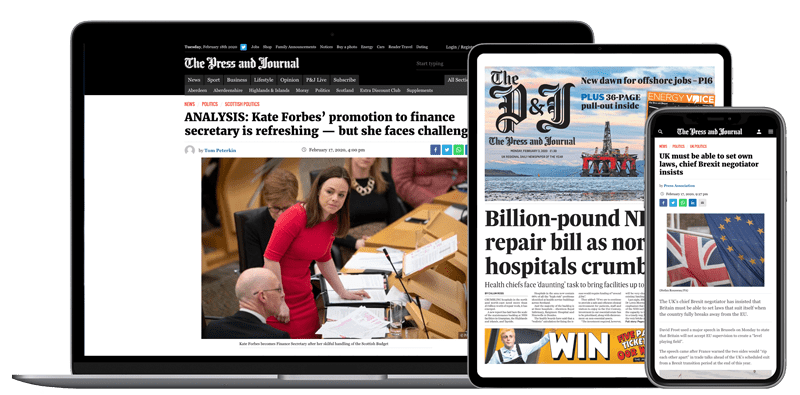 Help support quality local journalism … become a digital subscriber to The Press and Journal
For as little as £5.99 a month you can access all of our content, including Premium articles.
Subscribe