 NFU Scotland has called on government to ensure a back-up plan is in place for subsidy payments in 2015.
The union has called for an emergency option to be made available to deliver interim direct support payments from December 2015 onwards in the event of any delays to the new Common Agricultural Policy (Cap) regime.
It warns the shift to an area-based payments system could bring "additional complexity" to the process – something which has sparked concern among producers that next year's vital payments could be delayed.
The union made the plea from Brussels this week following a meeting with European Commission officials.
"Scotland has an excellent track record in delivering single farm payment with farmers routinely receiving their support payment close to when the payment window opens on December 1 each year," said chief executive Scott Walker. "However, the new Cap regime and the required move towards an area-based payment system from 2015 onwards is likely to drive complexity into the system with the potential for delays. Experience in England in 2005 shows what can happen when delivery goes wrong."
He said it was vital a contingency plan was put in place to ensure successful subsidy applicants could receive at least a part of their payment when the window opens in December 2015 if failures in the government's subsidy delivery system emerge.
"Knowing that such an emergency backstop was possible would allow farm businesses to manage their cash flow and be able to plan," said Mr Walker.
"If, in an event of systems failing, payment could still be received it would help businesses when talking to banks about extending overdrafts or agreeing borrowing requirements."
He said the Scottish Government would still have to carry out checks and inspections before any payment could start, warning this was likely to be more complex under the new Cap as a result of mandatory greening rules and younger farmer support, both of which require more farm inspections to satisfy EU audit requirements.
"We will be urging the Scottish Government to take these into account as they make their plans for next year and ensure adequate resources are available to ensure that inspection requirements do not become an impediment to the payment of subsidy," added Mr Walker.
The union urged the government to ensure adequate systems are put in place to process claims and that farmers are told as soon as possible about any possible delay to payments.
"Transparency on the introduction of the new scheme and proper communication with the industry on how it is developing is vital," said Mr Walker.
"We must be open on how the new system is progressing and any potential impact on payment dates flagged up at the earliest opportunity."
Responding to the union's concerns, a Scottish Government spokes-woman said the government's Cap timetable was both realistic and achievable.
She said: "The Scottish Government has a strong track record in making farm payments on time or ahead of deadline – with typically 90% of farmers receiving their single farm payment by the end of December.
"We are aiming to achieve similar results under the new Cap and will keep the implementation timetable under constant review to ensure farmers receive their payments."
Earlier this month a leading adviser said the clock was ticking for the Scottish Government to get its plans for the new Cap in place. Jeremy Moody, secretary and adviser to the Central Association of Agricultural Valuers, warned the delay in announcing plans was leaving farmers at risk of little or not time to get their cropping right ahead of the onset of new greening rules.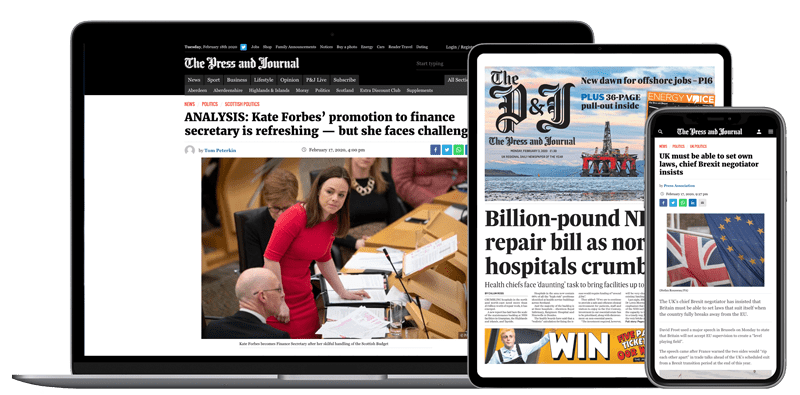 Help support quality local journalism … become a digital subscriber to The Press and Journal
For as little as £5.99 a month you can access all of our content, including Premium articles.
Subscribe