 Robbie Renwick won gold at the Commonwealth Games in Delhi four years ago and is desperate to repeat that achievement in front of a noisy home support in Glasgow this summer.
The 25-year-old, who was born in Abu Dhabi and grew up in Aberdeen, claimed the first major gold of his career in the 200m freestyle at the 2010 Commonwealth Games.
Four years on, the swimmer feels he is stronger, both physically and mentally, to handle the occasion as he heads to Glasgow 2014 looking to retain his title. He said: "The experience of the 2010 Commonwealth Games was amazing. It was in Delhi and at the start everyone was even wondering if the games would even go ahead.
"You had to deal with that straight away and, like most competitions I go to, it was a rollercoaster from start to finish. You can have some swims that you are not best pleased with and I had that on the first day in the 400m freestyle where I was going for the gold.
"I missed out and misjudged my race and I think a lot of that was down to not having enough experience and little factors such as being too nervous. The first day was a disappointment, so I really had to turn it around on the second day and that was when I won my 200m freestyle title by two one hundredths of a second. It was a very close race but I like to think I timed it to perfection.
"That is how sport can be – I have won and lost races by the same margin.
"It was great to get the Commonwealth title and now the aim is to regain that title this summer."
Renwick, who trains in Glasgow, says the excitement is growing around the city as the start of the games draws ever closer.
He said: "It is almost similar to the home Olympic Games – everyone is counting down the days and you can't open a newspaper without reading something about the Commonwealth Games.
"It is fantastic and I am happy I have had that experience before and I can really use that as a positive this summer.
"Hopefully, I can use that experience to drive my performance. It is going to be all about my performance this summer. Once I have done what I want to do then I will be happy and can sit back and relax and watch the rest of the Commonwealth Games. At the moment it is 100% all about the performance and getting prepared for that."
Renwick is being supported in his quest for another Commonwealth Games gold by Aberdeen-based FirstOil and the 25-year-old says the company's funding has made a major impact in his development.
He added: "The support has been invaluable. I have been a FirstOil ambassador since 2010 and the support has been fantastic. It has enabled me to go to warm weather training camps to train with some of the best swimmers in the world such as Michael Phelps and Ryan Lochte."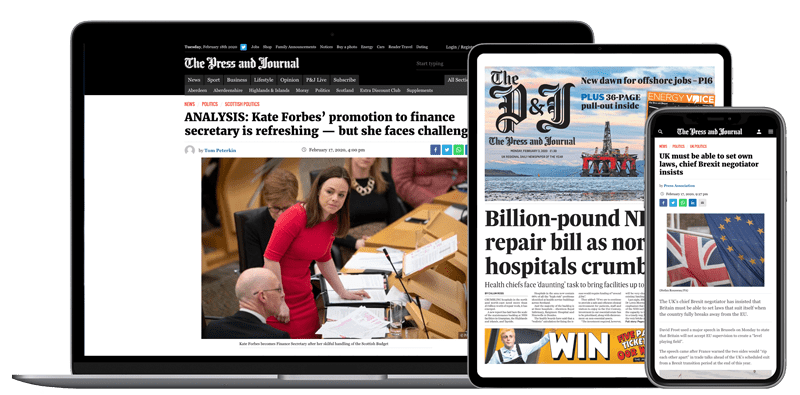 Help support quality local journalism … become a digital subscriber to The Press and Journal
For as little as £5.99 a month you can access all of our content, including Premium articles.
Subscribe