 A company boss was in a stable condition last night after he suffered serious injuries in an explosion at a Forres sawmill.
Brian Robertson had to be airlifted to hospital by helicopter following the blast at James Jones and Sons on the Greshop industrial estate.
Mr Robertson, the timber factory's general manager, took the main force of the explosion, which left three other employees and three firefighters injured.
The 59-year-old, who is due to get married to his long-term girlfriend next month, is being treated at Aberdeen Royal Infirmary.
Fifteen firefighters from Forres and Elgin were already at the scene when the explosion happened at 10.30am on Thursday.
They had been called out to the factory at around 9am after a fire broke out in a silo containing sawdust and wooden shavings.
The blaze had seemingly been put out when the explosion occurred.
Mr Robertson, who lives near Culloden Moor, has worked at the firm for at least 15 years.
A keen amateur pilot, he is also a car enthusiast, and is the Highlands' branch co-ordinator of the MX-5 Scotland club for Mazda sports car owners.
Several messages of support have been posted onto the club's website since the accident.
One member wrote: "Here's hoping that you have a speedy recovery and are back behind the wheel soon."
Another wrote: "As a retired firefighter my thoughts go out to you Brian. Scary experience. Get well soon."
James Jones workers were sent home early on Thursday following the incident.
Police said employees would only be interviewed once they had had a chance to get over the initial trauma. Councillor George Alexander, who represents Forres, said he had spoken to a local business owner who witnessed the blast.
Mr Alexander said: "I understand there was a smouldering fire in a storage bin for the sawdust.
"It had been put out and the bottom of the tower had been removed in order to let the stuff come out.
"The employees were shovelling the sawdust from the tower into skips when there must have been a sudden rush of oxygen and the explosion took place – blowing people right off their feet.
"It really has just been an unfortunate incident where the firemen obviously thought the situation was under control. This sudden dust explosion caught them unaware. It was totally unexpected."
The factory remained closed yesterday, although deliveries were still being carried out at its storage depot.
By coincidence, a Health and Safety Executive (HSE) inspector was in the Forres area when the explosion happened and was able to go straight to the site.
Investigations into the cause of the accident continued yesterday.
An HSE spokesman said: "Inspectors were on site alongside police and fire investigators. HSE will be continuing to investigate."
He added that it was too early to speculate on how or why the explosion had happened.
The three other James Jones employees were also taken to hospital suffering from minor burns following the explosion.
A 20-year-old man was transported to Raigmore in Inverness, while two others, aged 24 and 62, were taken to Dr Gray's in Elgin.
Their conditions are not understood to be serious.
Three retained firefighters from the Forres station received minor burns.
Two, both aged 47, were taken to Raigmore, while the third was able to make his own way to seek treatment.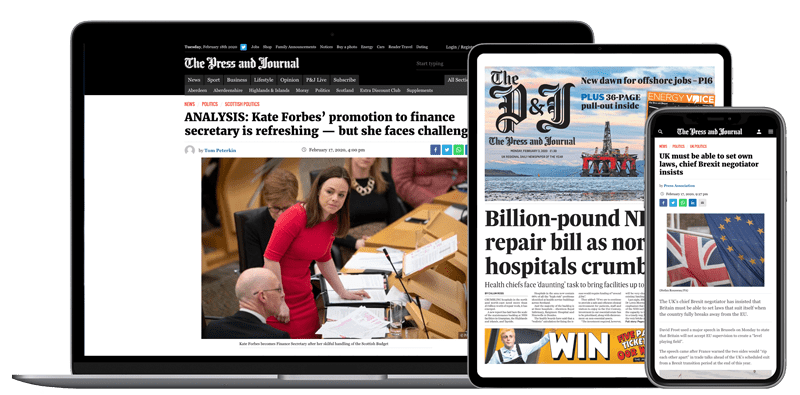 Help support quality local journalism … become a digital subscriber to The Press and Journal
For as little as £5.99 a month you can access all of our content, including Premium articles.
Subscribe