 The oil and gas world was rocked yesterday with the surprise resignation of BG boss Chris Finlayson after less than 16 months in the job.
In an announcement to the stock exchange, the international oil and gas giant cited personal reasons for Mr Finlayson's departure "with immediate effect".
It came three days before the company is due to present first-quarter figures.
Mr Finlayson, 58, took on the role from Sir Frank Chapman, who had been in charge since BG was created in 1997, when British Gas demerged into two separately listed companies.
The company has been hit by problems in Egypt, where it announced force majeure on its natural gas exports due to political turmoil.
Mr Finlayson has also presided over a series of production downgrades and a profit warning in January.
Although analysts pointed out that Mr Finlayson had "little control" over the Egypt situation, sources likened him to outgoing Manchester United manager David Moyes.
Chairman Andrew Gould said the company "must accelerate the creation and delivery of the longer-term value for our shareholders, while delivering the group's business plans". He added: "The board felt that it was in the best interests of the group to accept Chris's resignation and seek fresh leadership."
The company said that although it was now reviewing its operational, investment and portfolio management plans, at it will not provide 2015 guidance until its full year results in February 2015.
Mr Gould will take the helm on an interim basis as the company begins the search for an external successor.
Mr Finlayson has more than 35 years' experience in the oil and gas industry, having joined BG from Royal Dutch Shell in 2010.
He was previously in charge of BG's capital projects programme.
BG, which employs 5,000 staff in 20 countries, has key growth projects in Brazil and Australia but its growing asset base has led to higher unit operating costs.
After suffering from an initial 6% drop in its share price as shareholders digested the implications of yesterday's announcement, BG's share price closed last night one point higher at £11.46.
The group said its production guidance remained unchanged at 590,000-630,000 barrels of oil per day, although this was "now expected to be at the lower end of the range given the issues in Egypt".
"The deterioration in Egypt will similarly impact 2015 production," the statement added.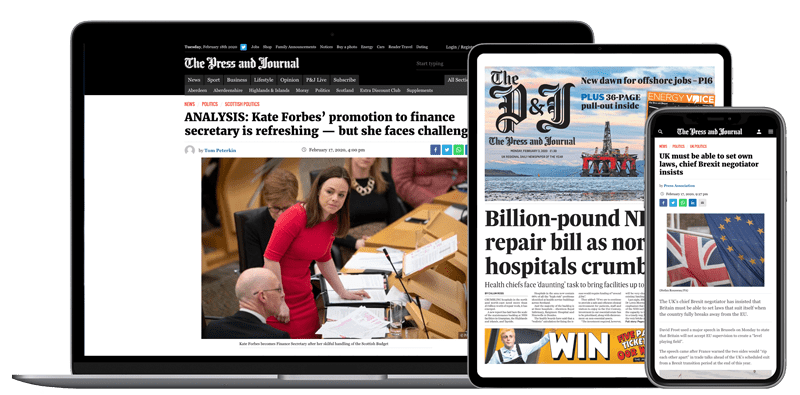 Help support quality local journalism … become a digital subscriber to The Press and Journal
For as little as £5.99 a month you can access all of our content, including Premium articles.
Subscribe