 New entrants are being offered the chance to farm at a new starter unit near Dundee.
Forestry Commission Scotland (FCS) has announced plans for a ninth starter farm unit at Gourdie Farm. The starter farm scheme was launched to offer new entrants a pathway into the industry.
FCS said the unit offered a "unique opportunity for a rural entrepreneur to develop a fully integrated horticulture and woodland business".
The unit at Gourdie was acquired by the commission in 2009 as part of an internal Scottish Government transfer. The 133-acre unit was previously used for research purposes by the Scottish Crop Research Institute, and at the time of the transfer, was valued at £700,000.
Earlier this year, FCS added to the unit by purchasing a 22-acre block from the NHS for £130,000. FCS said it plans to develop Gourdie in phases, with an initial starter farm unit created on a 47-acre block.
"Approximately half of this will remain open agricultural land with the balance being a mix of woodlands, part of which has potential to help with additional income from orchards, fruit crops, willow or firewood," it said.
"Shelter belts planted around this unit will also be utilised to provide routes for public access and corridors for wildlife."
FCS said due to the potential horticulture and woodland mix of the unit, it would be looking for someone with a broad set of skills to manage the farm.
"However, help will be on hand through ongoing mentoring to assist the successful new farmer develop their business," it said.
The unit will not come with a farmhouse. However, FCS said the successful applicant will have use of part of the existing shed and hard standing. A restored borehole and ring irrigation system will also be available.
The commission said it aims to appoint a tenant to the farm this autumn and work closely with them to finalise the design of the woodland elements before the tenancy officially starts in late 2015.
There is scope to create two or more units on the holding. However, in the meantime the remaining land will be leased out for growing arable crops.
Farm Minister Richard Lochhead said: "This will be a great opportunity for someone looking to get their feet on the first rung of the farming ladder. This starter farm at Gourdie is a positive development and another excellent demonstration on how forestry and farming is benefiting from each other."
The scheme has seven units in Fife, Ayrshire, Stirlingshire, Aberdeenshire and Dumfriesshire. There are plans for an eighth unit at Achnamoine in Caithness, due to be in place by spring 2015.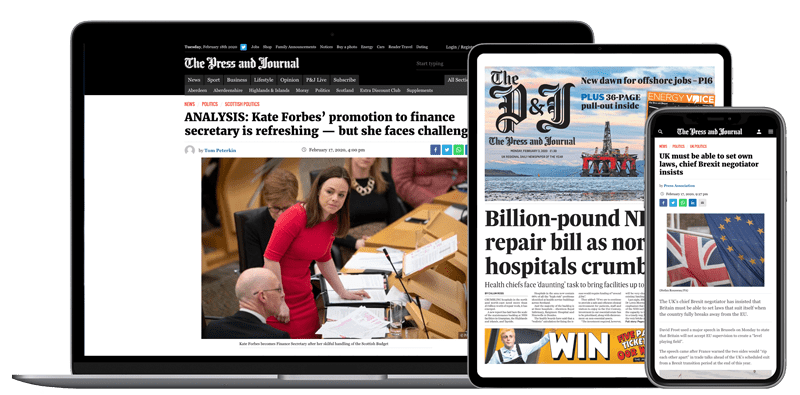 Help support quality local journalism … become a digital subscriber to The Press and Journal
For as little as £5.99 a month you can access all of our content, including Premium articles.
Subscribe