We catch up with three local entrepreneurs to find out what it takes to become successful in the north-east's thriving hospitality industry
Russell Davidson, of Eclectic Fizz & 1 Diamond Street; Adam Dyke, of Pittodrie House Hotel; and Phillip Fleming, of Tor-na-Coille Hotel & Restaurant have taken different routes into hospitality, but there are clear synergies in what they believe is most important when running a successful hotel, bar or restaurant.
Russell, managing director of Effervescent Venues, spent over a decade managing other people's venues. In the process, he gained valuable experience which set him up perfectly to seize the opportunity of going it alone earlier this year.
"I've always had a keen interest in the hospitality industry but was originally more drawn to becoming a chef. However, I ended up finding more of a comfort zone front of house. Running my own bar or restaurant has always been the goal."
Russell goes on to give some insight into how that goal become a reality with Eclectic Fizz and 1 Diamond Street, which both opened in November last year.
"I was made redundant from my previous role in the spring and one week later I found out my fiancée was pregnant, so furthering my career became essential.
"I started a role as manager of a serviced apartments company in July, not too long after the opportunity for the leasehold of the two venues presented itself. Having more than a decade of experience of managing other peoples venues, it was a natural progression," he said.
The cases of Pittodrie House Hotel and Tor-na-Coille Hotel & Restaurant show that it is possible to forge a successful career in hospitality without it having always having been the managers' chosen sector.
Adam said: "I always wanted to play football for Newcastle United and even when I realised I wasn't good enough, I still wanted to be involved in sports in a writing capacity.
"However, I missed the opportunity to study English at university, so decided to study hospitality at university because I was working in a restaurant part-time and enjoyed the buzz of being constantly busy."
The thrill of a busy establishment also excited Phillip: "When I was growing up, I thought about being a teacher but only because I liked the idea of working Monday to Friday and all of those holidays in the summer.
"As a treat, my parents always took us out to nice hotels and restaurants and it was there that I always got a buzz out of visiting a busy place with good service. I thought to myself 'I could do that.' "
Fast-forward several years and Phillip's success with Tor-na-Coille Hotel & Restaurant, in Banchory, shows that his belief was correct. But the journey hasn't been without hard work.
Phillip explained what is required to succeed and what he loves about the industry: "People and training are key to a successful hospitality business. It is essential to train and reward your staff to develop a culture of ownership and responsibility within your team.
"There are always long-term benefits to be gained from hard work and it is important to always strive to be the best that you can be.
"I love the fact that no two days are the same. The diversity of my job and role brings challenges to me every day – which is great.
"Going forward, I feel the biggest challenge the hospitality industry will face is recruiting and convincing people it is both a sustainable, viable and rewarding career choice."
When asked about the most essential ingredient of a successful venue, Russell, Phillip and Adam are all in agreement that the customer's experience has to be first-class.
"The better all-round customer experience will mean a more successful business," Adam said.
"The customer is key and it is all about providing exceptional service. A smile costs nothing."
Russell explained how a valuable lesson he learned in his early days has helped him establish himself in the industry: "While working with Revolution bars, their now ex-CEO, Roy Ellis, taught me the difference between service and hospitality.
"Service means 'the duties performed by a servant' whereas hospitality means 'a friendly reception from a host'. The servant and the host are the same person; it is just the attitude choice that is different. You can either choose to just take people's orders or you can choose to be a friendly host. I chose to be a host."
Turning up at work with a smile on your face and going about your daily activities with enthusiasm are the recurring themes when the three businessmen are asked what advice they would give youngsters considering a career in hospitality.
Adam, who has achieved both red stars and three rosettes in his career, said: "Enthusiasm, quality and dedication is what leads to success. As a young general manager, I am excited to bring this attitude and experience to Pittodrie House Hotel."
Russell added: "Most importantly, I think it is essential to have fun in what you do and I lead by example on this. I walk into Eclectic Fizz and 1 Diamond Street with a smile on my face every day and I leave with one too. If the rest of the team can do the same, then we're already half-way there."
Phillip adds some advice: "If you enjoy dealing with the public and get a buzz out of providing first-class service to people, then this may be the career choice for you.
"If you like a job that is challenging, diverse and fun, then this could also be for you.
"Always be prepared to have an open mind and push yourself every day to learn something new. Never forget the people and the places that train you – they could help you in future years. Be a team player and always acknowledge hard work and effort."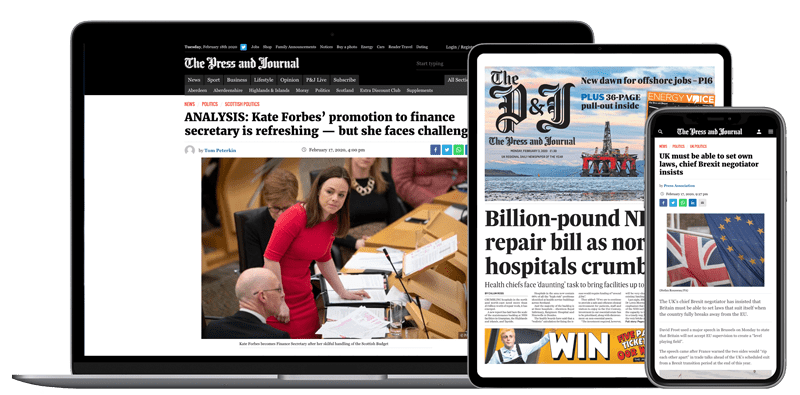 Help support quality local journalism … become a digital subscriber to The Press and Journal
For as little as £5.99 a month you can access all of our content, including Premium articles.
Subscribe