 Scottish Widows Investment Partnership (Swip) boss Dean Buckley will lose his job as its new owner, Aberdeen Asset Management (AAM), restructures the newly merged business.
Martin Gilbert, chief executive of AAM, said Mr Buckley, along with three other departing senior executives at Swip, had "helped ensure it was in the best possible shape" as the £650million acquisition completed.
The deal – which catapults the Aberdeen-based firm into the world's top 10 fund managers by assets under management – completed last month after AAM beat out competitors to secure the Lloyds Banking Group-owned firm.
Under the changes, AAM will develop a new hedge fund unit under Andrew McCaffery, its head of alternatives, which will also include private equity, infrastructure and property investments.
Archie Struthers, previously managing director of investment solutions at Swip, becomes head of its Aberdeen solutions unit, which will manage a "wide range of investment strategies spanning multiple asset classes and risk profiles".
Sean Phayre, formerly director of quantitative investments at Swip, will lead AAM's quantitative investments team, focusing on passive equity portfolios.
All three will be join AAM's group management board alongside Hugh Young, Brad Crombie and Pertti Vanhanen.
Mandy Pike, Aberdeen's global head of dealing, also joins the group management board.
Martin Gilbert, chief executive of Aberdeen Asset Management, said: "The creation and enlargement of these units further emphasises the breadth of Aberdeen's investment capabilities.
"Alternatives, investment solutions and quant equity can all play important roles in delivering a diversified range of returns to clients. These units, together with Aberdeen's strengths in active equities and fixed income, mean we are well placed to continue to meet the needs of our investor base around the world.
"Dean, Lynda, Mark and Will all made significant contributions to the Swip business and helped ensure it was in the best possible shape as the acquisition completed.
"I would like to thank them for their professionalism throughout this process and wish them all the very best for the future."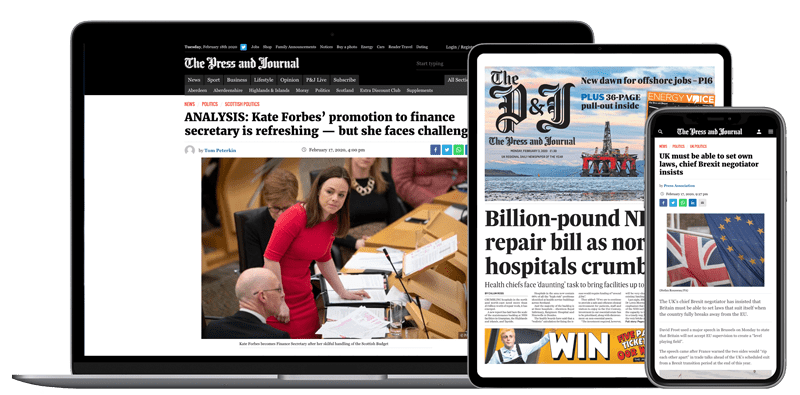 Help support quality local journalism … become a digital subscriber to The Press and Journal
For as little as £5.99 a month you can access all of our content, including Premium articles.
Subscribe