 There are few flavour sensations more "hot" on the farmers' marketplace than the humble chilli.
Fast becoming Britain's latest food love affair, Chilli-Heads has launched a plethora of festivals countrywide in celebration of the fiery delicacy – with Scone Palace setting the stage for Scotland's first red hot event just last year.
Although chillies only reached European soil courtesy of Christopher Columbus and were, until relatively recently, only grown here as something of a botanical curiosity, the concept of chilli farming is now becoming a commercial sensation.
Regardless of Britain's cold and often dark climate, highly "on trend" farm-scale operations are burgeoning, with the UK's most northerly chilli farm – Chillilicious – burning bright from the Kingdom of Fife.
Here, mother and daughter team Patricia and Stacey Galfskiy have seen their chilli-powered farm enterprise grow to seriously hot proportions.
At their farm near Teasses Mill, outside Ceres, near Cupar, the pair grow more than 40 varieties of chilli plants – from subtle and mild-tasting jalapenos and apaches right up to mouth-blowing Trinidad moruga scorpions, ranked among the hottest chilli peppers in the world.
Chillilicious, which the Galfskiys turned from a hobby into a commercial venture and launched in May 2011, forges a bond between their life-long love of chilli peppers with Patricia's masterful cookery and Stacey's artistic abilities.
The result has been an ever-expanding production line churning out jams and chutneys, oatcakes and confectionery alongside beautiful infused glass and ornamental treasures – all with a chilli twist.
"We call our chilli business our little monster as it has grown so much more than just arms and feet," said Stacey.
But she said the chilli pepper is about so much more than just red hot heat. "We're all about the flavour of the chilli and its multiple health benefits, not about trying to implode your head with mega hot products.
"We use our chillies to accentuate the natural flavours in all the food we produce. So if we are using a hotter chilli, we will use it in a far lesser quantity so that you can still really taste and appreciate its flavour, rather than be literally blown away.
"We want everyone to enjoy our chilli products, even if they aren't a fan of 'hot' food.
"Each variety has a very different type of flavour – some are sweet, some are sour, you get some with fruit-like tastes and even nutty flavours. There is a lot more to a chilli than just the heat involved."
But chillies are costly to grow – they like sun and heat, and there isn't too much of that on offer in Scotland.
"We developed and built our own nursery, which allows us to begin planting from November through to January," said Stacey.
"But due to the Scottish climate, our chilli plants have to be under hydroponic lights pretty much 24-7, particularly throughout the dark winter time."
When the spring arrives, the plants can be transferred into 4,000-plant capacity polytunnels at the farm, where they reap a harvest of peppers annually for around five growing seasons each.
"The milder varieties of chilli plants actually thrive well in Scottish conditions. It is the stronger types that take much more looking after," added Stacey.
"Aphids cause the biggest problem, but we take care to use an organic approach to controlling the pests. We take a delivery of ladybirds each year, which are happy to feast on greenfly, blackfly and whitefly to control any plant lice infestation."
"We have a ladybird hotel in each of our polytunnels."
With sustainability in mind, the pair have set about installing renewable energy technology.
"Chillilicious has grown so much faster than any of our family could have imagined," said Stacey.
"As a result, we're currently in the process of installing renewable energy to help contribute to our heating and lighting bills."
Solar panels and a small turbine will both shortly find a place at Chillilicious, alongside the re-utilisation of a flax pond on the farm, which will have coils installed into its bed to help generate heat.
The Galfskiys also plan to make the best use of a small waterfall on the farm, offering the potential to generate hydro electricity.
The pond and water feature will also play a central role for new visitor attractions that will open the farm up to visiting public.
Stacey said: "We've built a really strong local and national following and we'd love for more people to be able to see what we are doing here.
"We love meeting people face to face at all the shows and markets we go to. It's great to get the opportunity to convert people into loving chilli."
With developments well under way, Chillilicious will shortly have much larger new kitchens, workshops and a gallery and visiting area.
Here, all their fiery gourmet produce – from their chilli chutneys and Jamaican-style chilli jams, to Heaven and Hell chocolate bars and Naga Nip whisky – will be available to purchase.
The additional facilities will also provide art and design graduate Stacey, who specialises in glass work, with a workshop and gallery to share and display her wares alongside further artistic offerings from several select chilli-inspired designers.
She said: "You don't need to go to the 'world' food aisle to find chilli produce in the UK anymore, so we won't be importing any products from outside the UK. We want people to share our excitement, discover all the fabulous produce that is available locally, and learn about nutritional benefits of chillies too.
"Fife really is a hot bed for chillies."
The visitors' area at Chillilicious is due to open towards the end of the summer.
Alongside a customer gallery and visitors shop, visitors will be able to access a 'pick your own' area to harvest a punnet of chillies.
www.chillilicious.co.uk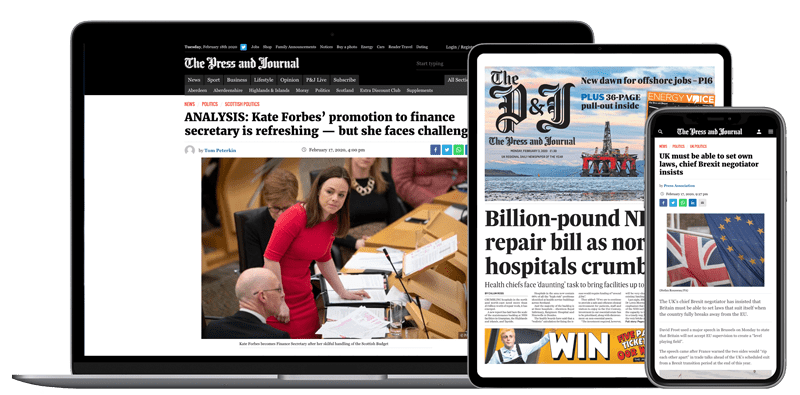 Help support quality local journalism … become a digital subscriber to The Press and Journal
For as little as £5.99 a month you can access all of our content, including Premium articles.
Subscribe