 The Scottish Government has issued advice to farmers suggesting they take extra care in categorising types of grassland as they fill in this year's Single Farm Payment application forms but not everyone, it seems, is willing to take the advice at face value.
The government guidance note suggested that the categories used in 2014, the last year of the SFP regime, will be used to inform it on the proportions of various grass types on each farm in 2015, which will be the first year of the new area-based Basic Payments Scheme (BPS).
There are three grassland types – temporary grass (TGRS), permanent grass (PGRS) and rough grazing (RGR) with the critical distinctions being between PGRS and RGR.
Final decisions have yet to be made but it appears that PGRS land will attract an area payment of around 220 euros per hectare, whereas RGR will only be paid at around 25 euros per hectare.
At a near ten to one ratio the benefits of having land classified as PGRS are very obvious from the farmer's viewpoint, although there are risks attached.
Jeremy Moody, adviser to the Scottish Agricultural Arbiters and Valuers Association (SAAVA, has flagged up his concerns that the current definitions "do not sit well" with the EU definitions that might apply under BPS from 2015 onwards.
"Whether the Scottish Government's advice is useful or not for 2014, it should not be used to set the definitions for land in 2015," he said.
"The fear is that Scottish Government, now short of time to implement the new regime, might rely on how farmers have coded their farms in 2014. This should make them very careful as to how they complete their 2014 forms."
The problem as Mr Moody sees it is that RGR as a designation is used in Scotland but, until now, for Cap purposes it has simply been part of the permanent grassland area. He said if RGR is to be the basis for a distinct payment band it will need to have robust boundaries.
"Farmers concerned that they may previously have mis-coded land as rough grazing should review the land in question and assemble evidence to show why they consider that to be wrong. They may need to be prepared to challenge and appeal against the identification of some parcels as rough grazing," Mr Moody added.
"SAAVA have raised concerns that the definitions in the Scottish Government guidance is inadequate for an agent to provide sound advice to clients as they fill in their form."
Meanwhile, a Perthshire farmer has raised questions about improving the status of grassland between now and 2015.
He has pointed to his intention to improve grassland by re-seeding and reinstating drainage schemes which had fallen out of use.
"Will allowance or leeway be made on any uplift in status either next year or in future years?" he said.
"I would also like to know what the status of work planned for this year to upgrade status but which will not have taken place before May 15, I am firmly of the opinion that unless sensible direction is given soon then we should be seriously looking for an extension to the May 15 deadline."
Aberdeen-based consultant and SAAVA chairman James Dick suggested that upgrading RGR to PGRS would be difficult to achieve without contravening Good Agricultural and Environmental Condition (GAEC) regulations. In various clauses these prohibit ploughing, reseeding or cultivating of "rough grazing or semi-natural areas" unless special approval is granted.
Applying fertiliser and lime is also banned, as are most pesticides. The exception is bracken control, where approved herbicides can be used and where injurious weeds as defined in the Weeds Act have to be dealt with.
New drainage works are not permitted on rough grazing under GAEC regulations and neither are modifications to existing drainage schemes where the result would be a lowering of the water table.
Mr Dick has previously suggested that botanical analysis of grassland may be the defining factor in disputes. Where the sward is predominantly sown types such as ryegrass and cocksfoot then the area should be regarded as PGRS. Where the sward is entirely natural species such as molinia it should be classified as RGR.
A Scottish Government spokesman last night said: "The definition of rough grazing hasn't changed but our information leaflet provides a more practical guide to help people to categorise their fields correctly.
"From next year, Scotland will be moving to a new payments system and we are consulting on whether this will be based on historical land type – so it is important that land is categorised accurately."
He said the leaflet served to remind people of how the different types of grass found in Scotland should be categorised.
"There are no implications for this year's Single Application Form or CAP payments but the information will help us to develop the new payments system from next year," said the spokesman. "People should fill in the Single Application Forms as normal, claiming only on eligible land and enter the crop codes that correctly describe their land."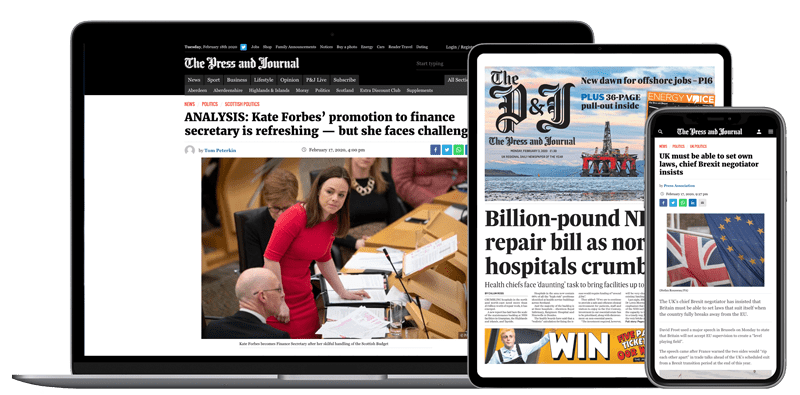 Help support quality local journalism … become a digital subscriber to The Press and Journal
For as little as £5.99 a month you can access all of our content, including Premium articles.
Subscribe