 European fishing countries would not want to block an independent Scotland's EU membership, First Minister Alex Salmond claimed yesterday.
Mr Salmond insisted that Scotland could negotiate "continued" European Union membership within 18 months of a Yes vote.
The SNP leader claimed that there were practical reasons member states would not seek to block Scotland's entry.
He told an audience at the College of Europe in Bruges that asking Scotland to leave the EU only to have to reapply would produce a period of limbo with unpalatable consequences.
With continued membership there would be no need to renegotiate the EU budget agreed last year to 2020, and Scotland would take responsibility for its share of UK contribution and receipts.
"We propose a practical, commonsense approach to membership, which means that there is no detriment – none whatsoever – to any other member of the European Union as a result of Scotland's continuing membership," Mr Salmond said.
He said the alternative would be the fishing fleets of 12 countries being denied access to Scottish waters and, as a consequence, Norwegian waters, which are dependent on Scottish access.
Additionally, 160,000 EU workers and students in Scotland would suddenly be uncertain about their status, and five million people would stop being EU citizens.
Mr Salmond said former European Court of Justice judge Sir David Edwards described such a scenario as "absurd".
Scotland Office Minister David Mundell said: "The truth is only a very small proportion of other member states' catches are taken from Scottish waters and that, in any accession negotiations, other member states would be more likely to press for improved access to Scottish fishing grounds in the North Sea than to make concessions for Scotland. An independent Scotland would also be duty-bound under international law to grant free passage to Scottish waters for vessels passing through en route to Norwegian waters."
Lib Dem MEP George Lyon said Mr Salmond admired Ukip leader Nigel Farage, who wanted to take the UK out of the EU, and Russian leader Vladimir Putin who was threatening European security.
"If that is an indication of the approach he would seek to take during membership negotiations at the EU in the event of a Yes vote, then we would be in real trouble," he said.
Comment, Page 28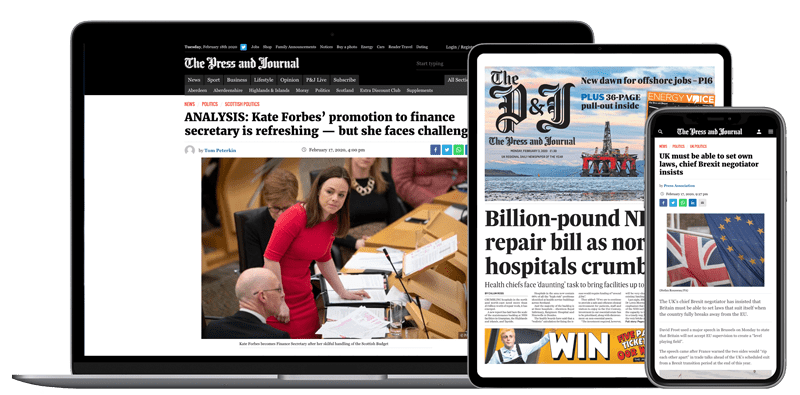 Help support quality local journalism … become a digital subscriber to The Press and Journal
For as little as £5.99 a month you can access all of our content, including Premium articles.
Subscribe