 Engineering firm Power Jacks saw revenues grow by 175% to £13.1million in 2013 – the fastest growth in its 25-year history.
The company has also bolstered its senior management team to meet growing global demand for its products and services, particularly in the oil and gas sector. Keith Mackie, formerly of Cosalt Offshore, takes up the newly created role of deputy managing director, while Ian Porter has been appointed operations director.
Power Jacks, which is headquartered at Ellon, Aberdeenshire, specialises in producing world-class industrial lifting and positioning equipment.
Among the company's high-profile portfolio of more than 5,000 clients are blue-chip companies such as Airbus, BAE, Cadbury, Diageo, Ferrari and Red Bull Racing, Glaxo, ICI, Rolls-Royce, Unilever and major oil and gas companies.
Bruce Bultitude, chairman and managing director at Power Jacks, said: "To attract two high-calibre people like Keith and Ian to Power Jacks is a significant endorsement of the business success and key to our plans for continued growth.
"The company invested £6million in a state-of-the-art, purpose-built manufacturing facility at Ellon and, within three years, we are already starting to reap the rewards, with plans to more than double again over the next three to five years. We are expanding across a number of industries, with a particular focus on the subsea and topside sectors of the oil and gas industry, where we are experiencing a sharp increase in activity for our core electromechanical products.
"There would appear to be a step-change in the industry to move away from hydraulic to electromechanical solutions, which can offer safer, maintenance-free and more environmentally friendly solutions for lifting and positioning of high loads.
"Strengthening our management team is a key part of our strategy for sustained growth, with Keith and Ian each having a key role to play in further driving forward our international business operations.
"Together, they have an impressive track record in operational experience in oil and gas services, which, combined, spans more than 60 years."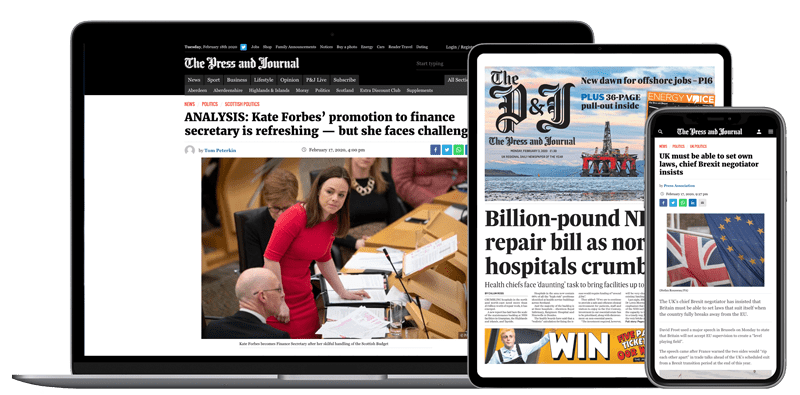 Help support quality local journalism … become a digital subscriber to The Press and Journal
For as little as £5.99 a month you can access all of our content, including Premium articles.
Subscribe