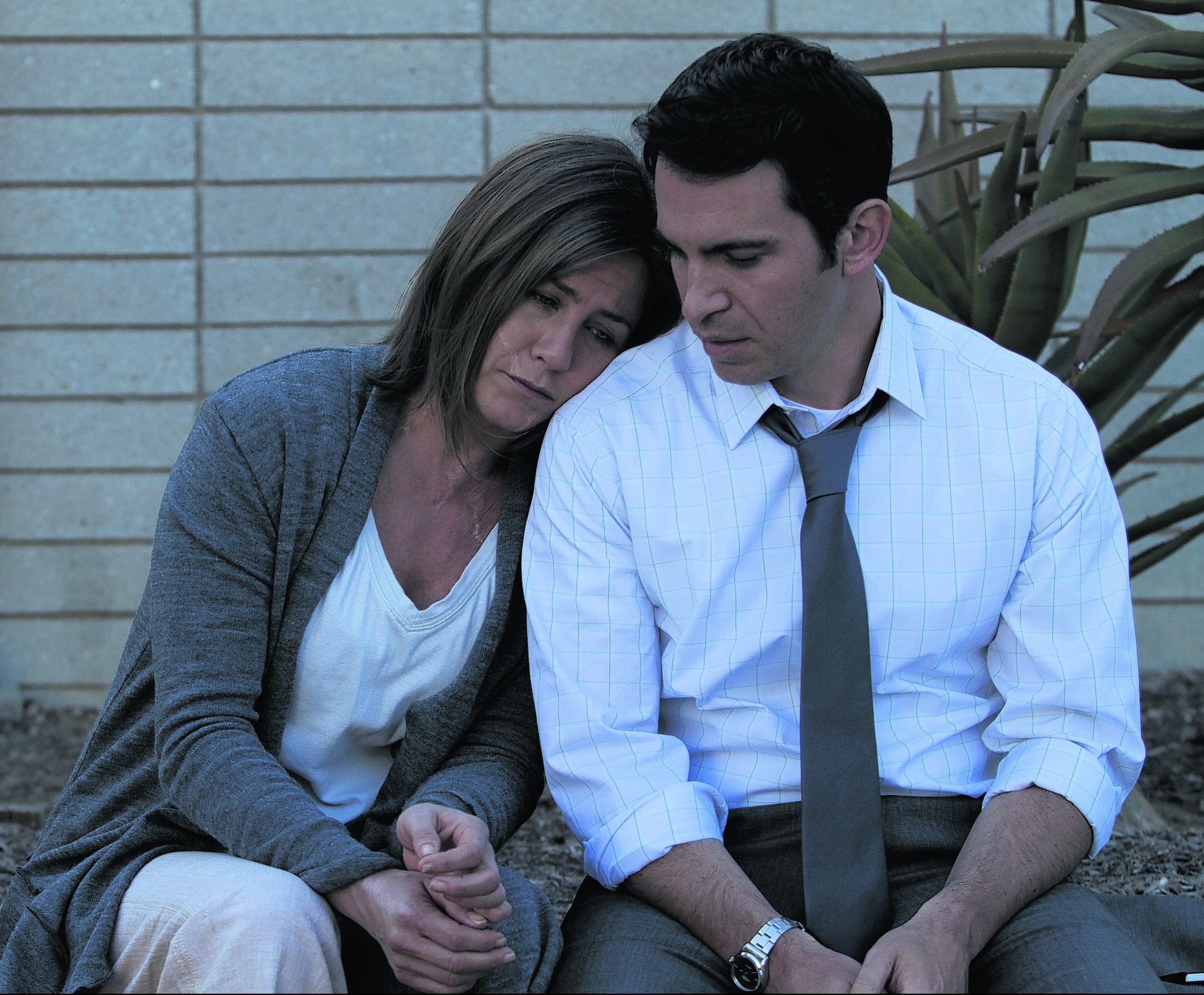 CAKE (15)
3 stars
Life is pain cocooned within extended periods of contentment and the mundane.
At some point, we all have to contend with that exquisite suffering, which seems like it might consume us, but it's how we emerge from the blackness that ultimately defines us as strong, resilient creatures.
The embittered protagonist of Cake has been so deeply scarred – physically and emotionally – by her pain that she is toxic to everyone who orbits her.
In Daniel Barnz' film, this embodiment of bile and foul-mouthed misery is portrayed with bedraggled hair and make-up disfigurements by Jennifer Aniston.
It's a compelling dramatic performance, stripped bare of vanity, which reminds us that the Los Angeles-born actress is much more than the rom-com girl next door.
Unfortunately, Aniston's eye-catching work is the glistening cherry on top of a half-baked drama that proves increasingly hard to swallow.
If scriptwriter Patrick Tobin had treated his mix of misfit characters with more care and sieved out some of the implausible dramatic detours, Aniston would probably have secured her first Oscar nomination as Best Actress.
Claire Bennett (Aniston) survived the car crash that shattered her body, but her road to recovery is agonisingly long and winding.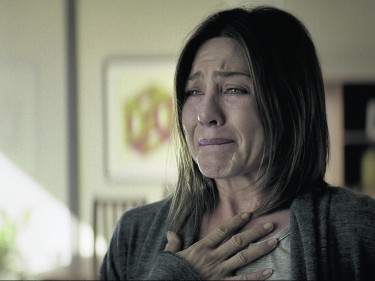 She can't sit or stand without enduring shooting pain, which she curbs by popping prescription medication like candy.
Her despairing husband, Jason (Chris Messina), and friends have abandoned her, driven away by Claire's perpetual meanness – everyone except for her maid Silvana (Adriana Barraza), whose devotion to an uncaring, self-destructive boss is a complete mystery to everyone, including us.
"I pay her to care about me. It's not my fault she gets sentimental," observes Claire by way of a feeble explanation.
When Nina Collins (Anna Kendrick), a fellow member of a chronic-pain support group, commits suicide, Claire develops a new addiction: gate-crashing the grief of Nina's husband, Roy (Sam Worthington), and young son Casey (Evan O'Toole).
However, Roy doesn't intend to don his shining armour and makes this clear to Claire.
"I can't save you. I can barely save myself and my kid," he confides sombrely.
Cake is an uneven bake, distinguished by Aniston's committed performance and a warm, empathetic supporting turn from Barraza.
Even when the rest of Barnz' film crumbles, which it does frequently, their sisterly solidarity holds our interest.
Throwaway interludes with a hunky gardener (Manuel Garcia-Rulfo) and a man from the past (William H. Macy) sit awkwardly with scriptwriter Tobin's efforts to insert Nina's ghost into proceedings.
Kendrick has fun as this spectral voice of waspish reason, berating Aniston's short-tempered, selfish harridan, who is acutely aware of the role she plays in her miserable fairytale existence.
"Tell me a story where everything works out in the end for the evil witch," sourly jokes Claire.
That story would be Cake.
THE WEDDING RINGER (15)
3 stars
The Wedding Ringer is a sweet-natured yet highly improbable buddy comedy of errors, which walks down the aisle with one hapless groom, who enlists professional help to ensure he gets the best best man for his beautiful blushing bride.
Tax attorney Doug Harris (Josh Gad) is two weeks shy of marrying fiancee Gretchen (Kaley Cuoco-Sweeting) at a lavish ceremony masterminded by flamboyant wedding planner Edmundo (Ignacio Serricchio).
As the son of an international tax attorney, who moved the family around the world, Doug never stayed in one place long enough to forge lasting friendships, so he has no male companions to support him.
When Gretchen puts Doug on the spot about seating plans, he conjures up a fictitious best man called Bic Mitchum, who is a military priest from North Dakota.
The lie weighs heavily on Doug and the loveable loser seeks help from Jimmy Callahan (Kevin Hart), owner of The Best Man Inc.
For $50,000, Jimmy will adopt the identity of the elusive Bic and recruit seven bogus groomsmen – Reggie (Affion Crockett), Lurch (Jorge Garcia), Bronstein (Dan Gill), Otis (Corey Holcomb), Fitzgibbons (Colin Kane), Kip (Alan Ritchson) and Endo (Aaron Takahashi) – to complement Gretchen's gaggle of bridesmaids.
As the big day approaches, Jimmy goes into charm overdrive to fool Gretchen's parents (Ken Howard, Mimi Rogers), sister (Olivia Thirlby) and grandmother (Cloris Leachman) and deliver Doug the wedding he deserves.
Written in broad strokes by director Jeremy Garelick and Jay Lavender, The Wedding Ringer raises one glass to male bonding and another to mawkish sentiment, sloshing contrivances in every direction.
The unlikely central pairing of Hart and Gad, who voiced Olaf, the self-deluded snowman, in Frozen, occasionally sparkles.
Hart dials down his manic showmanship a notch or two and Gad oozes natural likeability as a loner who can't believe he has landed the girl of his dreams.
The script neatly jilts one garish stereotype at the altar but Garelick's film is amicably divorced from reality and evidently lost custody of the three-dimensional characters.
However, for better or worse, The Wedding Ringer falls short of matrimonial bliss.