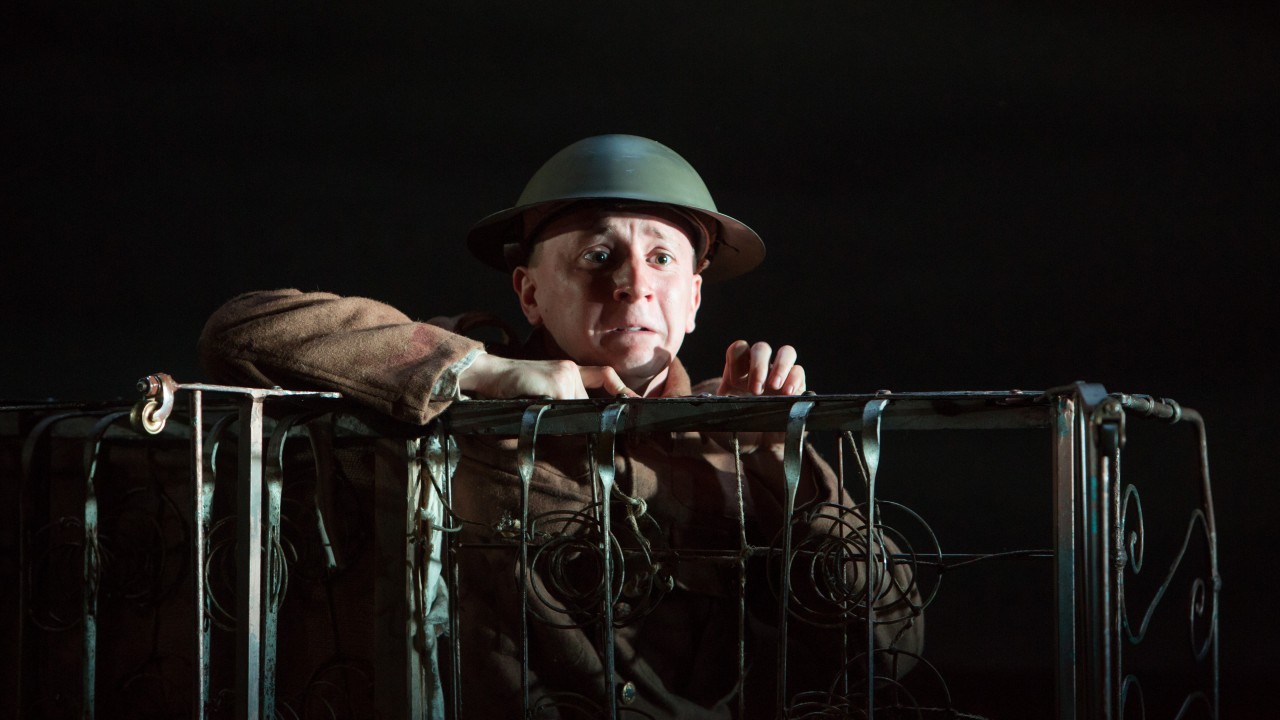 With the centenary of World War I's outbreak swiftly approaching, historical reports and first person accounts from those dark days are all over the media. But with many people already claiming their interest in the subject matter is wavering due to its overexposure in recent months, the pressure is on for those sharing stories about The Great War to make it as engaging and relevant as possible.
For Private Peaceful, the stage adaptation of Michael Morpurgo's award-winning young adult novel, the gap has been closed thanks to a clever theatrical device. Performed entirely as a one-man show, the play aims to forge an intimacy between actor and audience.
"It's much more powerful I think," said Andy Daniel, who performs the lead role Private Thomas "Tommo" Peaceful – and indeed all roles – in the play which comes to HM Theatre next week.
"If you took all the characters, and played them with different actors, you are saying to the audience that they can remove themselves from it. But when Tommo is engaging directly with the audience, he becomes their friend through the play.
"They experience not only what happened to him, but how it made him feel. He talks about everything in detail, from the mud to the colour of the gas, and in a way, that means the audience don't get off the hook from it all."
When the play opens, we are introduced to Tommo, a 17-year-old boy, who was once bright-eyed and raring to do his part for his country, only to end up facing execution for cowardice. As the night diminishes and dawn begins to break, he shares the tale of how he came to be here – from experiencing the spark of first love, to fighting alongside his brave brother, Charlie, to the injustices and horrors of warfare.
In reliving his journey, Tommo inhabits the many characters he has met along the way, breathing life into lives lost, and those who helped and hindered him.
Ahead of his audition for the play, Andy did a lot of research besides a close reading of Morpurgo's novel. Already a keen history enthusiast, the 28-year-old actor drew inspiration from books containing first person accounts, interviews with real life military personnel, and even long conversation's with his grandfather whose own father fought in and survived the entire four-year slog of WWI.
Having studied the war at school, university and also performed in the 2011 tour of WWI trench warfare play, Journey's End, Andy had a firm knowledge-base to spring from. One thing he wasn't as aware of, however, was the treatment of the 290 British soldiers who were executed for cowardice, desertion or even sleeping at their posts.
"I think it's horrendous that this happened," Andy said.
"Now, in modern times, we would address most of these people as suffering from post traumatic stress disorder – or shellshock as it was called back then."
In Tommo's case, we become aware of how unjust his trial is – a belief that, without giving away too many plot details, audiences readily come to adopt themselves after they hear his story, not least because he was underage when joining the forces to begin with.
"Tommo is not a coward. He goes on multiple missions such as a raid through German territory. He admits he's scared but overcomes them every time. It's horrific really to think people were shot by their own side," Andy said.
Fleshing out the many roles, both incidental and central, was understandably a key concern for Andy. Whether speaking as the object of his affection, Molly, or his brother, Charlie, his sergeant "Horrible" Hanley, and even tiny roles, Andy was determined to give each character due respect and a definable soul.
Morpurgo's book was a vital resource in this endeavour, but a lot came from the work Andy did with director Simon Reade during their two-and-a-half weeks of rehearsals together.
"Some characters might have one line only, but they have to feel real, otherwise Tommo won't feel real," he said.
"And so we went into their back stories and looked at their characterisation. The play has been staged before, but I was allowed a lot of free range in creating those characters."
And on a personal note, the tour will give Andy the chance to meet with family members. While he was raised in south east London, his father was originally from the north-east Scotland.
Andy's grandfather, who lives in Inverurie, has already bought tickets to most of the play's HM Theatre run – though he perhaps has even more of a vested interest in the production, having told Andy all about his father's service in WWI.
Such real-life stories of bravery and hardship, Andy explained, have been vital in bringing Private Peaceful to the stage such a fully-realised and engaging manner:
"The main thing I found out in all my research of WWI was, it was really a war about ordinary people having to do the most extraordinary things and living through horrendous times."
Private Peaceful will be at HM Theatre, Aberdeen, from WednesdayMay 28 to Saturday, May 31. Performance times are 2pm, Wednesday and Friday, and 11am, Thursday to Saturday.
Tickets are available from www.aberdeenperformingarts.com or by calling 01224 641122