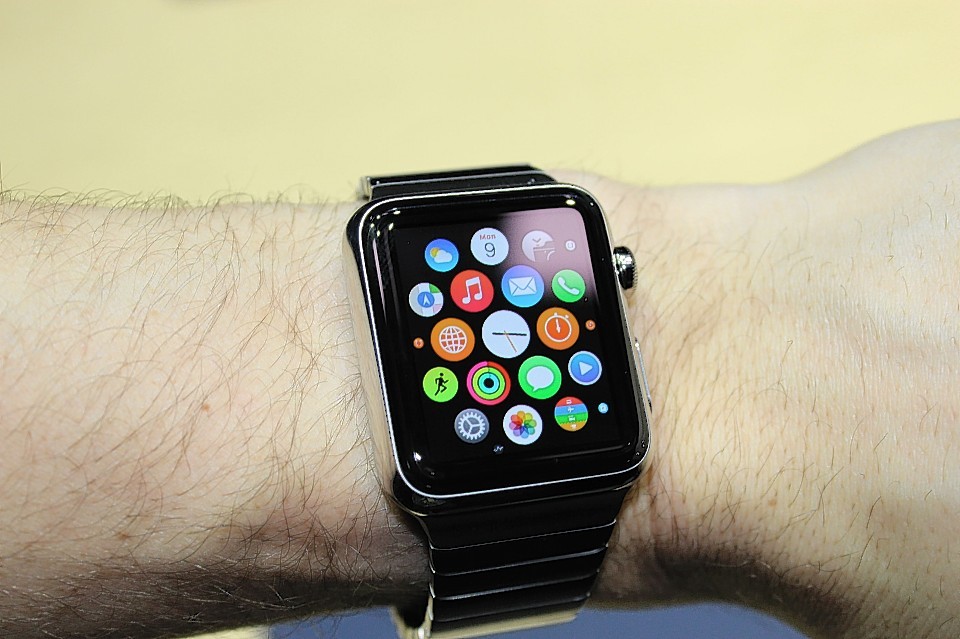 Apple bosses unveiled its hotly anticipated watch today – and revealed that it will hit UK shops next month.
The lowest-price Apple Watch will be 349 US dollars (£230) for the Sport version, with prices steadily climbing across the range of three styles that were first previewed last year.
The watch is coming on April 24, Apple chief Tim Cook announced at a live event in California today. Mr Cook called it the "most personal device we have ever created." Pre-orders will begin on April 10.
"It's not just with you, it's on you", he added.
The much-anticipated Apple Watch Edition, which is made from 18-carat solid gold and will be limited edition, will cost 10,000 dollars (£6,661), it was confirmed.
The Apple Watch Sport, which comes with a range of coloured rubber bands has two prices; the 38mm watch face will cost 349 US dollars (£230), with the 42mm costing 399 US dollars (£264).
The mid-range Apple Watch comes with a range of stainless steel bands and will cost between 549 and 1,049 US dollars (£363 to £694), depending on the style and band chosen, said Mr Cook.
To audible gasps in the auditorium, Mr Cook also confirmed the rumoured £10,000 (£6,611) price tag for the high-end Apple Watch Edition, signalling the Cupertino technology giant's move into the fashion accessory industry.
Apple's major rivals in the smartphone arena; Samsung, already has a range of smart watches on the market, meaning the iPhone maker is playing catch-up in this field.
The company clearly thinks it has a market winning product however, and Apple's Kevin Lynch demonstrated a host of the launch apps on-stage during the show. These included a look at the Glances feature, which enables wearers to read full notifications on their wrist, as well as jump into full versions of apps including social media giants Facebook, Twitter and Instagram.
Apps like car-sharing service Uber and music recognition app Shazam were also demonstrated.
An app partnership with SPG hotels will also enables wearers of the Apple Watch to open their hotel room door with the device.
Apple Pay also comes built in so you can pay for items. For the moment though this feature is still only available in the US and there was no mention of a further rollout.
The other big question was over battery life, and Mr Cook said the Apple Watch would have "all-day battery life" lasting "around 18 hours".
"It's a revolutionary way to connect", Mr Cook added.
As well as the much anticipated announcements around the Apple Watch, the technology firm also introduced a new MacBook notebook, which will come in space grey and gold for the first time.
The new computer is the thinnest MacBook the company has ever made at just 13.1mm at its thickest point – a measurement that is 24% thinner than the current MacBook Air says the firm.
The most striking feature of the new notebook though is the new Trackpad. This, Apple says, has been completely redesigned and now comes with something they call Force Touch; where different pressures can be used to carry out different gestures. Pressing harding will work in a similar way to double-clicking for example, bringing up Wikipedia definitions on words.
The new MacBook will join the existing MacBook Air and MacBook in Apple's notebook line-up, and weighs two pounds.
"It's the most extreme and efficient notebook ever," said Apple's Phil Schiller.
The MacBook will go on sale on April 10, it was confirmed.
There was also an unexpected announcement regarding medical research, with Apple unveiling a new developer platform called ResearchKit. This open source app development platform will be used to create apps that can be used as diagnostic tools, with iPhone users choosing to submit data about their condition in order to enhance medical research.
There was at this point in the show an extra effort made by Apple's Jeff Williams to emphasise privacy when it came to data.
"You decide what apps and research you participate in, and Apple will not see your data," he said.
Mr Williams also made a point of referencing what he called some of the biggest diseases that Apple were targeting, including Parkinson's and breast cancer. The first five apps aimed at these diseases are already in use, Apple says.
The event in California drew a crowd from the fashion world as well as the technology world, with representatives of fashion houses and magazines in the audience as well as the technology media.
Apple will be looking to take hold of the smart watch market by launching three products at once, ahead of a new iPhone, which is expected to be announced later this year.