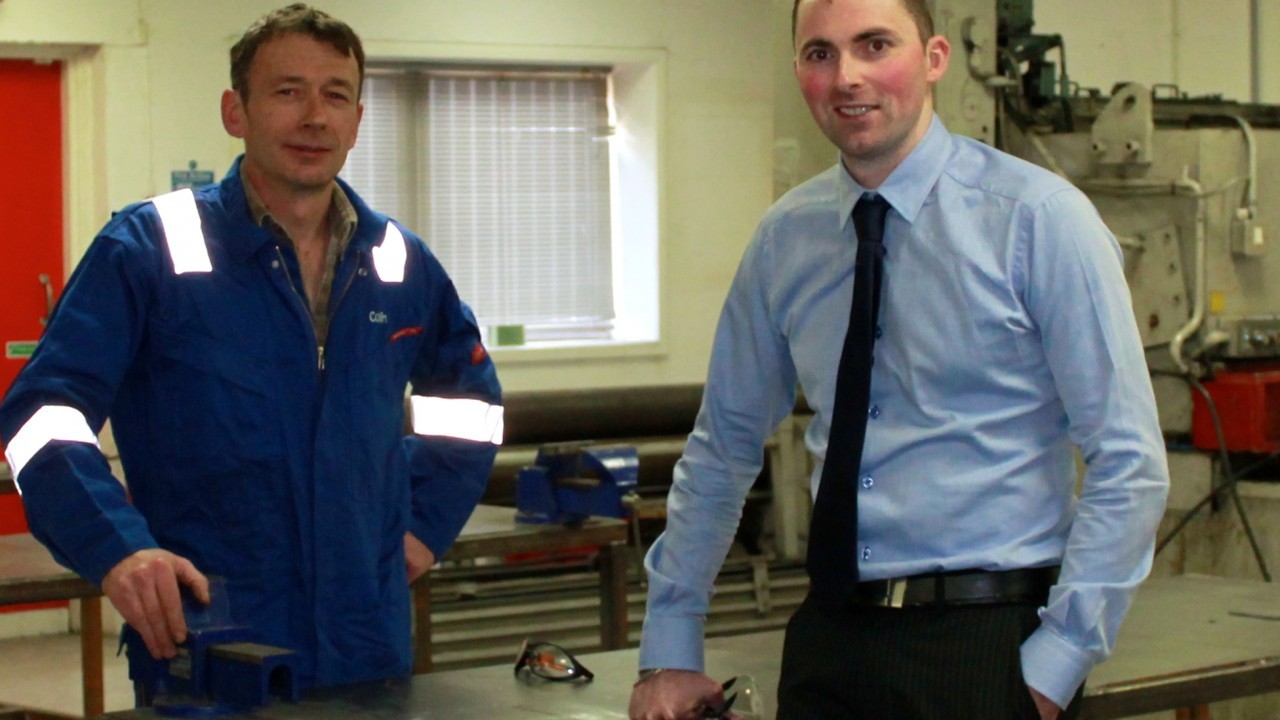 As youngsters near the end of their time at secondary school they have to make some serious decisions about their future. While some make the choice to continue their studies at college or university, others go straight into the world of work.
For former ITCA Training learner, Richard Forman, the decision to become an apprentice pipefitter offered him the best of both worlds – and helped the young entrepreneur climb the career ladder to become his own boss in just eight years.
ITCA, which was established in 1989, is one of the largest apprenticeship-training firms in Scotland, and provides training for young employees in sectors including welding, fabrication, mechanical engineering, business administration and logistics.
Richard, 30, from Peterhead, left school to work in a biscuit factory, but soon decided to change career paths and joined ITCA as an apprentice when he was 16.
His time as an apprentice pipefitter included a mixture of hands-on and classroom-based learning covering a variety of courses, which he completed during his four-year apprenticeship at S & D Fabricators in East Tullos, Aberdeen.
Following his apprenticeship, Richard joined CPS in Dyce travelling around the globe to work in a number of locations including Singapore, Holland, Angola and Canada.
Richard said: "My time at ITCA was invaluable and taught me a variety of skills which helped me gain my first two jobs. I really enjoyed working abroad and the experience I gained in different countries was extremely beneficial."
In 2010, the young entrepreneur made the decision to use his experience to start his own business, and he established Onsite Services, supplying skilled trades and labour hire to oil and gas companies in and around Aberdeen.
By 2012, Richard had two employees and opened his first workshop in Peterhead. With help from A & B Welding, and its co-founder Frank Birse, Onsite received its first project, and as the company started to grow, so too did its workforce and by mid-2013 he had 12 members of staff.
Last year was busy for Onsite Services, which has offices in Aberdeen and Peterhead, and Richard opened his fabrication facility in Peterhead, which boasts a carbon workshop and a separate workshop for dealing with exotic materials.
Today, his workforce has grown to 22 employees, including two current ITCA apprentices, Gareth Evans who works as a plater, and welder, Ryan Carstairs.
Richard said: "My studies at ITCA were hugely beneficial and the training I received from my mentor, Colin Sherriffs, was absolutely flawless.
"Without my time as a learner I wouldn't be where I am today, and I think it is really important to demonstrate the importance of apprenticeships to youngsters, and offer them the same opportunity I was given as gaining this experience will provide them with a huge skill set to launch their future careers.
"2015 is going to be an important year for the company as I will be expanding once again into a new workshop which is more than four times the size of my first base, and I plan to place another two apprentices at ITCA as training our own personnel can only assist with the continued growth of the company."
ITCA managing director, June Jones, said: "Richard's experience as a learner means he has a good relationship with his apprentices, and allows him to nurture their skills and pass on his knowledge and experience to them.
"We have actually come full circle as Colin Sherriffs, Richard's mentor is now in charge of the apprentice training that is being carried out in the fabrication/welding department at ITCA. His success story is truly inspirational and proves that hard work and determination certainly pays off."