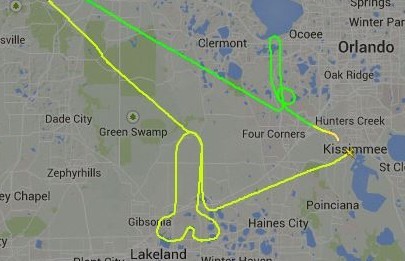 A bored pilot of a private plane appears to have amused himself last night by flying a rather odd route to create a carefully shaped image.
Popular aviation website FlightRadar24 tracks flights and shows the paths they have taken. With that in mind, one pilot, flying over Florida, amused people on the site by flying in the shape of a penis.
It is unknown whether the pilot knew what he was drawing, however, creating such a drawing accidentally would be a quite remarkable coincidence!
😳😳😳😂😂😂 @flightradar24 pic.twitter.com/NX5X6OFERc

— 🛫✈️Nik's News✈️🛬 (@NikPhillips666) March 13, 2015