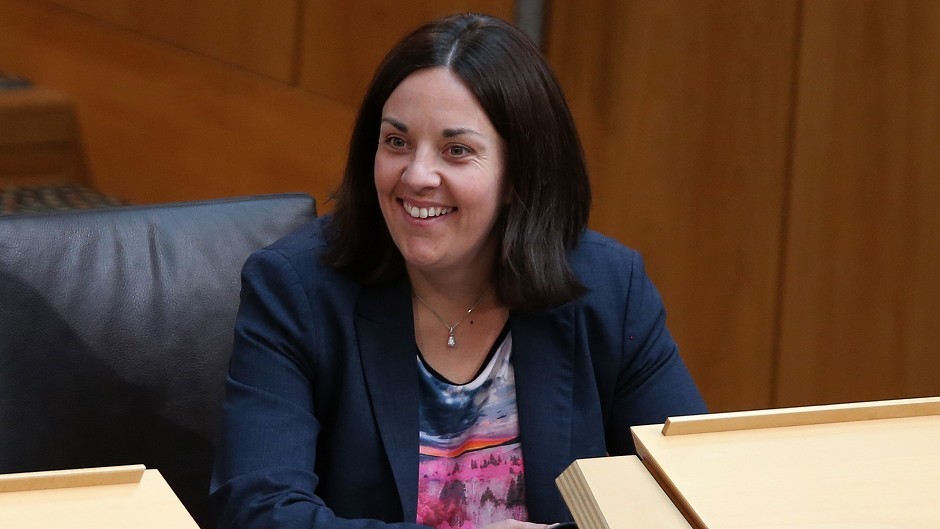 Nicola Sturgeon came under sustained fire from opposition leaders over her government's record on education.
A recent survey found there has been a drop in standards in reading and writing.
Earlier this week Education Secretary Angela Constance admitted that some children are "failed at school" and that the attainment gap between children from rich and poor backgrounds was not being reduced.
Labour, the Conservatives and Liberal Democrats all concentrated on the failings during first minister's questions yesterday.
Labour's Kezia Dugdale fired the first volley claiming that since the SNP came to power in 2007 bursaries and grants for students had been "slashed by £40million" while average debt per student had "doubled".
The first minister insisted that financial support for students in Scotland "stand comparison" with that of other parts of the UK" and added that those studying north of the border has lower student loans.
She said: "I will not hold back from being open about where improvements are needed, but equally I will not hold back from challenging those who seek to paint an inaccurate picture of Scottish education, because I think that does a disservice to the achievements of young people and children across the country."
Scottish Tory leader Ruth Davidson called for a new system of primary testing such as used in Denmark and Ontario, "so that we all can see which schools need help and which schools are leading the way".
"After eight years of this government, until your child is 14 years old, you have no clear idea how good their education is in comparison to the rest of the country.
"It is no wonder that the Scottish Government doesn't know what to do because it doesn't know what is going on."
Ms Sturgeon admitted that the exam and performance data for secondary school pupils was missing for primary children.
"I'm not going to simply give Ruth Davidson a yes or a no answer, to jump to the decisions before we have properly considered what the right thing to do is," she said.
"We do need a new national performance framework, but we do need to make sure that the data we're collecting and the way we do that is right, proportionate and sensible."
When Scottish Lib Dem leader Willie Rennie asked Ms Sturgeon to back a pupil premium, the first minister said the government had introduced a £100million attainment fund to help pupils in the most deprived communities.