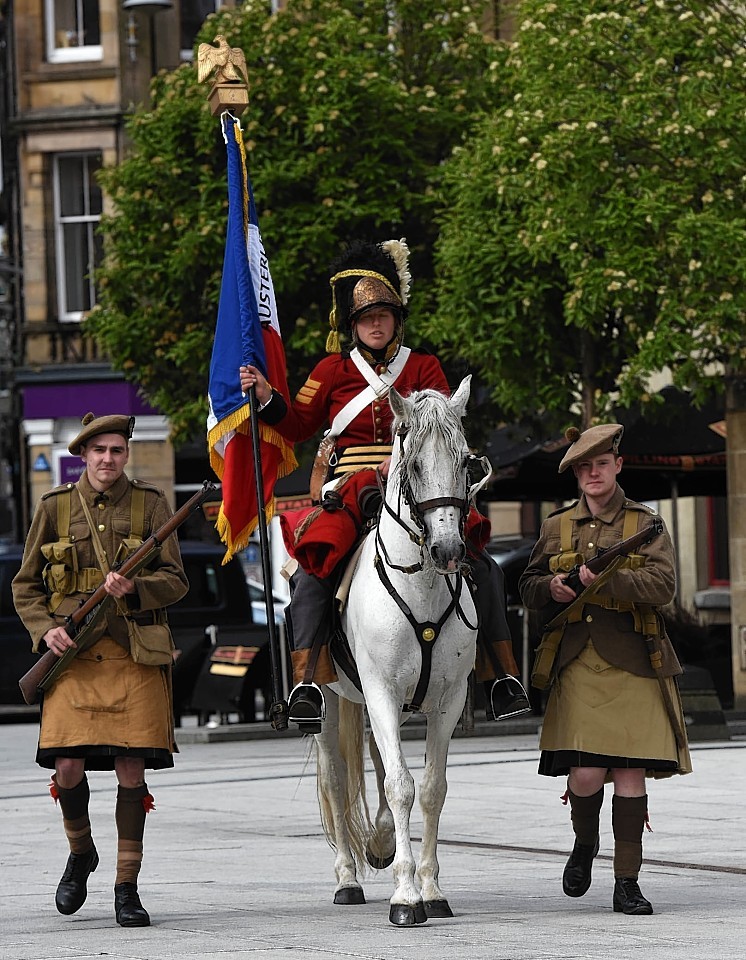 Shoppers in Inverness city centre were yesterday given a preview of the spectacular performance on offer at this year's Highland Military Tattoo.
Military history will play a central role with vignettes marking the 200th anniversary of the Battle of Waterloo and the 100th anniversary of the Battle of Loos in World War I.
Andalusian stallion Drino and stunt rider Kirsty McWilliam appeared in full Waterloo period uniform in front of the crowds in Falcon Square.
Their show will involve a re-enactment of the charge of the Scots Greys and the renowned capture of a French standard – known as an eagle – by Sergeant Ewart of the Greys.
A replica French standard will be used and four horses from the stunt team Riders of the Storm will help to recreate the dramatic scenes, along with actors from Battlescar re-enactment group.
Major General Seymour Monro, Highland Military Tattoo director, said: "The military history vignettes were extremely well received last year and we are determined that these commemorations of such significant battles, involving so many Scottish soldiers, are well presented to our audiences. Our producer, Major Bruce Hitchings, is gathering together a very talented team to put on an exciting programme."
As well as the military spectacle, the best of traditional and contemporary Highland culture will be in the spotlight with performances from ceilidh bands, dancers and Gaelic singers.
There will also be fireworks, RAF flypasts and massed pipe bands to entertain the crowds.
Last year's inaugural tattoo attracted nearly 6,000 visitors and this year seating capacity has been expanded to accommodate an audience of 2,500 each night. A Saturday matinee has been added to appeal to families.
Tickets have gone on sale for the extravaganza, which will be held at Fort George from September 11-13.
All profits from the events will be donated to Armed Forces charities.