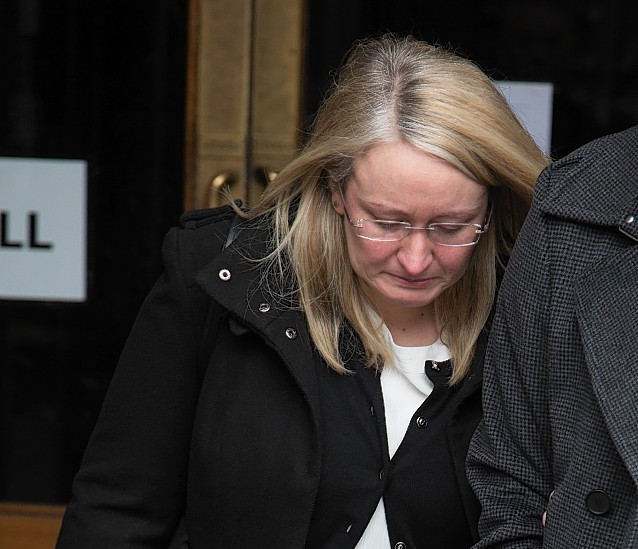 A motorist who caused the death of two top Scottish scientists broke down in court yesterday as she was spared jail.
Elizabeth-Anne Dixon wiped back tears as a sheriff told her no punishment would match the heartache of having to live with the consequences of her actions for the rest of her life.
The 35-year-old had previously admitted driving carelessly on the north-east's busiest road on March 8, 2013, setting off a catastrophic chain of events which led to the deaths of Julian Dawson and Stewart Rhind.
Dixon failed to notice William Spiers approaching on the southbound carriageway of the A90 Aberdeen to Dundee road when she pulled out from the central reservation in font of his black Saab 9-3 estate.
Mr Spiers was forced to swerve to avoid hitting Dixon – and as he did so he lost control of his vehicle on the wet road and skidded into the opposite carriageway.
There, he collided with a silver Vauxhall Astra carrying researchers Dr Dawson and Dr Rhind.
Despite the exhaustive efforts of a nurse and member of the coastguard, who stopped to try to save the men, they died shortly after the crash.
The pair had been travelling back to Aberdeen from Stirling following a conference with a colleague, Geoffrey Elliot.
Mr Elliot, who had been driving the Astra, and Mr Spiers were also injured in the smash, which happened just north of the Powburn junction near Fordoun.
Dixon's vehicle was not directly involved in the collision.
Yesterday, Aberdeen Sheriff Court heard that following the accident, Dixon, who had been driving with her two sons in the car, had contacted the police to make a statement as a witness.
When she discovered she was responsible for the crash she felt "overwhelming sorrow" for what had happened.
Representing the occupational therapist, who works for NHS Grampian, advocate Susan Duff said her client wanted to publicly express how "devastated" she was that she had been responsible for claiming the lives of two well respected men.
She said: "She wants the family to know that she is distraught that she has caused them this pain and loss. She will never get over what happened."
The court heard that as a result of the accident Dixon moved from her home in Auchenblae so she would not have to drive on the same stretch of road every day.
Ms Duff said the once fit and healthy mum had also been off work for seven months out of the last two years and had suffered from post-traumatic stress disorder and stress-induced tonsillitis.
This resulted in Dixon being admitted to hospital after the removal of her tonsils left her haemorrhaging from her neck in front of her children.
Ms Duff said the entire family had suffered significantly as a result of the crash.
Sentencing Dixon, of 55 Clashrodney Road, Cove, Aberdeen, Sheriff Graham Buchanan said he had decided not impose a prison sentence on her for her "momentary lapse of attention" since this would only lead to the lives of another family being shattered.
Instead, she was ordered to carry out 250 hours of unpaid work within the next nine months and disqualified from driving for 16 months.
Sheriff Buchanan said: "This was a devastating incident – devastating for many people, particularly the two men who lost their lives and their families and friends.
"Sentencing in a case like this is never easy. The court has to have regard that two lives were lost as a result of your carelessness.
"I can't help but feel that the terrible consequences of your actions were out of proportion to the degree of carelessness on the day in question.
"I accept that this a very difficult junction and a very high degree of care is needed to carry out the manoeuvre you were preparing to make.
"I also take into account you have suffered consequences in your own life and that the feeling of responsibility and guilt will stay with you for the rest of your life. That in itself is significant punishment."
The sheriff added: "It would only add to this tragedy of your life, and the lives of your two young children would be shattered by the imposition of a custodial sentence."