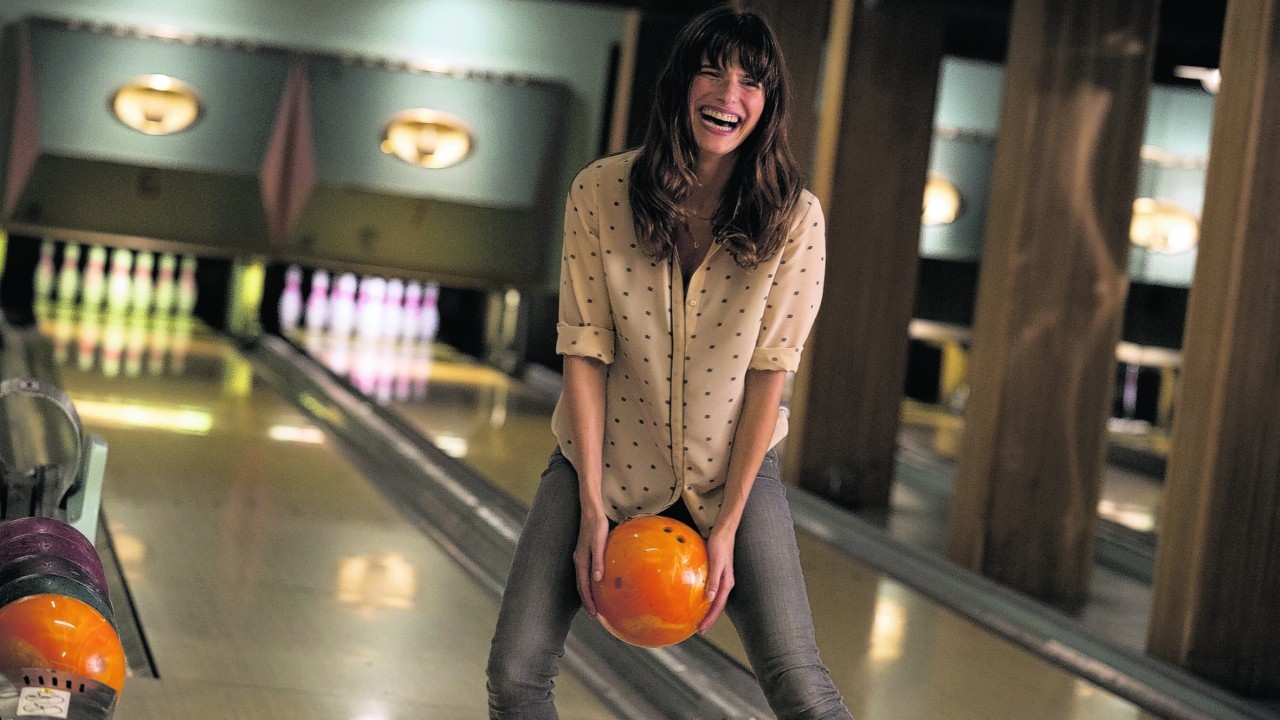 MAN UP (15)
3 stars
The romantic comedy goes back to basics in Man Up, a sweet, funny and charming tale of boy-meets-wrong-girl-but-doesn't-realise-it, filmed on location in London.
Directed at a brisk pace by Ben Palmer, who helmed The Inbetweeners Movie, this contrived tale of mistaken identity strips away most of the gross-out interludes that have become de rigueur for the genre.
New York City-born writer and actress Lake Bell sports a flawless English accent as the hapless heroine, who bumbles and dithers in a Bridget Jones style, minus the incessant self-doubt and criticism.
She sparks a lively onscreen partnership with Simon Pegg, so we root for their unlikely lovebirds to overcome the various obstacles that screenwriter Tess Morris flings in their path.
These include Rory Kinnear as a lecherous old schoolmate, who threatens to tell tales out of class about Bell's protagonist unless she provides him with impromptu sexual favours.
It's the closest Morris comes to peddling gratuitous muckiness.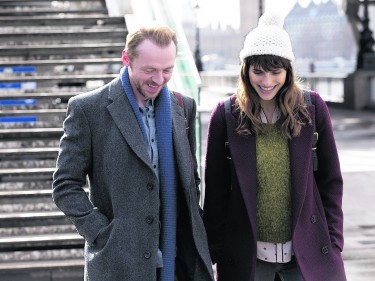 The film opens with thirty-something singleton Nancy (Bell) trying to convince herself to "be more deviant . . . engage with life".
She retreats from a party full of potential suitors to spend the evening alone in a hotel room.
"Put yourself out there," suggests her happily partnered sister, Elaine (Sharon Horgan). "Cook more, understand the Israeli-Palestine conflict . . ."
On a train to London, Nancy meets a girl called Jessica (Ophelia Lovibond), who is meeting a blind date under the station clock at Waterloo Station.
Jessica will recognise her beau because they will both be holding copies of the bestselling self-help book Six Billion People and You, which is full of inspiring aphorisms including, "Your negative thoughts are ruining your life and everyone else."
When the train pulls into the station, Nancy discovers Jessica has left her copy behind and races after her, only to cross paths with the blind date, Jack (Simon Pegg), under the clock.
On the spur of the moment, Nancy decides to pose as Jessica and see where the meeting leads.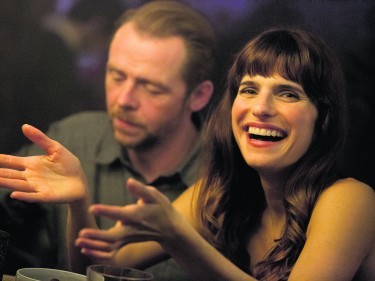 Surprisingly, she gets on well with Jack, but there are skeletons in both of their closets they would prefer to keep hidden, including his icy ex-wife (Olivia Williams) and her new partner (Stephen Campbell-Moore).
Man Up is an unappealing title for a feel-good romp that relies heavily on the leads to carry the film through its occasional lulls.
Screenwriter Morris doesn't overcomplicate her narrative, juxtaposing Nancy and Jack's eventful first date with preparations for the 40th anniversary party of her parents (Ken Stott, Harriet Walter), who know all about the ups and downs of married life.
Kinnear sinks his pearly whites into his intentionally garish supporting role with unrestrained vim.
Dialogue is peppered with polished one-liners and Palmer sustains momentum until a suitably grand finale that proves you can't hurry love, even with GPS tracking.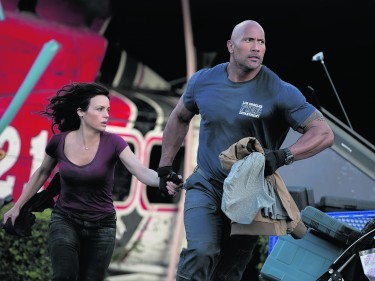 SAN ANDREAS (12A)
3 stars
In the closing moments of the computer-effects-heavy disaster movie San Andreas, a tattered Stars and Stripes unfurls proudly on what remains of the Golden Gate Bridge in San Francisco. It's the final, heavy-handed image of undaunted patriotism in a cliche-laden battle between puny mankind and mighty Mother Nature on the west coast of America.
Recent events in Nepal are still fresh in the mind as director Brad Peyton reduces cities to twisted rubble with a series of record-breaking earthquakes.
Any discomfiting shivers of real-life tragedy are quickly dispelled by the hoary dialogue in Carlton Cuse's script and increasingly outrageous action sequences, which include the implausible sight of a rescue helicopter weaving between skyscrapers as they tumble into one another like giant metallic dominoes.
The best examples of the disaster genre, including The Poseidon Adventure, The Towering Inferno and Titanic, balance spectacular stunts with heartbreaking human drama, recognising that audiences need to feel emotionally attached to stricken characters in the midst of the sound and fury.
Screenwriter Cuse shortchanges us here, hastily sketching a fractured family that is destined to reunite in the eye of the storm.
That rebuilding of bridges is best summed up by one scientist's blunt assessment of impending doom: "It isn't a matter of if, it's a matter of when."
The San Andreas Fault, which runs for more than 800 miles through California, gives way, triggering a magnitude 9 earthquake.
Search and rescue helicopter pilot Chief Ray Gaines (Dwayne Johnson) hunts for survivors, including his estranged wife, Emma (Carla Gugino), who has filed for divorce so she can pursue a new relationship with wealthy real-estate developer Daniel Reddick (Ioan Gruffudd).
Reunited in tragedy, Ray and Emma head to San Francisco to save their daughter, Blake (Alexandra Daddario), who has joined forces with a handsome Brit called Ben (Hugo Johnstone-Burt) and his 11-year-old brother, Ollie (Art Parkinson), to survive the devastation.
Just when it seems the worst is over for the Gaines family, a doom-saying professor (Paul Giamatti) at California Institute of Technology predicts a bigger earthquake and a massive tsunami from which there will be no escape.
San Andreas opens with a daredevil rescue sequence to emphasise Johnson's selfless heroic credentials before the destruction begins in earnest at the Hoover Dam.
The leading man looks physically pumped, taking to land, sea and air to reach his beloved daughter, while Gugino simpers with pride at his gung-ho antics.
In the parallel plot strand, Daddario and Johnstone-Burt play out a sweet, yet lukewarm, romance to justify their continued survival while thousands around them perish.
Digital effects vary wildly in quality, but Canadian composer Andrew Lockington is consistent with his bombastic orchestrations. His thunderous beats and booming strings fittingly make the ground shake.