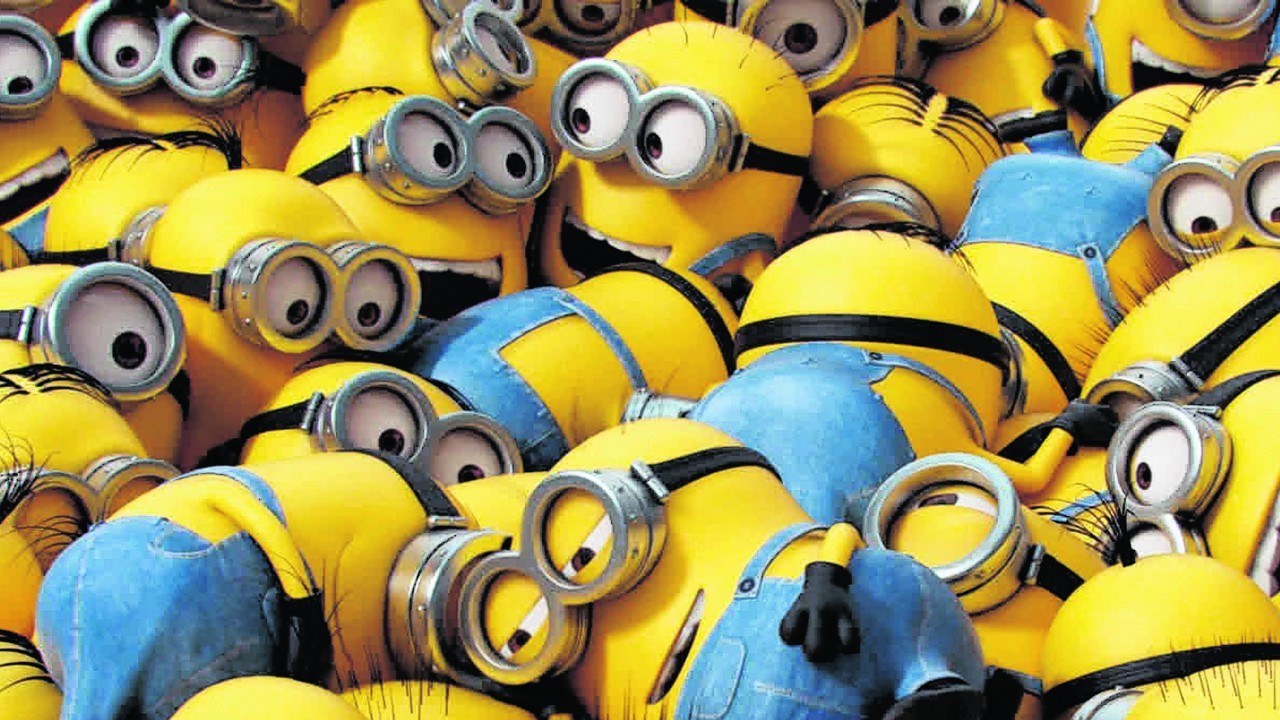 MINIONS (U)
3 stars
You can have too much of a good thing.
In small doses, Despicable Me's goggle-eyed hench-creatures are a deranged delight.
As unwitting heroes of their own big-screen adventure, these pint-sized "knights in shining denim" lose some of their loopy lustre, hindered by
Brian Lynch's flimsy script, which is disappointingly light on storyline and belly laughs.
A dazzling vocal cast of gifted comic actors is shortchanged repeatedly.
Very young children, who gurgle with glee at the Minions' bonkers vernacular combining Esperanto and gobbledegook, will adore the slapstick, pratfalls and the tiniest member of the Minions clan, Bob, who clutches a well-loved teddy bear called Tim.
Adults will be considerably harder to win over.
The lack of a coherent storyline grates as much as the lazy cultural stereotyping of the British as tea-sipping, corgi-riding folk, who frequent pubs called The Pig's Spleen.
Since the dawn of time, Minions have gravitated towards despicable masters, including Tyrannosaurus Rex, Count Dracula and Napoleon.
Unfortunately, these masters die prematurely – at the hands of the clumsy, yellow hench-creatures – leaving the Minions in a state of deep depression.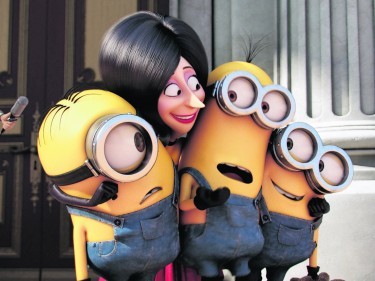 One brave soul named Kevin steps forth to find an evil boss for his bald, jaundiced brethren.
Flanked by Stuart and scaredy-cat Bob, Kevin leaves the Minions' ice cave retreat, bound for 1968 New York City.
Cue a President Richard Nixon billboard proclaiming "Finally: a name you can trust".
Could the Minions have stumbled upon their arch-villain?
No. The plucky trio learn about a gathering of criminals in Orlando and hitch a ride to the convention with a bank-robbing family led by Walter Nelson (voiced by Michael Keaton) and wife Madge (Allison Janney).
Their daughter Tina (Katy Mixon) points the Minions in the direction of bouffant super-villain Scarlet Overkill (Sandra Bullock).
"If I was a minion, that's who I'd want to work for," she swoons.
Thus, the trio pledge allegiance to Scarlet and her inventor husband, Herb (Jon Hamm), who are plotting to steal the Crown Jewels from Queen Elizabeth II (Jennifer Saunders).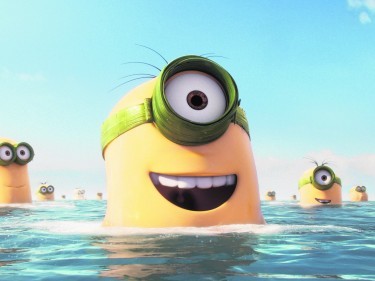 While the soundtrack swings its flares to The Kinks and The Who, Kevin, Stuart and Bob careen around London armed with Herb's nifty gadgets: a robo-suit, lava-lamp gun and hypno-hat.
Minions has a sprinkling of giggles and doesn't outstay its welcome, but there's an unshakeable feeling that Pierre Coffin and Kyle Balda's film falls short.
The groovy time period should be a velvet goldmine of visual gags, but the best the film can muster is a nod to The Beatles and a faked moon landing.
The 3D version doesn't exploit the eye-popping format, so parents with tykes in tow should save their money for the inevitable raid on the concessions stand.
Animation is colourful and pristine, opting for shiny surfaces and sharp angles that reduce the need for meticulous detail and realism.
Despicable? Meh.
SLOW WEST (15)
3 stars
John Maclean, one-time DJ and sampler with The Beta Band, makes an impressive feature film directorial debut with this stylish western shot on location in New Zealand.
Abiding confidently by conventions of the genre, Slow West is a classic coming-of-age story, which positions a resourceful young woman at the heart of the blood-spattered action.
"Wearing a dress don't make her a lady," observes one grizzled character, reminding us that appearances can be deceptive in the dustbowl of 1870s Colorado.
This is no place for the weak or demure.
A moment's hesitation to pull a trigger separates the living and the dead, and no one sheds a tear when you're gone because they are too busy ransacking your pockets.
Maclean's lean script, which gallops to just 83 minutes, won't leave audiences feeling saddle sore and the writer-director confidently orchestrates shootouts that culminate in a double-digit body count.
Fresh-faced 17-year-old Jay Cavendish (Kodi Smit-McPhee) journeys "from the cold shoulder of Scotland to the baking heart of America to find his love".
In a mosaic of flashbacks, we discover that the impressionable young man, son of a landowner (Alex Macqueen), pursued a Highland fling with peasant's daughter Rose Ross (Caren Pistorius).
She tried in vain to douse Jay's ardour, informing him: "You're the little brother I never had."
Rose and her father (Rory McCann) departed for foreign climes and now lovesick whelp Jay is on their trail, determined to woo the object of his unrequited affections.
Jay is poorly equipped to survive the brutality of the frontier west, where cigar-chewing outlaws like Payne (Ben Mendelsohn) and his posse roam with murderous intent.
The teenager crosses paths with a world-weary bounty hunter called Silas Selleck (Michael Fassbender), who proposes to chaperone Jay for a fee. The two loners form a tender yet fragile bond as they trot through a series of misadventures.
"There's more to life than just surviving," philosophises Jay, as Silas shaves his almost hairless chin with a knife.
"Yeah, there's dying," growls the gunslinger, who has neglected to tell
Jay that his beloved Rose and her old man are wanted dead or alive for $2,000.
Slow West is a compelling portrait of an era, as seen through the eyes of a jack rabbit, who has strayed into a den of wolves.
Smit-McPhee brings an appealing innocence to his stargazing dreamer, who learns harsh lessons about placing trust in strangers on the road.
In stark contrast, Fassbender swaggers with ominous intent, shrouding his character in ambiguity so we are never entirely sure of his allegiances until a barnstorming final reckoning.
The actors are an exceedingly odd couple, yet somehow the mismatch works, set against the majestic locations captured in all of their sprawling glory by Irish cinematographer Robbie Ryan.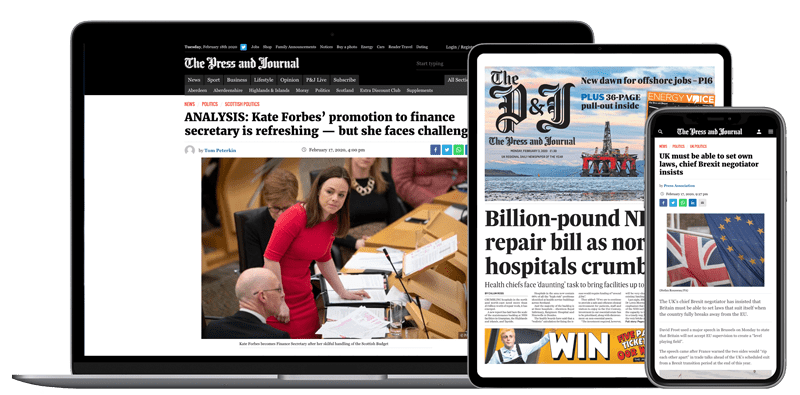 Help support quality local journalism … become a digital subscriber to The Press and Journal
For as little as £5.99 a month you can access all of our content, including Premium articles.
Subscribe