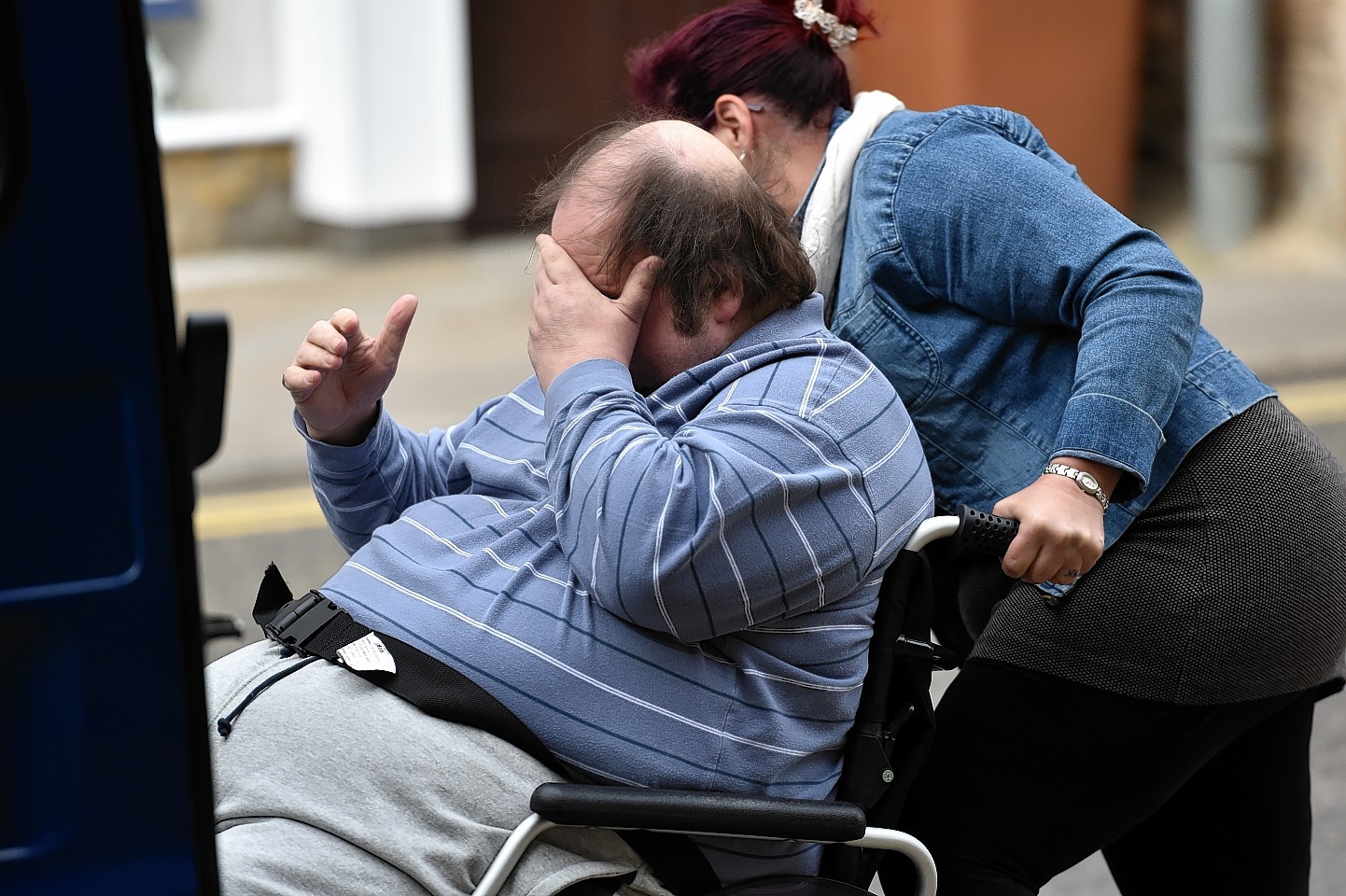 A morbidly obese Moray sex offender has been found guilty of preying on girls as young as four during a campaign of abuse in the 1960s and 70s.
Wheelchair-bound Stanley Sandison, from Lossiemouth, raped two children and sexually assualted three others at addresses across the town during that period.
After hearing harrowing testimonies from the four female victims this week, it took a jury just over an hour to find the man guilty of six charges yesterday.
Judge Lord Turnbull described the 68-year-old as "remorseless" while his victims sobbed with relief in the public gallery.
The judge told Sandison: "The charges of which you have been convicted reflect serious sexual abuse, and sexual abuse of children reflects an appalling breach of trust.
"It represents a callous taking advantage of the imbalance of power between children and adults.
"The effects of sexual abuse on children can and do last for many, many years.
"You have shown no hint of remorse or understanding of the impact of your conduct."
Sandison was tried at Elgin Sheriff Court because, due to his weight, he could not travel to one of the country's regular High Court venues.
He will be sentenced in Glasgow at the end of August.
Despite the guilty verdict, Sandison's lawyer, Bill Adam, pleaded with Lord Turnbull not to incarcerate his client until that time because of the health issues he suffers as a result of his size.
He said that Sandison, who lives in a house specially adapted to accommodate him and needs help getting in and out of bed, would struggle in prison.
Mr Adam said: "I would make the unusual request that my client be granted bail, because due to his condition, arranging travel and accommodation for him is very difficult.
"Because of his size there are rolls on his body which can become infected if he doesn't have a strict cleansing regime.
"He also has a catheter in situ which and if left unattended that could leak, or the tube could become unstuck.
"He has a requirement for care which might not be available to him in a prison."
Judge Lord Turnbull dismissed the lawyer's pleas and placed Sandison in custody until sentencing, warning him that a prison term would be the most "appropriate" outcome.
Sandison, of 30 Forth Place in Lossiemouth, originally faced nine charges but three were withdrawn by the crown during the trial.
The retired distillery worker's earliest recorded offence took place in 1964.
Between that time and the early 1970s he conducted a campaign of sexual abuse against one victim who was then aged between four and 12 – forcing the girl to perform sex acts on him "on various occasions".
He preyed on another child at several addresses between the late 1960s and mid-1970s while she was between the ages of four and 10.
A third victim, who gave evidence on Monday, said she was raped "about 10 to 12" times by Sandison in the 1970s – when she was as young as nine.
Fighting through tears, the woman said: "The first time I remember it happening was when I was nine.
"The accused sat me on the couch and removed my clothes, then started touching me inappropriately and telling me to stay quiet.
"I still have it in my mind's eye."
Sandison was also found guilty of one count of rape against a girl in the 1970s.
He targeted another victim between the ages of seven and 11 during that timeframe.
The trial represented the first time the High Court has been held in Elgin.