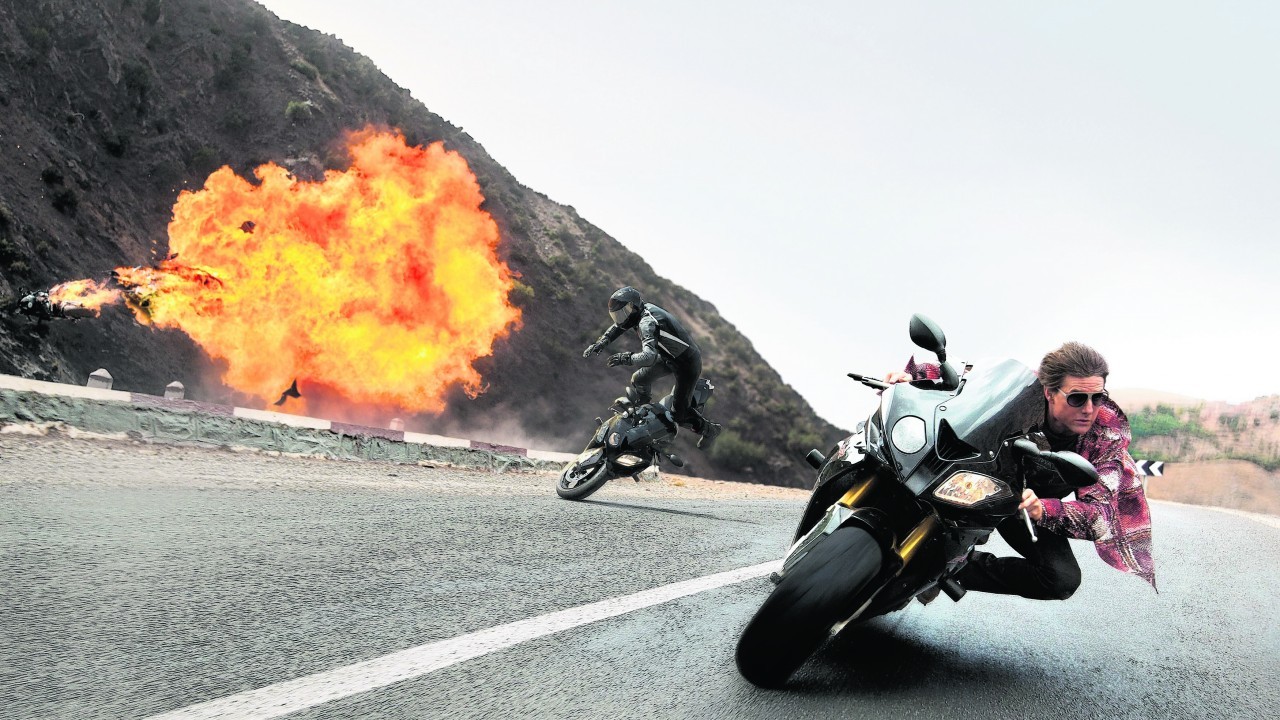 MISSION: IMPOSSIBLE – ROGUE NATION (12A)
4 stars
Call it testosterone-fuelled recklessness, hubris or feeling the need . . . the need for speed, but Tom Cruise certainly puts on a show in the fifth instalment of the Mission: Impossible franchise.
He clings to the side of an plane as it takes flight, slaloms at dizzying speed on a motorcycle and performs death-defying leaps as secret agent Ethan Hunt.
The 53-year-old star performs most of these hair-raising
stunts himself, allowing writer-director Christopher McQuarrie to capture every pulse-quickening second in thrilling close-up with minimum digital trickery.
Cruise's commitment to his role puts fellow action stars to shame – unlike the films of Stallone and Schwarzenegger, the script is devoid of wry one-liners to poke fun at his advancing years.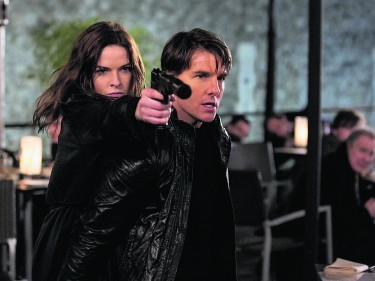 McQuarrie, Oscar-winning screenwriter of The Usual Suspects, bookmarks slam-bang action sequences with intentionally ambiguous exchanges between rival operatives, who acknowledge the futility of their efforts as pawns in the spy game.
Their inevitable deaths will go unnoticed, and fresh-faced young agents will step forward, continuing the brutal tug o war between political idealism and global terrorism.
The film opens with the Impossible Missions Force (IMF) hijacking a shipment of nerve gas from Chechen separatists.
Soon after, CIA director Alan Hunley (Alec Baldwin) succeeds in shutting down IMF for a total disregard for protocol, which led to the destruction of the Kremlin in the previous film.
The hunters become the hunted when a shadowy organisation known as the Syndicate, fronted by Solomon Lane (Sean Harris), targets IMF for extinction.
Covertly, Hunt reunites with colleagues William Brandt (Jeremy Renner), Benji Dunn (Simon Pegg) and computer hacker Luther Stickell (Ving Rhames) to bring down The Syndicate using every gadget, disguise and turbo-charged vehicle at their disposal.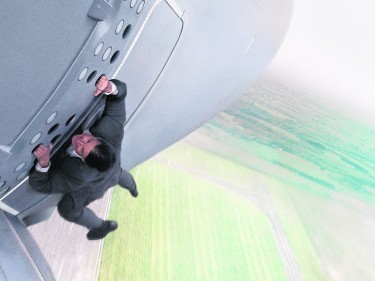 The operation brings Hunt into close contact with undercover MI6 agent Ilsa Faust (Rebecca Ferguson) and her slippery handler (Simon McBurney), a sadistic henchman known as the
Bone Doctor (Jens Hulten)
and the unsuspecting British prime minister (Tom Hollander).
"This may very well be our last mission," Brandt tells Hunt. "Make it count."
Mission: Impossible – Rogue Nation is bolted together slickly by McQuarrie and editor Eddie Hamilton (Kick-Ass, Kingsman: The Secret Service).
Turbo-charged scenes of carnage are punctuated by IMF's existential crisis in a world that regards their methods as "outdated".
Cruise somersaults, punches and tumbles through every frame without breaking sweat, while Pegg, who was pigeon-holed as comic relief in the previous instalment, steps up in a pivotal supporting role.
Ferguson's ice maiden doesn't thaw sufficiently under Cruise's smouldering gaze to kindle on-screen chemistry, but her femme fatale snaps several limbs and necks in impressive hand-to-hand combat sequences.
Humour is used sparingly to diffuse tension, leaving us hungry for another explosion of IMF antics to the pulsating rhythm of Lalo Schifrin's iconic theme.
On this evidence, Mission: Impossible and its gung-ho leading man won't be self-destructing any time soon.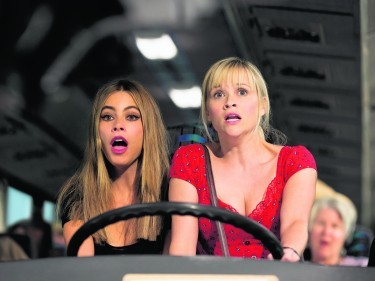 HOT PURSUIT (12A)
2 stars
The Hollywood dream factory exists for one reason: to make money. Lots of it.
Unfortunately for profit-fixated studio executives, audiences are discerning and unpredictable, so when a filmmaker accidentally stumbles upon a winning formula, competitors hurriedly churn out half-baked imitations in the hope that lightning might strike twice or thrice.
In 2013, Sandra Bullock and Melissa McCarthy generated a tidy profit at the box office in the mismatched buddy cop comedy The Heat.
They sizzled, thanks to a tight script, peppered with one-liners and visual gags, and the glorious on-screen chemistry of the leads.
Two years later, Reese Witherspoon and Sofia Vergara attempt in vain to peddle us Hot Pursuit, a mismatched cop 'n' crook comedy that should be re-titled The Tepid.
Scriptwriters David Feeney and John Quaintance demonstrate a woefully limited understanding of their stereotypical female characters by targeting menstrual cycles, designer heels, lingerie and faux lesbianism for cheap laughs.
More troubling, the heroines are unlikeable in the midst of various shootouts and chases because they spend so much time bickering about their appearance and what they have concealed in their "chestal region".
Quickly, we realise the entire enterprise is a giant boob.
Officer Rose Cooper (Witherspoon) is the laughing stock of San Antonio Police Department after an unfortunate incident with a taser gun.
Captain Emmett (John Carroll Lynch) offers her a chance at redemption by accompanying Deputy US Marshal Jackson (Richard T. Jones) to the home of Felipe Riva (Vincent Laresca), a cartel informant, who has agreed to testify against notorious kingpin Vincente Cortez (Joaquin Cosio) at a court hearing in Dallas.
Rose and Jackson arrive at the Riva homestead shortly before masked gunmen open fire.
Heading for the garage, Rose discovers Felipe's terrified wife, Daniella (Vergara), cowering in the back seat of a convertible.
The two women flee the bullet-riddled scene at high speed.
In order to keep control of the hysterical spouse, Rose handcuffs herself to Daniella, which proves costly, with Cortez's henchmen and Detectives Hauser (Matthew Del Negro) and Dixon (Michael Mosley) on their trail.
"It's my mission to get you to Dallas by 8am," barks Rose, whose stern facade cracks when she catches the eye of a hunky farmhand called Randy (Robert Kazinsky), who digs her focus and intensity.
Directed by Anne Fletcher without any sense of urgency, Hot Pursuit is a hot mess with the emphasis on mess.
Occasionally, broad physical comedy warrants a chuckle, but invariably it's followed by another poorly conceived and executed tumbleweed moment.
Witherspoon and Vergara are squandered in malnourished roles, trading insults about their respective height and Colombian accent.
"You're kind of mean and I only understand about 30% of what you're saying," trills Witherspoon to her accomplice in this desperately dull cinematic crime. Lock up both actresses and throw away the key.