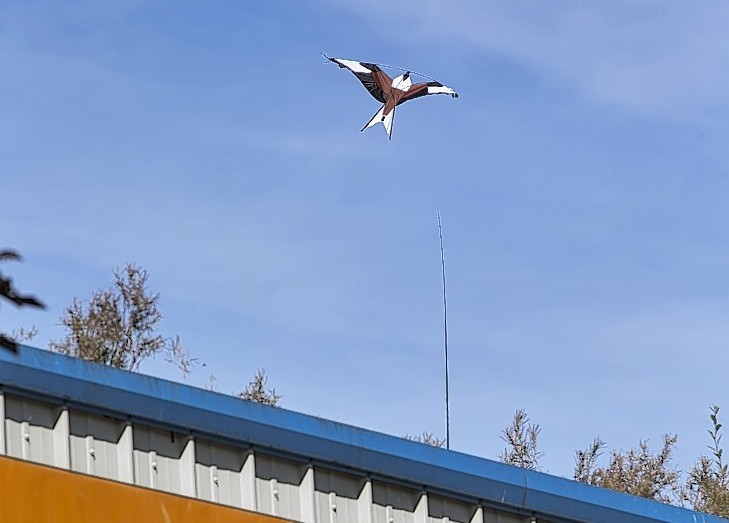 A top Moray shop has deployed a radical weapon in its war against gulls – which tricks the birds into believing the building is on fire.
Yesterday, specialists were called to Halfords in Elgin to coat a gel on its roof which plays an optical trick on the birds to make them stay away.
A set of kites shaped as a bird of prey has also been perched on the rooftop as an extra deterrent.
Halfords manager James Skimming said the gulls have made staff and customers' lives a misery for over a year.
He said: "With the size of the gulls here I don't know if these kites will keep them away – but I just hope it works.
"There has been quite a lot of drama with the gulls in the car park.
"They make loud banging noises when we are trying to serve customers, and it doesn't look very nice when our merchandise outdoors is covered in their droppings."
He added: "Everywhere in Elgin seems to have seen quite an increase in problems with the gulls recently, and we really needed to take action.
"We needed to protect our customers, and their cars, from the birds."
Last month, concerns were raised that a flock of unruly gulls who had taken up residence on the roof of Elgin Academy could pose a threat to the school's youngsters.
Elgin City North councillor Patsy Gowans led calls for the local authority to take action to evict the birds from the school area.
Last night Mrs Gowans said that the council could perhaps follow Halfords' lead in ridding the secondary school of the creatures.
She said: "We have tried to use kites in the past to scare away gulls, but they never worked – before long the gulls got used to them and figured out they weren't real birds of prey.
"Using gel to deceive birds into believing the roof is on fire is certainly a novel approach though, and I'd say it is worth a try at the Academy.
"I very recently heard about a man being attacked near the school, and I would hate to think that children could be subjected to anything like that."
Elgin Community Council's Mary Wall said more needed to be done to deal with the town's gull population.
She said: "Anything that will help get rid of the gulls is welcome, but more effort needs to be made to prevent them from accessing food in the town.
"In some places there are clear public warnings not to feed gulls, and that should be adopted in Elgin."
In June, Buckie woman Jean Middleton was left with a bleeding, bruised and swollen upper lip when a violent gull swooped directly into her face.
And the 53-year-old revealed others in the town were so afraid of suffering similar attacks they had taken to walking around with umbrellas at all times.