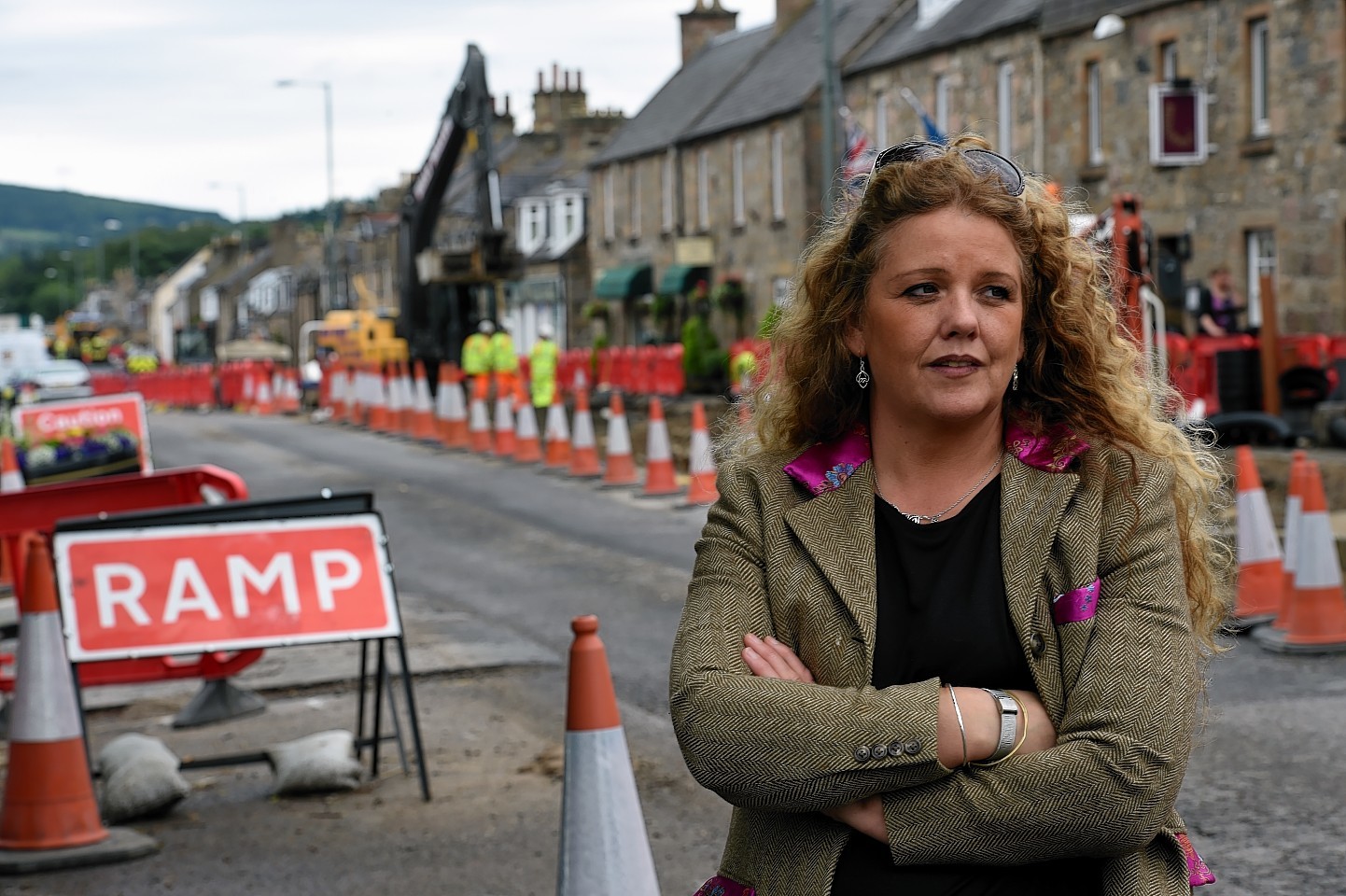 Traders in a Speyside village fear a roadworks programme which has destroyed their summer season could now stretch right into the winter.
The resurfacing scheme on the A95 along Aberlour High Street began in May, and should have been finished by now.
However, the works been delayed by the discovery of an unrecorded water main, and the area is still in a state of upheaval.
Bear Scotland insists the programme will now be finished by September – but business owners fear the work is already so far behind it could drag on for months more.
Ronnie Noble, owner of the High Street's Fresh on Spey restaurant, said: "Bear Scotland pledged that the work would be done by now, but they've hit a few unexpected delays already so we really don't know when it will be over.
"So many businesses are already suffering badly and there's no real knowing how long they will have to struggle."
The owner of the Three Bags Wool store on the High Street, Sarah Nairn-Anderson, said it could take Aberlour years to recover from the village's spoiled summer season.
She said: "The summer has been terrible for us and it's not going to get any better for a long time.
"This time of year is our bread and butter, and it helps see us through the winter, but this year we have had very little custom.
"All along we have accepted the work needed done, but questioned timing it over summer – and now all our worst fears are coming true.
"This has just ruined our village."
Ms Nairn-Anderson now plans to sell her woven goods from a van at public events in an effort to help make ends meet.
She added: "It has taken years to build up a seasonal customer base here, and now those visitors are going somewhere else and we doubt many of them will come back.
"I'm gutted about the way this has all gone, it will ruin us for years to come."
Bear Scotland last night moved to assure business owners that the works should still finish next month.
A spokeswoman said: "An unrecorded Scottish Water main was encountered during excavations, and has delayed the programme's end date from August to September.
"We are working in partnership with Scottish Water to accommodate the utility works within the current road improvement programme, in order to avoid future disruption to the community.
"But this is likely to mean a few additional weeks, rather than months."
A Scottish Water spokesman added: "Roadworks by Bear Scotland uncovered a water main that we are taking the opportunity to replace.
"We will work with Bear to arrange a mutually convenient programme of work to replace the main, that will minimise any inconvenience to local residents."
Moray MSP Richard Lochhead visited Aberlour and met shopkeepers at the heart of the drama in May.
Last night he said: "The concerns of local businesses regarding the roadworks timetable were extremely well known, so this delay is very disappointing.
"September would have been the month that traders could have hoped for some catch up in terms of lost business in the summer season.
"Small businesses rely on passing trade and it's no wonder they are worried about the impact this delay may have.
"It is vital that Scottish Water and Bear throw everything at this to minimise any further setbacks."
Not all Aberlour residents are opposed to the roadworks.
Aberlour Community Association member Hugh Fraser said: "Plenty of people in Aberlour accept the work has to be done, and are just getting on with things.
"There are maybe one or two who feel they are an inconvenience but they need to think of the long-term benefits they will bring the village."