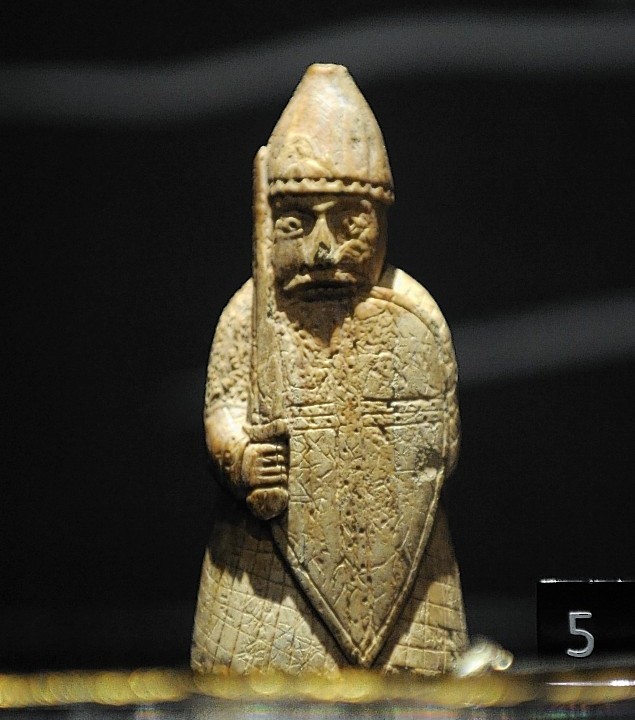 They are the most valuable chess pieces in history and considered one of the treasures of the Norse world.
But now there are claims that the iconic Lewis Chessmen – discovered on an Outer Hebridean beach – may have been carved by a woman in Iceland.
American author Nancy Marie Brown has set out her theory in the book Ivory Vikings: The Mystery of the Most Famous Chessmen in the World.
It puts forward the theory that an Icelandic bishop fond of decorative arts commissioned the best-known carver of his day, a woman called Margret the Adroit, to produce chess sets which included bishops for the first time.
Some 93 artefacts were unearthed in 1831 on the shore at Uig of the Isle of Lewis – including 78 chess pieces. Today, 82 pieces are owned and usually exhibited by the British Museum in London, and the remaining 11 are at the National Museum of Scotland in Edinburgh.
A number are due to be loaned to the Western Isles main museum in its new home of Lews Castle at Stornoway after undergoing a £16million restoration, to be completed later this year.
The chessmen were previously believed to have been probably made in Trondheim, Norway, in the 12th century, although some scholars have suggested other Nordic countries. During that period, the Outer Hebrides, along with other major groups of Scottish islands, were ruled by Norway.
Icelanders Gudmundur Thorarinsson and Einar Einarsson first proposed that the chessmen originated in Iceland, since only in Iceland were the bishops called that at that time, while in other countries they used a name unassociated with the church.
However, this is disputed by Dr Alex Woolf, director of the University of St. Andrews Institute for Medieval Studies, who said that the use of bishops originated in England, and by Norwegian chess historian Morten Lilleøren.
The first person to set forth the theory that the pieces might be the work of Margrét the Adroit was Thorarinsson, an engineer and former chairman of the Icelandic Chess Federation. He suggested that Bishop Páll Jónsson of Skálholt commissioned the walrus ivory pieces from Margrét in the 13th century.
Mr Thorarinsson's theory caught the eye of Ms Brown, who has written extensively on the Viking age and researched the theory for her new book.
Western Isles MP Angus MacNeil, who is learning Icelandic, said: "This new theory adds to the mystery and mystique of the Lewis Chessmen."