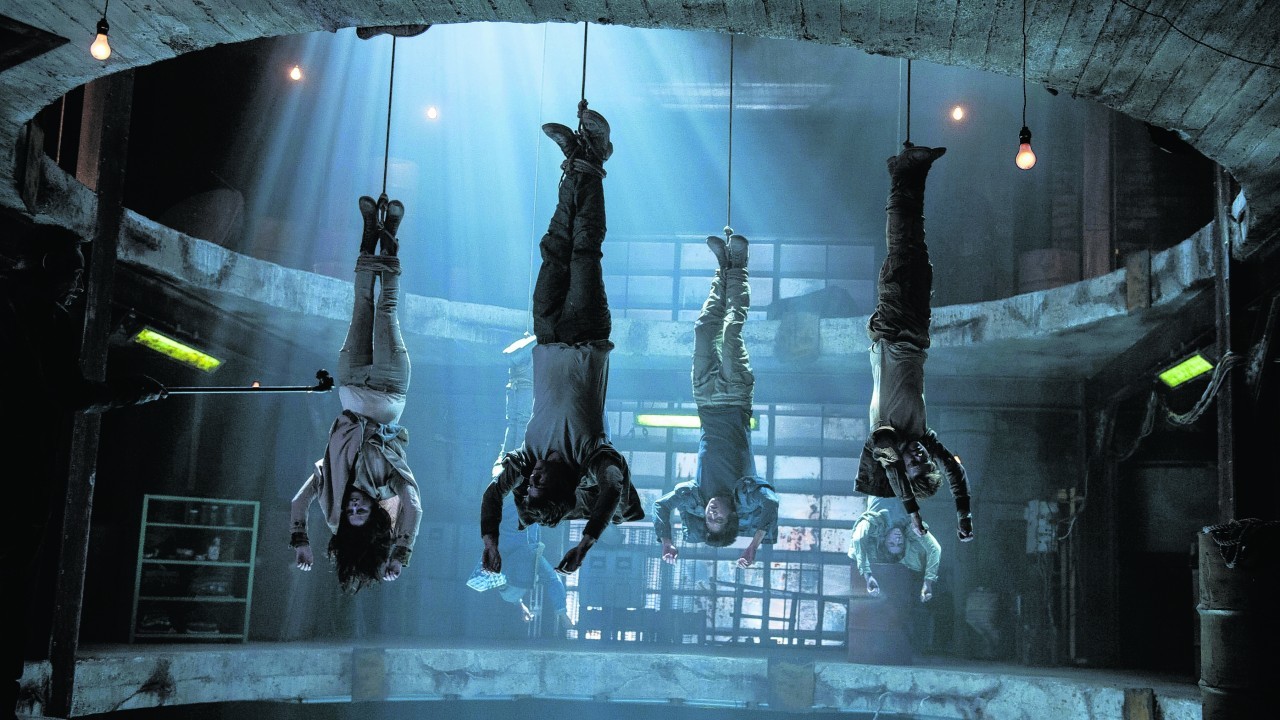 MAZE RUNNER: THE SCORCH TRIALS (12A)
4 stars
Released in October last year, The Maze Runner – the first film based on James Dashner's post-apocalyptic trilogy for young adults – was unfairly dismissed as a testosterone-fuelled clone of The Hunger Games.
Wes Ball's propulsive and refreshingly unsentimental chase through a diabolical labyrinth killed off main characters in a clinical fashion and cleverly negated the need for back stories by burdening the teenage runners with amnesia.
Fragmented memories of the past gradually resurface in this equally entertaining sequel, which veers into grisly territory inhabited by The Walking Dead and World War Z, albeit within the boundaries of a 12A certificate.
Maze Runner: The Scorch Trials fills in some of the narrative blanks but always has one eye on the next thrilling action set-piece, including a sprint through a topsy-turvy collapsed skyscraper that proves what goes up must come down . . . at stomach-lurching speed.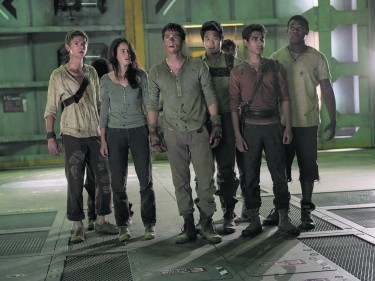 The first chapter culminated with Thomas (Dylan O'Brien), Newt (Thomas Brodie-Sangster), Teresa (Kaya Scodelario), Minho (Ki Hong Lee), Frypan (Dexter Darden) and Winston (Alexander Flores) being airlifted to safety from a facility belonging to the World Catastrophe Killzone Department (W.C.K.D.).
The teenagers arrive at a fortified research compound where Janson (Aiden Gillen) and his team care for the runners, keeping them safe from W.C.K.D. and its Machiavellian lead physician, Ava Paige (Patricia Clarkson).
Thomas learns that the maze runners hold the key to a cure for the Flare contagion, which has ravaged the globe and reduced humanity to flesh-hungry predators known as Cranks.
"There's something in our blood that W.C.K.D. wants," Thomas informs his pals.
When Janson fails to provide the answers that Thomas needs to hear, he spearheads a daring escape with a loner called Aris (Jacob Lofland).
The teenagers flee into the sun-scorched wilderness where they come face-to-face with the Cranks and forge an uneasy alliance with a gung-ho girl called Brenda (Rosa Salazar) and her surrogate father (Giancarlo Esposito).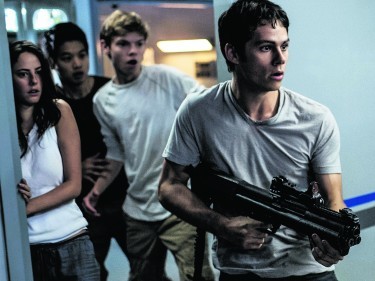 Maze Runner: The Scorch Trials unfolds at a brisk pace and fleshes out Scodelario's battle-scarred heroine, who was woefully short-changed in the first film.
O'Brien remains a likeable hero, who is blissfully unaware of the sins of his past, and new characters are introduced and – in some cases – swiftly dispatched as the hard-fought war with W.C.K.D. intensifies.
Intriguing questions about sacrifice in a world where death is the only freedom provide the cast with plentiful opportunities to wring out tears.
Director Ball borrows from The Lost World: Jurassic Park for one of his film's nerve-racking crescendos and orchestrates frenetic encounters with the ravenous zombie-like Cranks.
"I think hope is a dangerous thing," counsels one character.
Maybe so, but on this evidence, we have every reason to hope for a humdinger finale, Maze Runner: The Death Cure, scheduled for release in January 2017.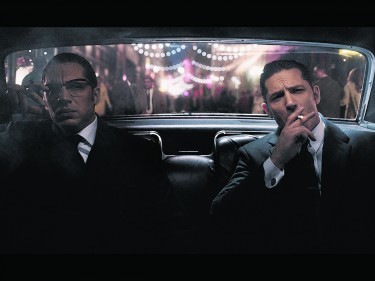 LEGEND (18)
3 stars
Tom Hardy portrays both Ronnie and Reggie Kray in Brian Helgeland's brutal portrait of the notorious gangsters.
One helping of the London-born leading man, with his imposing physical presence and willingness to delve into the darkest recesses of the human psyche, is usually an emotionally bruising treat. A double dose of Hardy should be an overflowing feast for the senses.
Surprisingly, the neat gimmick of casting the same actor in dual roles proves an almighty distraction.
Using the visual shorthand of a pair of spectacles to distinguish between the two Krays, Hardy plays Ronnie as a blackly humorous psychopath, who seems to be one giggle shy of Jack Nicholson's Joker. Reggie, as a dutiful son, always puts family ties ahead of personal desires.
"My loyalty to my brother is how I measure myself," he confides.
Helgeland's period drama is torn between these two very different faces of the same blood-spattered coin.
Ultimately, the film comes apart at the seams as it lurches between tenderness and lurid violence to lay bare the unshakeable bond between the brothers.
Reggie and identical twin Ronnie own a lucrative club in London, where the rich and famous rub shoulders with bad boys and criminals.
With guidance from business manager Leslie Payne (David Thewlis), the club goes from strength to strength and the brothers entertain a transatlantic union with organised-crime boss Meyer Lansky.
"London is going to be the Las Vegas of Europe," grins Lansky's associate Angelo Bruno (Chazz Palminteri).
In the mean streets of the capital, the Krays continue a brutal turf war with Charlie Richardson (Paul Bettany) and remain one step ahead of Detective Superintendent Leonard "Nipper" Read (Christopher Eccleston).
Reggie embarks on a giddy romance with 16-year-old Frances Shea (Emily Browning), sister of his driver Frankie (Colin Morgan), despite vociferous protests from her mother (Tara Fitzgerald).
The relationship coincides with Ronnie's turbulent affair with Edward Smith (Taron Egerton).
Sibling rivalry intensifies and Reggie struggles to contain his brother's sadistic impulses and keep Frances on an even keel.
Based on the book The Profession of Violence by John Pearson, Legend captures the fashions and sounds of 50s and 60s London with aplomb, but the abrupt shifts in pace and tone are deeply discomfiting.
Individually, Hardy's portrayals of Ronnie and Reggie are fascinating, but placed side by side they induce a cinematic headache.
Supporting cast are similarly torn between understated (Browning) and exaggerated (Egerton), including a colourful turn from John Sessions
as a slippery conservative peer, who enjoys the company of young men.
The running time drags in places but it's hard to tear your eyes from the screen, even when Helgeland's film seems to be careering wildly out of control.