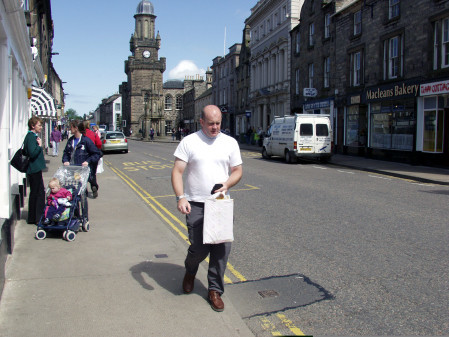 Plans for a colourful reinvention of a Moray town centre will get under way next week.
A stretch of pavement along Forres High Street, between Gordon Street and the Auchernack council buildings, is to be relaid to improve access to local shops.
The work is expected to last eight weeks, and as part of the refurbishment the existing concrete footways will be replaced with coloured concrete block paving.
The streets will be paved with red and grey stonework, continuing a colour theme agreed upon with Forres Community Council for the design of the town.
Though Moray Council warned of some disruption to businesses, community council chairman Stewart Noble anticipated the move would be welcomed by residents.
He said: "I think this will be a big improvement for Forres.
"In the long run the work to get these improvements in place will be well worth it, as it will make it easier for disabled people to navigate the town centre and access shops.
"It will be a lot safer for everybody, and a welcome boost to the High Street."
A Moray Council spokesman pledged that efforts would be made to "minimise" any impact on High Street outlets.
The spokesman explained: "During the works, which will be undertaken from east to west in two main sections, a safe working zone will be established on the north footway with traffic lights in operation to restrict traffic to the south side of High Street.
"This requires temporary 'no parking' restrictions along the frontage of St Laurence Church, and the closure of the north footway, although access will be maintained.
"The works have been planned to minimise disruption to businesses and residents, and pedestrian access will be maintained during opening hours.
"The council apologises for any inconvenience and would ask motorists and pedestrians to exercise extra care while the works are in progress."