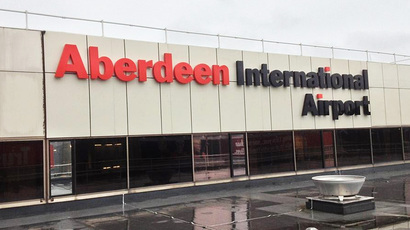 A fleet of Edinburgh taxis came to the rescue of stranded holidaymakers at the weekend after heavy fog put paid to them landing in Aberdeen.
Holiday firm Thomson gave the go-ahead for passengers to flag down 45 black cabs after their flight was forced to divert to the capital.
Within hours of landing, a convoy of black cabs was making its way north on the A90 Edinburgh to Aberdeen road, with nearly 150 north-east passengers on board.
The flight from Palma, Majorca, had been due to land at Aberdeen Airport at 12.25am on Saturday but heavy fog made landing impossible.
After circling the airport for twenty minutes, the flight, operated by Europe Airpost on behalf of holiday firm Thomson, was diverted to Edinburgh Airport instead.
Around 150 passengers, many with young children and babies, touched down in the capital at around 1am.
After waiting on the runway for over an hour, passengers were taken into the terminal and told buses would be laid on to transport them on the final leg of their journey.
However, a short time later passengers were told they could hail down black city cabs instead and by 4am a convoy of the distinctive vehicles was on its way north.
It is understood a typical cab fare from Auld Reekie to the Granite City would cost around £300.
Forty-five times over, the bill could easily top £13,500.
Last night, a spokesman for Aberdeen Airport confirmed two flights were diverted after heavy fog surrounded the airport.
The other, from London Heathrow, landed at Glasgow Airport.
Holidaymaker Beverley Tricker said: "It was great that they (Thomson) got us home and it was great that they put on taxis to get us home and in the big scheme of things, they dealt with it very quickly.
"However I do think that communication with the passengers about what was happening could have been better."
No one from Thomson Holidays was available for comment last night.