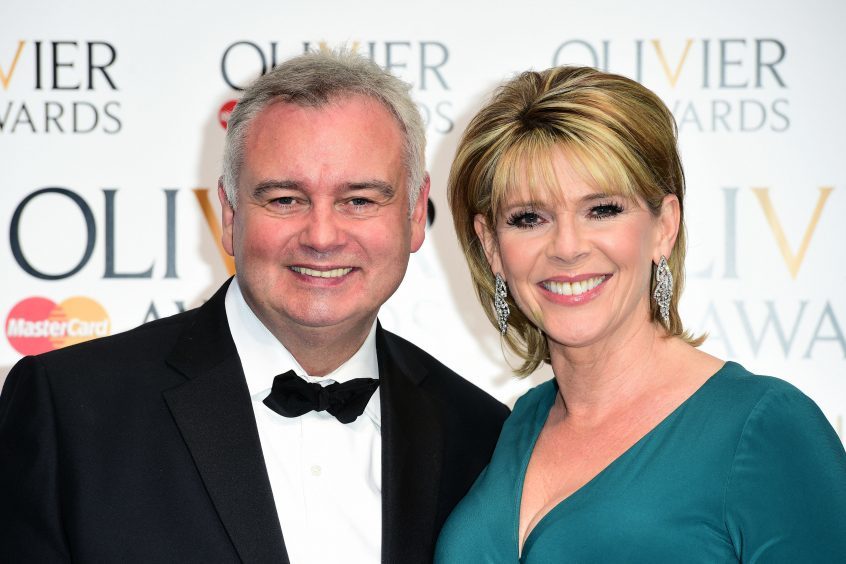 TV presenter Ruth Langsford and her husband Eamonn Holmes are famous for their bickering banter when they co-present on This Morning. Gabrielle Fagan finds out how the couple avoid rows and keep romance alive
Ruth Langsford's known for being feisty, outspoken and characteristically, doesn't mince her words about her relationship with husband Eamonn Holmes when she teasingly says, "Oh, he's all mouth and trousers, but really, I run the show!"
It's clearly a jokey aside because, in reality, the pair, who've become one of Britain's most recognisable couples both off-screen and on, hosting breakfast show This Morning every Friday, are two halves of a perfectly-balanced team.
"Living and working together means we know each inside out. Eamonn knows me better than anybody has ever known me in my whole life. He could tell you what I'm thinking about and 99% of the time he'd be right," says the glamorous blonde, as she talks revealingly about their life together. They've been a couple for 20 years, married for five, and have a 13-year-old son, Jack.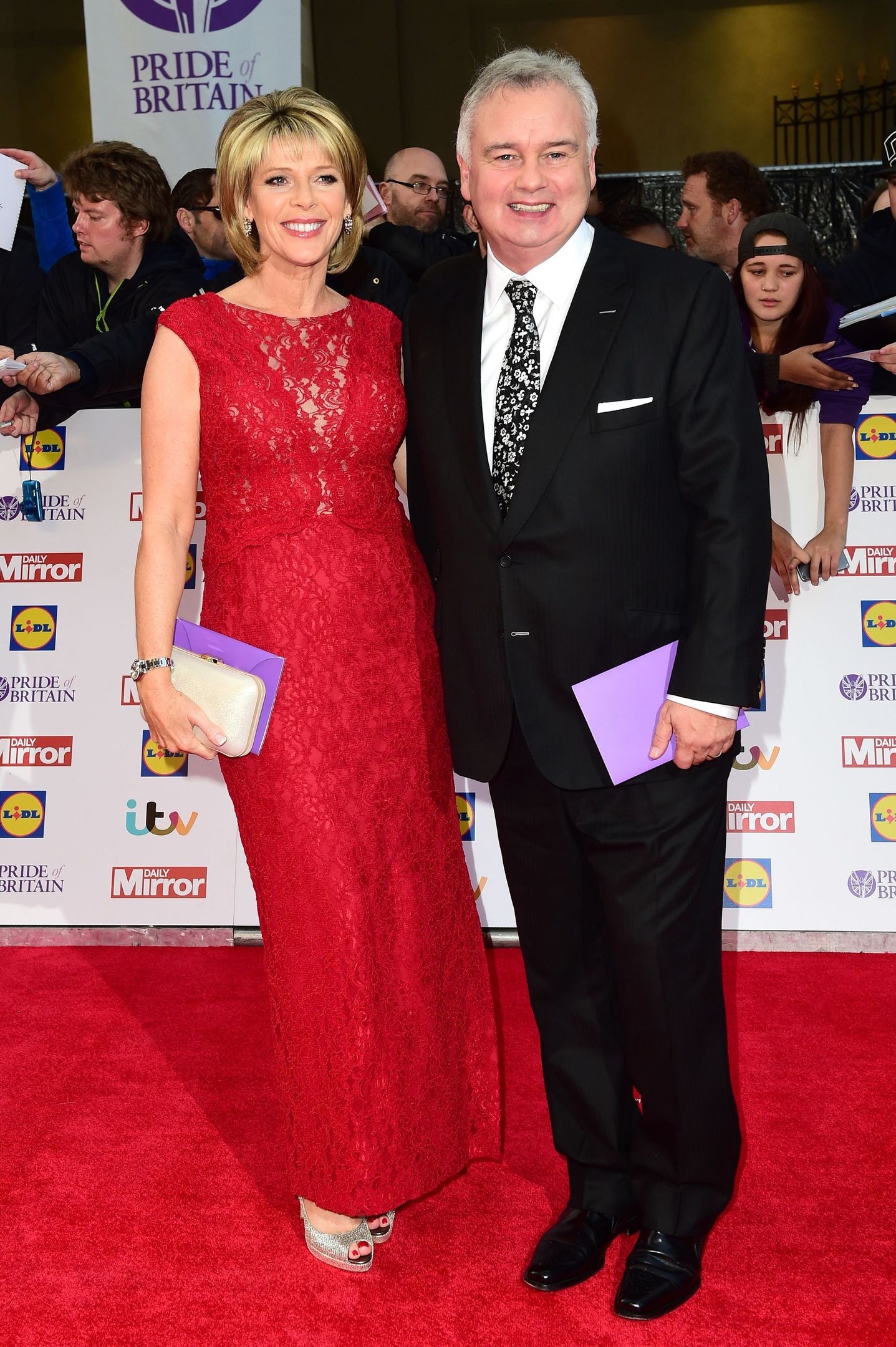 "We share similar backgrounds in that both our parents had enduring marriages, and his mum and mine are strong women who were with men who thought they ruled the roost, but really, they didn't!" she says laughing.
"That's why sometimes I say 'I run the show', but we actually have a perfect balance between us. He has his strengths and I have mine, and we absolutely share the same family values and goals."
Their intuition was demonstrated during a recent challenging interview on This Morning with Seventies singer David Cassidy, who became angry when questioned about his bankruptcy and divorce, which Langsford described as a "rollercoaster".
"We found out during that 'interesting' interview that we do have a sort of telepathy," she says.
"I had my back to Eamonn the whole time, so I wasn't even able to have any eye contact and yet we instinctively knew how we should cope with the situation and what we should each say. It's about being in tune after years of living and working together."
Their relationship – and the obviously genuine warmth and love between them – has proved to be television gold. They're famous for their entertaining squabbles and comic banter during the breakfast show, and stand out as celebrities who are refreshingly open and honest about their lives together.
"I do get cross with Eamonn sometimes, of course, but it's almost impossible to stay angry with him, because he makes me laugh so much," she says.
"I think, along with respect for one another, that's one of the secrets to a good relationship – sharing the same sense of humour. He's very funny."
She has admitted to one topic which she wouldn't regard in any way as humorous – adultery.
Earlier this year on ITV's chat show Loose Women, which she anchors, she vowed, during a discussion about the BBC drama Dr Foster, where a wife discovers her husband's adultery, that if Holmes ever strayed, it would split them up.
"Don't get me wrong, Eamonn's never made me feel anything but very loved and secure, and I trust him completely, but even he says that if anything like that ever happened, it would be over," says the 55-year-old.
"He's said that if I found out anything like that – not that he's tempted, I hasten to add – he'd just go: 'Ruth, here's the keys to the house and the car, I'm off'. He figures he'd have to go, as I'd make his life hell. It's true, I probably would.
"I'm quite a jealous person, it's one of the biggest traits I wish I didn't have, and although I'd like to think I could be the bigger person and forgive a misdemeanour, especially as we have a child, I couldn't. In my book, once the trust has gone, the trust has gone."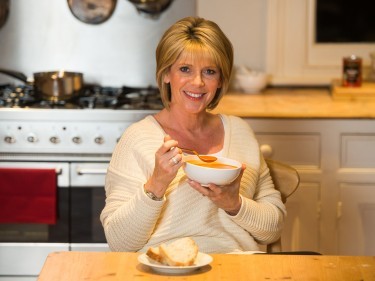 While she's never faced that situation, she admits she often feels guilt – about prioritising family demands.
Langsford, who's launched a Warming Moments campaign with the Royal Voluntary Service and Heinz Soup to encourage people to visit elderly neighbours this winter, says: "I feel huge guilt about not seeing my mother, who's 83, as much as I'd like. Like many women of my age, I'm juggling work, a dependent child and an older parent who needs a bit of help. You can feel torn because of the conflicting demands.
"I lost my father through Alzheimer's four years ago, which was the most hideously painful experience, because you feel you've lost the person for many years, despite the fact they're still there physically, and it makes my mum very precious to me. Although I see her regularly, I still sometimes feel it's not often enough."
Apportioning time – hers and Eamonn's – largely falls to her she says, and she strives to ensure they successfully juggle their careers with family life. It's a crowded work schedule as Holmes, 55, is also a presenter on Sky News and currently the couple are appearing in Channel Five series, Eamonn & Ruth: How The Other Half Lives, which delves into the lives of the super-rich.
"I am much stricter about not allowing work to drift over into our free time. I'm the one who stops any talk about work when Eamonn and I are at home in the evenings. If we're offered jobs, I'll always ask for time before agreeing, so I can check our schedule, whereas Eamonn's inclined to immediately say, 'We'd love to do it!"' she says good humouredly.
"It's hard because we're freelances and, while we have a lot of nice work now, it can always end, so you don't want to say no. But I aim to ring fence family time. I try to make a certain amount of home time sacrosanct and Eamonn appreciates that. He'll often say, 'Thank goodness we've got the weekend off' and I'll say, 'Yes, and who got you that?"'
Further demonstrating the ying and yang of their relationship, she says it's Holmes who makes time for them to be together.
"He's much more romantic than me and insistent on us regularly going out, so we can just be a couple. I'm a home bird who loves nothing better than getting in my trackie bottoms, cooking and chilling, but he'll drag me out to the cinema, dinner or a fun event. It's lovely when he does, because we actually get time to talk to one another properly, rather than being pre-occupied with the routine of daily life."
Although motherhood came late – Langsford had their son when she was 42 – it has, she says, fulfilled her.
"I wish I had started younger and had maybe one or two more children, but it isn't a regret. I'm so lucky to have Jack and love spending time with him, even though now he's a teenager, he's all about being cool and not so fussed about spending time with me!
"My role appears to be to give him £20, drop him off somewhere and then I'm dismissed, but he's great!" she says with an indulgent smile. She's also stepmother to Eamonn's three children from his first marriage.
"I love my stepchildren who are extremely nice, well brought up, young people, but I've never tried to be their mother. I didn't feel it was my place. They have a fantastic mother, so I've just tried to be their friend. It's lovely to be part of their lives. I genuinely feel very fortunate at the way everything has worked out."
:: Heinz Soup partners with TV presenter, Ruth Langsford, and Royal Voluntary Service for a Warming Moments campaign calling for more people to visit an older neighbour this winter. Visit www.heinz.co.uk