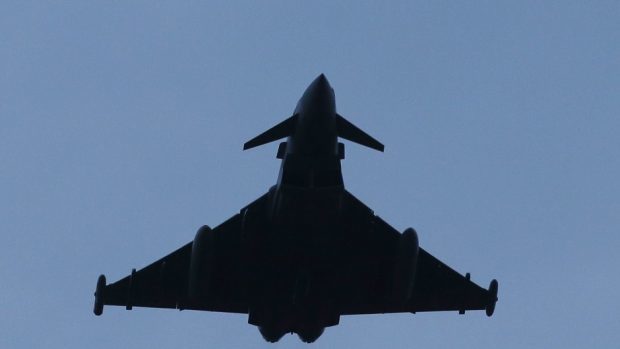 Fighter pilots from RAF Lossiemouth were stationed in Cyprus last night as they prepared to carry out air strikes against the IS terror group.
Six Typhoon jets left the Moray airfield at 8am yesterday, and arrived at the Akotiri base shortly after 2pm.
One analyst said last night he could "almost guarantee" the Lossiemouth jets would be involved in action overnight or during today.
The crews remained on standby throughout Wednesday as they awaited the outcome of a crucial UK Government vote on whether to escalate military action in Syria.
Within hours of MPs back air strikes the Eurofighter Typhoons were fully prepared for conflict, and they took from Lossiemouth at first light yesterday.
An RAF Airbus A400M tactical transport aircraft was also deployed from the Moray base, with about 100 engineers and ground staff travelling to help service the Typhoons.
Some questions were raised over whether the jets had been posted to Cyprus to take over operations in Iraq, allowing the Tornado GR4s already stationed at Akotiri to concentrate fully on strikes in Syria.
Last night a Ministry of Defence spokeswoman said that level of operational detail would not be released.
But a former RAF engineer told the Press and Journal that it was likely the Typhoons would cover missions wherever they were required – and said he expected crews from Lossiemouth to taste action sooner rather than later.
The retired serviceman said: "They will be used where they are needed – the Tornados and the Typhoons have different capabilities.
"Tornados use Brimstone missiles, which can hit very specific smaller targets like vehicles.
"But Typhoons will be used to drop bombs on larger targets, and are able to cause significantly more damage."
He added: "I can almost guarantee that, if not overnight, the RAF Lossiemouth Typhoons will take part in strikes on Friday.
"They will be out to prove a point."
Four Tornado GR4 jets stationed at the RAF Akotiri base carried out the first UK air strikes in Syria shortly after Wednesday night's vote.
The jets targeted an IS-controlled oil field in eastern Syria.
The different weapons carried by the Tornados and Typhoons mean that UK forces are able to launch a muti-faceted attack on IS strongholds.
Typhoons can carry four Paveway IV bombs on each mission, each weighing 500lb.
The aircraft are so powerful they are able to perform air defence for Tornado jets while still carrying the weighty explosives.
First Minister Nicola Sturgeon stressed her distaste at the launch of air strikes in Syria yesterday.
But she also told fellow MSPs at Holyrood that she extended her best wishes to the personnel who have travelled from Scotland for the missions.
She said: "I am sure we are all mindful that British service personnel, many of them based at Lossiemouth, are now in action over Syria.
"Not withstanding my opposition to this action, my thoughts and my good wishes are very much with them at this time."