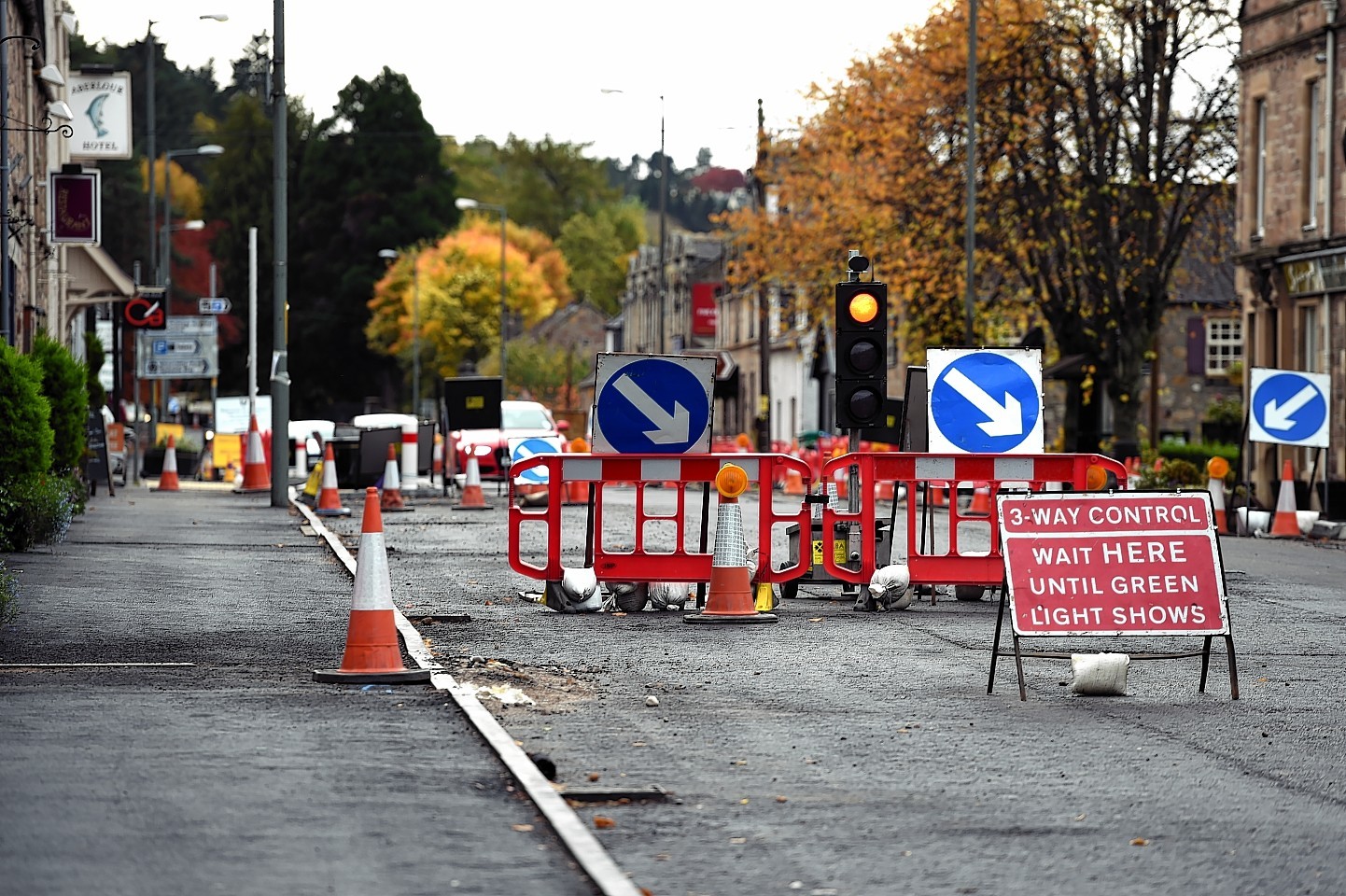 Residents in a Moray village which has been besieged by roadworks turned out in force to a public exhibition on the ongoing renovations.
Bear Scotland began resurfacing the main thoroughfare through Aberlour in May, but the work was stifled by delays.
When it emerged that Scottish Water needed to replace water mains running the length of the route, High Street traders were dismayed to learn that the upheaval would continue until March.
However, Scottish Water has offered beleaguered businesses some respite from the disruption over the festive period, and placed the work on hold until January.
For now the stretch of the A95 that runs through the village has been temporarily surfaced, but will be dug up again next month so that the cast iron water pipes can be replaced.
Scottish Water detailed the works yesterday afternoon at a public exhibition.
The tearoom in the village's former railway station was bustling as residents and traders filed in to inspect the plans.
Concerned couple George and Paula Cook said the exhibition had given them an insight into the work – but offered their sympathies to shopkeepers who have been "hammered" by a lack of business.
Mr Cook said: "We just wanted to find out exactly what was going on, and how long things would take, and the exhibition has been very helpful.
"The roadworks have only caused us minor irritations, but we feel really sorry for the businesses who have just been hammered by it all.
"It's been a real shame, but I'm confident they can bounce back."
Scottish Water's regional community manager, Diane Burgess, said the public meeting was "very well supported".
She added: "It has been helpful for us to meet the community, and to provide them with some clarity."
Moray MSP Richard Lochhead has taken traders' concerns on board, and pressed Scottish Water to arrange compensation for those left in financial strife as a result of the works.
Mr Lochhead said: "I remain in close contact with the Aberlour community about the road improvements and the delayed works, and I know that constituents and traders are very concerned about the effect those delays are having on the community and on their livelihoods.
"I am pleased the community is being engaged with, and hope their views will be taken on board as things progress."