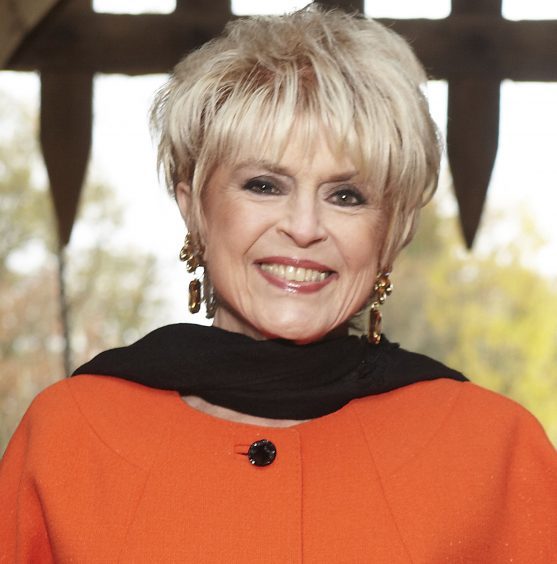 TV presenter Gloria Hunniford's grandsons – the children of her late daughter, Caron Keating – tease her, give her fashion advice and keep her young. She tells us the comfort they bring her and how she copes with ageing – by ignoring it.
It's hard to imagine daring to call Gloria Hunniford – the stylish, sophisticated, veteran TV presenter – 'Glo' or even 'Big G', but she's clearly delighted by those irreverent nicknames.
They're what she's affectionately called by her grandsons, Charlie, 20, and Gabriel, 18, the two sons of her daughter, Caron Keating. When she died 11 years ago, aged 41, after losing a long battle with breast cancer, they were only 10 and seven and have since grown into handsome young men.
"The boys will call up and say, 'Hi Glo, are you around for a visit?' It does make me laugh. They're such fun, tease me mercilessly, and are a joy to be with," says their proud 75-year-old grandmother.
"Nowadays being with them is like enjoying wonderful adult company. They're really fine young men and we have such great conversations together. Gabriel's just started at university and Charlie's in his final year – both doing media – and undoubtedly they keep me young because they're very sparky and great fun."
While she has said it is impossible to get over the loss of a child, and experiences sadness that their mother cannot witness their milestones, she takes huge pleasure in seeing their resemblance to the popular Blue Peter presenter.
"When I was young, my mother and grandmother used to talk about 'the spirit (of someone) living on' in people, which at the time I never understood, but now I do. I see so much of Caron in them, which is a huge comfort to me," she says.
"Charlie has her brilliant sense of humour while Gabriel has her quirky way of looking at things. Caron, bias aside, was a very unusual girl with a very different way of looking at life and truthfully, the woman I most loved talking to in all the world. Gabriel shares that gift. I can say to him, 'I'm interviewing someone, what would you ask?' and he'll always come up with something intriguing, quite unexpected and which I'd never have dreamt of.
"He also has quite off-the-wall dress sense sometimes and encourages me to buy things I'd never look at. I recently got a black leather jacket with sleeves studded with silver and diamante simply because he said, 'Go on Glo, it looks cool on you.' Fortunately for him, I've had loads of compliments about it since!"
She believes her bond with the boys, whom she helped care for after their mother died, is even deeper because she was present for their births.
"I feel so lucky that Caron asked me to be there on both occasions because I feel it gave me an extra bond with them. I say to them, 'I've known you since the second you were born', because it's true. Also, I'm the only adult alive who knew their mother from birth to death, because Caron's father died before her," she says.
Hunniford, who's married to hairdresser, Stephen Way, is looking forward to spending Christmas with the boys and the rest of the family, including their father, Russ Lindsay, who remarried in 2006. He and his wife, breakfast presenter, Sally Meen have two young daughters.
Even though Christmas can be a time of mixed emotions for those who've lost loved ones, Hunniford's always heeded advice from her close friend Cliff Richard.
"Just after Caron died, Cliff asked me how I was going to cope with the first Christmas because I simply didn't know whether to celebrate it or not. When she was alive, we were always together for it. Cliff looked me straight in the eye and asked, 'Did Caron like Christmas?' I replied, 'She absolutely adored it'. So he said, 'That's the answer. Why don't you go bigger and better for Caron and her boys this year?,"' reveals the Loose Women panellist.
"That's what I did. That year I had a six-foot singing and dancing Santa Claus and five Christmas trees rather than one. It was about celebrating what she loved and although some years in essence it was quite tough emotionally, there was always joy which was important for the children. I've never forgotten Cliff's wise words."
Embracing the positive, while being candid about her feelings, is characteristic of this feisty and warm woman who defies the years in both looks and lifestyle. She has a demanding workload, believes she's currently the oldest female presenter currently on television, and presents, with Julia Somerville and Angela Rippon, BBC One's consumer series, Rip Off Britain. She also works tirelessly for the Caron Keating Foundation, set up to help cancer charities across the country in memory of her daughter.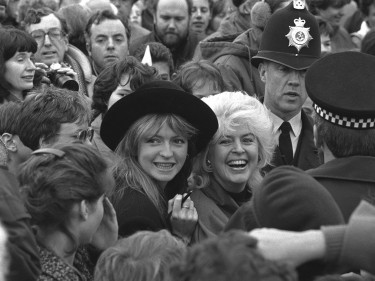 She's also supporting a campaign by Spring Chicken, specialists in gadgets for older people, to help redefine older age in the wake of research that found society classes people as 'old' at 67.
"I was astonished at that finding. I certainly don't feel old even though I'm nearly a decade on from that age – although I admit I hated turning 70 so much I banned cards with that number on it!" she declares.
"I have the same mental attitude I've always had. I love working – retire isn't a word in my vocabulary – and learning and doing new things. I'm hopeless at relaxing. Frankly, times have changed so much, with people working longer, that nowadays 80 is really the new 60," she adds.
"I'm lucky I've never found my age a disadvantage. Although television's a young industry – I often work with people who could be my children or grandchildren – I think there's recognition that life experience is valuable. On Rip Off Britain and Loose Women it's useful to have people like me of a certain age who've been around the block and have learnt and grown and have a bit of gravitas."
Her one concession to age is avoiding working every day. "I try to pace myself these days," she says.
"I believe, in the light of what I've experienced – both growing up in The Troubles in Northern Ireland and losing Caron – that life can be very fragile and the most important thing you can do is make the best of every day. I try not to think about death, even though I'm getting older. I have to think, and want to think, that I will see Caron again one day, and I have a strong enough belief in that sense. Naturally, I don't want to think about a time I might not see my husband, my children or my grandchildren again. So I avoid being in that zone and simply aim to be healthy, fit and positive and enjoy every minute of my life."
:: Find out about the Spring Chicken campaign to end Britain's stereotyping of old age at www.springchicken.co.uk
ends