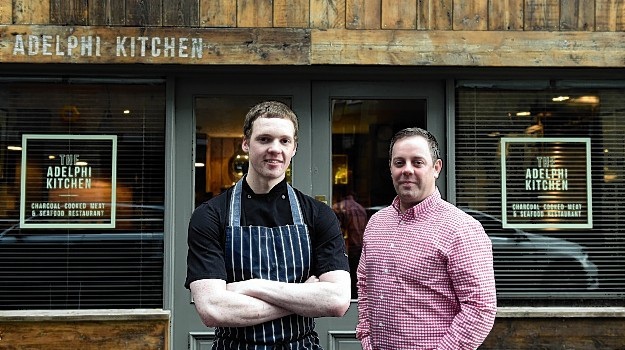 A youngster with the right ingredients can bag the chance to work alongside some top chefs thanks to the Press and Journal's Apprentice 100 campaign.
Beetroot Restaurants, which includes Aberdeen eateries Adelphi Kitchen and The Courtyard – soon to be CUE – along with outside catering company, Eat Beetroot, has already taken on one apprentice this year.
But the company has pledged to recruit a second, who will work at CUE when it opens in February.
Andrew Trail, 22, who is in the process of achieving his Scottish Vocational Qualification (SVQ) level three in hospitality, has been training as an apprentice for three months in the Adelphi Kitchen with head chef Murray Dawson.
The food and drink group works proactively with the Scottish Qualifications Authority to ensure its apprentices and staff are trained to the highest standards.
Bi-weekly assessments take place with an external assessor marking Andrew on his learned skills and techniques.
The SVQ training will ensure Andrew is trained in 14 different module courses including butchery, fish, hot and cold starters, bread, sauces, and many more.
Mr Trail said: "Working at Beetroot Restaurants has been a fantastic opportunity for me in developing my culinary and hospitality skills.
"The experienced chefs have taught me a huge amount already and I really enjoy the assessments I go through every few weeks where I get to show off my talents.
"I am only a few months into my training but hope to be finished with the apprenticeship soon so I can really get stuck into working in the kitchen and learning even more about this amazing industry."
Chris Tonner, managing director of Beetroot Restaurants, added: "Training to become a chef is extremely hands-on and can be very challenging at times.
"We ask a lot from our apprentices but that's only to ensure they get the highest quality of training available under the watchful eye of our talented chefs.
"The rewards are huge for all of our apprentices and with the opportunity to join the team as a chef de partie, Andrew has excelled in everything we have thrown at him.
"As a chef by trade myself, I personally feel on the job training benefited me more than any other form of education.
"Being thrown into the deep end allowed me to develop and enhance my learned skills very quickly and pushed me to be adventurous in my work. Creating a dish is a craft."
To apply for the apprenticeship, e-mail your CV to info@wearebeetroot.co.uk