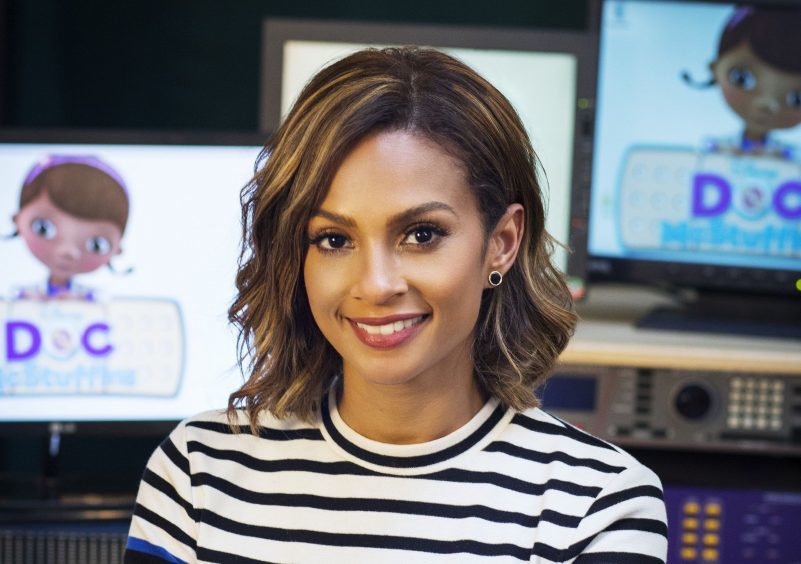 Alesha Dixon is a judge on Britain's Got Talent and mother to her two-year-old daughter. She tells us how she copes with fame and what she wants for her little girl
When it comes to slipping in and out of roles, Alesha Dixon's a maestro.
She glides effortlessly from being a glamorous, poised judge on Britain's Got Talent, to a soulful performer on her latest pop album, and on the day we meet, is just plain down-to-earth and giggly as she chats with a crowd who've flocked to see her unveil the huge Disney Junior Christmas tree at St Pancras Station, London.
"When you have as much variety in your life as I do, it keeps it really interesting and I'm really grateful for that," explains the bubbly 37-year-old, who oozes boundless energy and enthusiasm. "My default position is quite a joyful one."
That joy's undoubtedly been heightened since she became a mother – she has a two-year-old-daughter, Azura with her partner, dancer Azuka Ononye whom she met when he was her backing singer when she launched her solo career in 2006. It's a happy ending for the star who married rapper MC Harvey in 2005, but was left heartbroken when a year later it emerged he had been having an affair and the couple split.
"My friends say I'm the only person they know who is ageing backwards. I think it's because I'm happy. Giving birth to Azura was life-changing," says Dixon. "She's gorgeous and we have such fun together. Children remind you about what's important in life, and being a mother's opened my eyes to so many things and widened my perspective."
Her latest role – voicing the character of Winnie, the antique tiger in Disney Junior's Doc McStuffins – will certainly appeal to her toddler – and will be screened in February.
"I play a tiger suffering from asthma – it was my first voice-over and I loved every minute of it. It made it even more fun because Azura and I always watch the programme – she knows the theme tune and we sing along to it together. I don't know what she will make of hearing my voice on the show!" she says with a beam.
"Spending time with my daughter is so special because, like all busy mums, I have to juggle my time between my family and fulfilling my work commitments. Of course, there are days when it would be lovely to stay at home and just cuddle up and play with her, but, at the same time, I absolutely love my work and these days I also do it because I need to support Azura, look after her and make sure she has everything she needs."
Dixon, who grew up in Welwyn Garden City, Hertfordshire, herself experienced a tough childhood. Her parents split when she was four and between the ages of eight to 10 she saw her mother suffer abuse and violence from a live-in partner. She lends her support to campaigns and charities that raise awareness and support for victims of domestic violence.
"Fame is a by-product of what I do as an entertainer and I love to use the platform it gives me in a positive way. I think I have a responsiblity to do that," she says.
While, she admits, the instability she experienced growing up dented her confidence, it also served to fire up her drive to succeed. In the late Nineties, she was in R&B girl band, Mis-Teeq, and two years after the group disbanded in 2007, she found nationwide fame after winning Strictly Come Dancing. She joined the show as a judge in 2009 and left three years later to join Simon Cowell, Amanda Holden and David Walliams on BGT's judging panel.
"What's got me through tough times? Well, I always wanted the best for myself, I've never taken anything for granted, and I'm an optimistic, positive person," says Dixon. "I always had drive, motivation and a vision that one day I'd get into the music business, even though when I was a kid it felt so far away from my world it might as well have been Mars!
"But I did it and I'm a 100% more confident than I used to be – when I was a teenager, the unknown was quite scary, but as you get older you realise that not knowing what's around the next corner is part of the fun of life, and you stop feeling so anxious.
"One of the experiences I've really drawn strength from is six years ago climbing Mount Kilimanjaro in Tanzania for Comic Relief. It was exhausting, cold and painful at times, but when I'd done it I thought, 'Wow, if I can climb this, I can do anything'. If ever times get tough nowadays, I always think back to that moment and think, 'Keep going girl, you can do it, remember that mountain'."
Ten years on from her split with Mis-Teeq, she's released her fourth solo album, Do It For Love, and has named one of the tracks Azura (which means blue sky) after her daughter.
"Writing songs is a way of expressing my feelings," she explains.
"I believe that songs are almost pre-written in your subconscious and when you get into a recording studio and hear a piece of music, it helps you get words out that sometimes you didn't even know were there. If you're connected to your soul and your consciousness what needs to be said will always find a way out."
Dixon's schedule seems to get ever busier – next year she rejoins the Britain's Got Talent panel, she hopes to do more voice-overs, and harbours ambitions to act. "I do have a more serious side to me which I'd like people to see more of," she admits. "I've presented two documentaries, one on domestic violence, and would like to do more things which are hard-hitting and a little bit edgier."
Petite and 5' 6", she's rarely seen without her trademark skyscraper high heels, but remains resolute that fame will never change her.
"What keeps me grounded? Well, definitely not these heels – I don't think I could go much higher," she says, hooting with laughter. "I've never believed being famous makes you better than anyone else and inside I don't think I've changed at all. I'm still just me, but what happens is other people's perceptions can change about you because you're in the spotlight. There's a camera on you the whole time and everything gets magnified and people form impressions of you – I'm guilty of doing that too of course. It's all too easy to read about people and form a judgement.
"But I don't have time to think about that. I'm just focused on my family and bringing up my little girl and never take for granted all the opportunities that have come my way. There are so many things I want to teach Azura – appreciating the gift of life, living in the present, and being a loving, compassionate person."
:: Alesha Dixon's episode of Doc McStuffins will appear on the Disney Junior channel in February 2016. The 14-metre high Disney Junior tree, decorated entirely with Disney toys, will be on display at St Pancras station, London until January 4.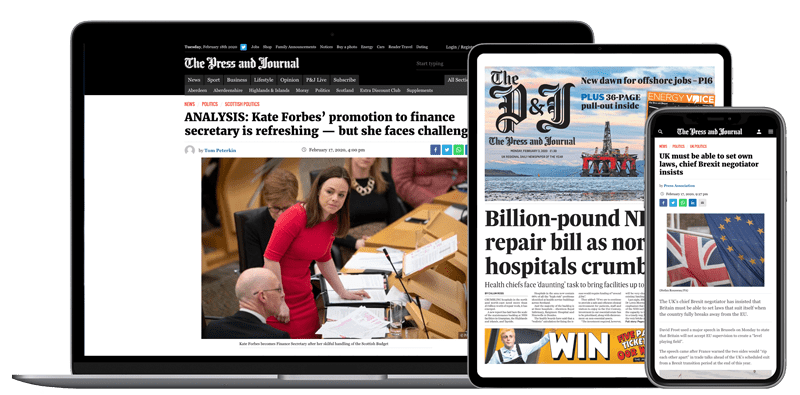 Help support quality local journalism … become a digital subscriber to The Press and Journal
For as little as £5.99 a month you can access all of our content, including Premium articles.
Subscribe