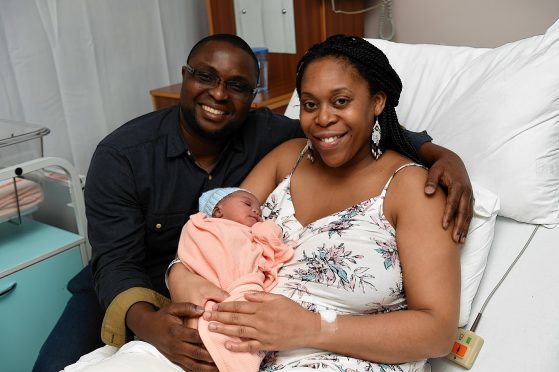 A delighted couple from Aberdeen were given the perfect present for 2016 when they welcomed their newborn son into the world.
Zoe Ourega Ejebu, 29, and her husband Clement were all smiles after the birth of their son Ewoma-Zino Daniel who was born at 5.16am on New Year's Day.
Weighing a healthy 11 pounds and 16 ounces, Ewoma-Zino was due to arrive before Christmas, although his proud mum said her adorable son, sporting a cosy looking woolly hat, clearly had other ideas.
While many revellers were otherwise involved in partying, Zoe and Clement's newborn son was snoozing, eating and not making too much noise for his mother.
She said: "He is fine, he is a good eater and a good sleeper and he is so quiet.
"He was meant to be born on December 19, so you can imagine my surprise.
"He wanted everybody to know 'I'm here."
And the excitement is set to continue as Ewoma-Zino also has a big brother, aged three, whom he will meet in the next few days.
"He's so excited," said Zoe who is originally from Paris.
"He will be happy to have somebody to play with.
Dad Clement was over the moon with their new arrival, who was snuggled up with mum and was looking around and taking in the first day of the year.
With a beaming expression on his face, Clement said: "I'm absolutely delighted. He's so cute."