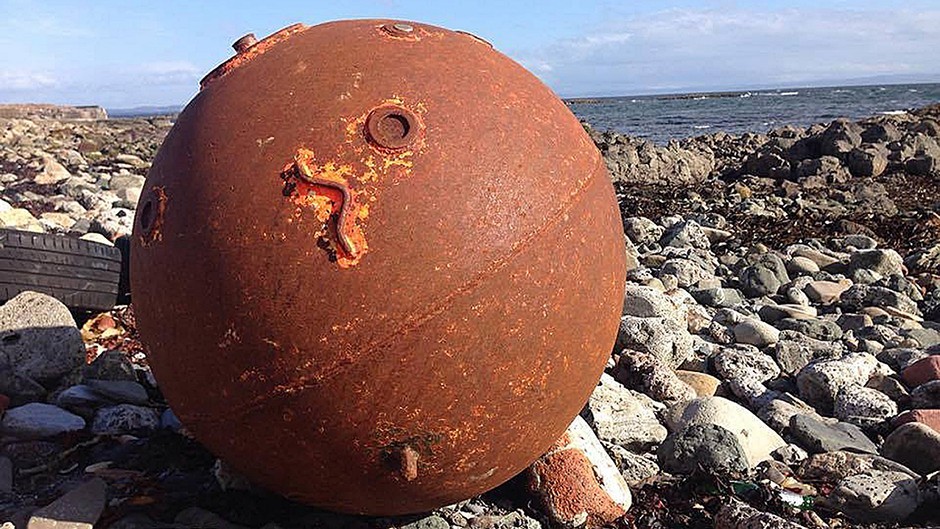 Police in Orkney have cordoned off part of the beach after a badly corroded sea mine was found in the area.
It was found at the fourth Churchill barrier at South Ronaldsay – part of the road barriers built by Italian prisoners during the last war.
The police advised the public to remain out of the area as a precaution.
The coastguard from St Margaret's Hope also attended the scene after it was reported to the police by a member of the public at around 6pm on Sunday.
Bomb disposal experts are on their way to Orkney.
The North Sea Mine Barrage, also known as the Northern Barrage, was a large minefield laid easterly from the Orkney Islands to Norway by the United States Navy (assisted by the Royal Navy) during World War I.
The objective was to inhibit the movement of U-boats from bases in Germany to the Atlantic shipping lanes bringing supplies to the British Isles. Rear Admiral Lewis Clinton-Baker, commanding the Royal Navy minelaying force at the time, described the barrage as the "biggest mine planting stunt in the world's history;" but larger fields containing more mines were laid during World War II.
As 1919 drew to a close, the onset of winter forced the suspension of sweeping for moored buoyant mines, but the Royal Navy resumed minesweeping operations the following spring, continuing to clear sunken mines from fishing grounds, and maintaining a destroyer patrol to track down mines that had broken free of their moorings and gone adrift.
Losses of civilian ships to North Sea mines continued; the origin of the mine in these cases was often difficult to determine.
In 1919, twenty crewmen drowned when the Swedish steamship Hollander sank, minutes after striking a mine in October and the steamer Kerwood struck a mine and sank on 1 December.
Meanwhile a "highly toxic" distress flare which washed up on the shore of a Shetland beach has been disposed of by the Army.
The marine location flare was found earlier this month by a member of the public on Meal Beach, south east of the village of Hamnavoe on West Burra.
Police cordoned off the beach to allow the flare to be dealt with.